Gingrich-Santorum 2012: The Only Way to Stop Romney Now
If the two team up, they can unite the conservative vote, capture the press' attention all week, and beat Romney on Saturday. If not, they're headed home.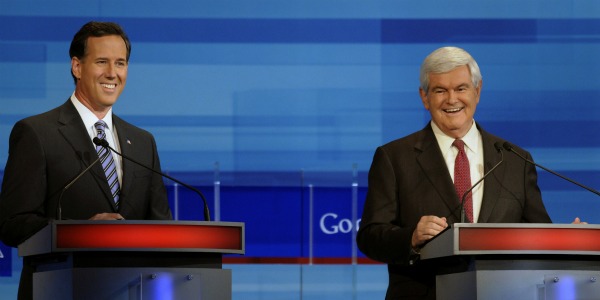 Despite a spectacular debate performance Monday night, Newt Gingrich is on the ropes. Mitt Romney made history as the first non-incumbent Republican to win both Iowa and New Hampshire. According to all the polls, he is now on track to claim South Carolina as well. If the former Massachusetts governor achieves that trifecta, everybody knows that he would become the nominee-to-be.
Even before the debate -- when Gingrich served more sizzling red meat than Ruth's Chris -- the former speaker stood the strongest chance of any of the GOP candidates at upsetting Romney in Saturday's primary. Now Gingrich has no choice. If he loses, Romney almost certainly wins. In a move that will appeal to Newt's flair for drama, he should make a deal with Rick Santorum: drop out now and become my running mate -- or we both go back to the speaking circuit and Fox News.
A Gingrich-Santorum ticket would dominate the media from now until Saturday -- marginalize Rick Perry, overshadow Ron Paul, consolidate the conservative anti-Romney majority, and reshape the campaign. It would make sense not just for the primaries but also for a general election: Pennsylvania and Georgia, young and old, friendly and ferocious, monogamous and less so.
More than that, it would give the two men a prayer of getting to the general election. And I have a hunch that, after his super PAC spent millions pounding them both, beating Mitt Romney would be even more pleasurable to these guys than accepting the nomination.
Newt and Rick, think about how comfortable, how serene, Mitt Romney has become -- how close to winning he is, how much establishment support he assembled over, literally, six years of running for president. Think about how he belittles you two as mere politicians. ("Others have spent their lives in politics -- that's fine -- I have spent my life in the real world of the real economy.") Think about how he's masqueraded as a true blue right-winger when real conservatives know what he is: a man who believes in nothing but himself. Think about how much the political press corps would reward you; if the status quo doesn't change, they will have nothing to do for six months but speculate about Romney's VP pick. (Hint: it's not going to be either of you.)
Of course, this is a long shot. But so is repealing child labor laws. And that doesn't stop Newt Gingrich from trying.
Image: Reuters