Gingrich Buys Anti-Romney Ad From National Review
The email blast went out to the conservative magazine's email list today, and warns of 1,000 years of darkness if Newt doesn't win.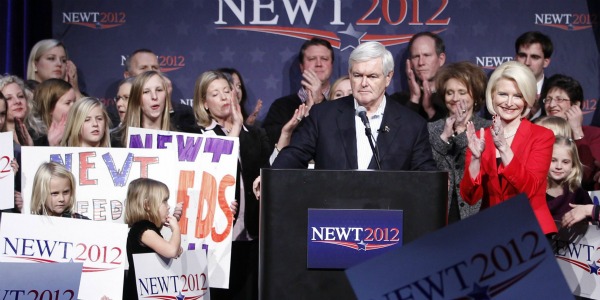 Earlier this campaign cycle, Newt Gingrich was sanctimoniously
insisting
that he wouldn't attack his fellow candidates. Now he is doing so under the banner of the conservative movement's flagship publication via its email list. The blast went out today with the subject line, "Newt Gingrich: Do You Want to Stop Mitt Romney or Not?" and labeled Romney a "timid Massachusetts moderate." It also declared that the upcoming South Carolina primary is the last chance to stop him.
The text:
Dear Conservative:

In 1964, Ronald Reagan told conservatives that this was a time for choosing. Faced with a radical, progressive President who would weaken America abroad and at home, they could either fight to preserve America as the last, best hope on earth, or consign their children to a thousand years of darkness. [CRF note: This is a ham-handed bit of hyperbole given that Lyndon Johnson won that election and a thousand years of darkness did not in fact ensue!]

This year is another such time for choosing. We can either nominate a timid Massachusetts moderate Republican to take on a secular socialist who threatens to turn us into a nation like the decrepit Republics of Western Europe, or we can nominate a bold Reagan conservative who will take the fight to Barack Obama in the Fall. Will you join me?

There's no more time for talking about stopping Mitt Romney. We're going to do it next week in South Carolina or he's almost certain to be the Republican nominee, whether conservatives like us want it or not. It's up to you, right now.

I was the architect of the biggest GOP victory in 40 years in 1994. [CRF nte: "Bigger" than the Reagan Revolution?] I can do it again this year and beat Barack Obama, but not if I don't defeat Mitt Romney and the Republican Establishment next week in South Carolina.

Your gift of at least $30 today will help unite conservative voters and win the South Carolina Republican Primary. As you know, South Carolina is the key to the Republican nomination. For the last 28 years, the winner of South Carolina has gone on to become the Republican nominee. This year will be no different.

As Speaker of the House, I forced Bill Clinton to accept welfare reform, four straight balanced budgets, and extensive tax cuts. Since then, Republicans have governed like moderates. My 21st Century Contract with America is the boldest, most conservative plan put forward. We will get America back on the path to job creation and economic growth with conservative principles. If that's the kind of President you want in the Oval Office, then I need your help today because the mainstream media and Republican establishment absolutely cannot wait to nominate Mitt Romney.

You can have a conservative nominee for President if you want one, but you have to stand up and fight for it. Not next week or next month, but right now. I hope you will stand with me today.

Sincerely,

Newt Gingrich

P.S. We must not waste this opportunity in 2012 to transform government by nominating a Massachusetts moderate. We can only do it if conservatives are united. Please donate today and take a stand with my campaign. Join the fight! 

So there you have it. Give Newt Gingrich $30 or we're in for a thousand years of darkness, just like in 1964.
Image credit: Reuters