For Critics of Libertarianism, It's Always 1964
They're right that ideology led the movement astray that year -- but wrong in the emphasis they put on that single data point.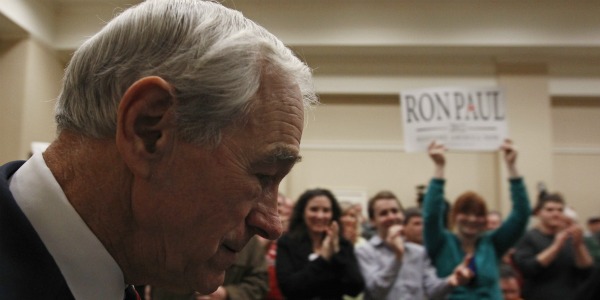 You'd think, reading Jonathan Chait, that throughout American history the federal government has been on the side of anti-racism, while state governments have done their utmost to subjugate blacks. It's indisputably true that racists have often wrapped themselves in the language of states' rights, and that the cause of black equality has at times been gravely undermined by states' rights. But there is nothing inherently racially progressive about actions taken in Washington, D.C. The Fugitive Slave Act is one instance when federal usurpation of state prerogatives harmed the cause of liberty. Dred Scott would've been better served under state law too.
Writing under the headline, "Ron Paul's libertarian principles support racism," Chait asserts that the most fervent opponents of equality for blacks during the Civil War years and Civil Rights era "usually made their case in process terms rather than racist ones. They stood for the rights of the individual, or the rights of the states, against the federal Goliath. I am sure Paul's motives derive from ideological fervor rather than a conscious desire to oppress minorities. But the relationship between the abstract principles of his worldview and the ugly racism with which it has so frequently been expressed is hardly coincidental." I am not sure that follows - it isn't as though racists are consistent in their embrace of individualism! - but put it aside.
What confuses me is the presumption that because increasing federal power relative to the states was most conducive to racially enlightened policy-making during the 1860s and again in the 1960s, the same reality holds true today. It seems to me that the opposite is more likely true.
In our time, prevailing social norms are opposed to racism; alternative centers of power like big corporations, academia, and the large media organizations are generally anti-racist; and the 13th, 14th, and 15th amendments are enshrined in the Constitution. There is no chance of repeal. The Civil Rights Act is settled law too, which doesn't mean Ron Paul shouldn't be challenged for having said he'd oppose it - just that how someone would've voted had they been in Congress back then won't impact race in America much today. There are, however, policy areas where the extent of federal power is actively contested, and other areas where federal and state policies are in current conflict, with outcomes as yet to be determined. The most consequential is drug law.
Surely it is plausible -- I believe it to be true -- that a marginal decrease in federal power and increase in state power will permit states to proceed with policies like the decriminalization of marijuana, with forward-looking states taking the lead on overdue reforms -- perhaps in much the same way that state actions on marriage helped open that institution to gays, even as anti-gay marriage forces tried to assert federal control in the guise of the Defense of Marriage Act and a proposed constitutional amendment to define marriage as being between a man and a woman.
Again, preferring state to federal decisionmaking isn't a predictor of how enlightened a given policy will be.
It is further plausible that libertarian ideology is best equipped to address the most dire current threat to an ethnic minority: the federal government's bipartisan assertion of the right to indefinitely detain folks deemed by the president to be terrorists, which understandably makes non-terrorist Muslim Americans a lot more nervous than it makes non-terrorist Christians or Jews. Libertarians are certainly speaking out against that threat more reliably than liberals or conservatives.
There is no ideology that guides rigid adherents to the right policy in every situation. One strain of libertarian ideology certainly led many of its adherents to oppose liberty expanding policies during the Civil Rights era. That was a serious failure, one that has rightly provoked useful soul-searching among libertarians. But anti-libertarian ideologues like Chait make a mistake when they presume that because empowering states has at key moments done a disservice to minority rights, the libertarian arguments calling for a limited federal government and decentralized power are somehow always bad for minorities or contrary to the cause of expanding liberty.
That Chait is blind to (or at least conspicuously silent about) the most problematic consequences of an empowered federal government today is evident from his narrative of the Obama Administration, which is utterly silent about the myriad policies Obama has pursued that undermine civil liberties, disproportionately impact minorities, and corrode checks and balances built into the Constitution. It is no comfort to the victims of Obama's excesses that Chait, who can't even be bothered to mention them, is hyper-attuned to the real and disappointing ways that libertarian ideology led many of its adherents astray five decades ago (and its paleo fringe more recently than that) -- though I've missed it if he's offered a similar critique of liberal failures on race during the first half of the 20th century, including horrific policies implemented by left-leaning icons. When Jonah Goldberg wrote a book arguing that the left's bygone embrace of fascistic policies proved the ideology to be flawed at its core, and implied that its past helped explain why we should be suspicious of Hillary Clinton-style liberalism, I don't recall Chait being a particular fan of his approach to evaluating today's ideologies.
Hopefully we'll look back in horror fifty years hence at the role liberal internationalists played in the Iraq War, and at Obama-era progressivism's shameful failure to repudiate a standard bearer who practices indefinite detention, the assassination of American citizens without due process, and the waging of war without Congressional approval; permits the CIA to make its own secret judgments about who to kill in foreign drone strikes even as that policy results in scores of dead innocents; and oversees the enforcement of domestic drug laws that disproportionately imprison and impoverish minorities and international drug policy that contributed to tens of thousands of dead Mexicans (among other horrific consequences) as that nation doubled down on the prohibitionism we demand.
But fifty years hence, as liberals and progressives make the case that their ideological movement offers the best solutions to a contemporary problem, we'll nevertheless be well-served by adjudicating the question on the merits. Being suspicious of all ideologies, I have no doubt that libertarianism today, even applied with the best of intentions, would be flawed in some ways, and its critics, Chait included, do a service by critiquing its ostensible blind spots. It is nevertheless the case that the most reliable way to determine which worldview is best suited to protecting liberty today is to argue rigorously about present controversies.
Critics of Ron Paul-style libertarianism are right, or so I'd argue, that his approach to governing would've postponed the advancement of human freedom had he risen to power in 1960. Just as evident is that Ron Paul circa 2012 is a highly imperfect candidate (for reasons I address at length here). Looking beyond the man to the ideology, however, clarity is best served by making the case that the preference for reining in federal power and permitting the states more latitude would do more harm than good now. (The politicians we elect aren't sent back in time, "Quantum Leap"-style to implement their favored solutions in past eras). In the same way that neo-cons cloud their thinking and public discourse writ large by constantly evaluating every foreign-policy argument as though it's Great Britain circa 1939 -- take that, anti-war appeasers! -- critics of American libertarianism clarify nothing by acting as if the early 1960s are the only prism through which libertarian ideas should be evaluated. Never mentioned is how much misery the application of libertarian ideas could've prevented at other historical moments -- as the slave trade began, for example (something Chait's nemesis Ayn Rand would've objected to in the most strenuous terms imaginable) or during the rise of Prohibition.
Neither conservatives nor liberals nor progressives nor Federalists nor Whigs nor Democrats nor Republicans nor feminists nor the Founders emerge unscathed from America's long and sordid racist past. Elements of all their worldviews were invoked at various times to mask what amounted to racism. Since Paul is a libertarian, it is understandable that his racist newsletters and associations have highlighted the problematic strain within his ideological movement.
But as the conversation moves beyond Paul to the ideological movement of which he is a part, there is no persuasive argument demonstrating that libertarianism itself is inherently racist, nor that the uptick in support it has lately enjoyed is at all tied to the long-failed strategies of its fringe. In fact, distance from that fringe was a prerequisite for its surge in popularity. It could even be argued that today's libertarianism is less racist than America itself for the simple reason that it skews young. The fact that the voters of tomorrow are far more likely than their grandparents to reject the sort of vile nonsense found in the Ron Paul newsletters is a portent of good things to come for conservatives, liberals and libertarians alike.


Image credit: Reuters