Everything You Think You Know About South Carolina Is Wrong
The Palmetto State's reputation for conservatism shouldn't obscure the fact that establishment candidates like Mitt Romney can rely on it.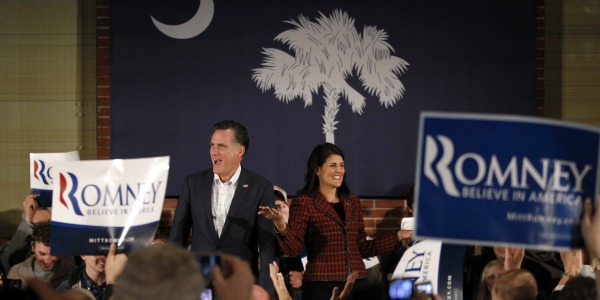 The idea that South Carolina provides fertile ground for conservative insurgents in Republican presidential primaries simply isn't born out by the facts.
Pat Buchanan lost here -- twice (first to George H.W. Bush and then to Bob Dole). Pat Robertson lost here. Mike Huckabee lost here. Instead, party favorites like George W. Bush in 2000 and John McCain in 2008 have been ratified by the South Carolina electorate. The idea that South Carolina would be fertile ground for super-conservative candidates makes sense since the state is conservative, and among the most reliably Republican in the nation. But it's been a structured disciplined party, basically the oldest GOP in the South because of Strom Thurmond's conversion's conversion to the GOP in 1964. Under the likes of the late Lee Atwater and Gov. Carroll Campbell the state GOP was tightly organized and the establishment choice prevailed. John McCain in 2000 had support from two of the state's more prominent GOP congressmen -- Lindsey Graham and Mark Sanford -- but that wasn't enough to overcome Bush's support from the party mainstream.
That's happening now with Gov. Nikki Haley who has had her problems in the state but is able to put huge organizational muscle behind Romney.
All of this doesn't mean that Rick Santorum, Newt Gingrich, Ron Paul and Rick Perry can't do well here but they'll be running against the tide of history and Mitt Romney will be running with it.
Image: Jason Reed / Reuters