Caucus Vignette: A Romney Blowout in the Des Moines Suburbs
In two precincts outside of Des Moines, the former Massachusetts governor cruised to victory. Elsewhere, however, the results are harder to divine.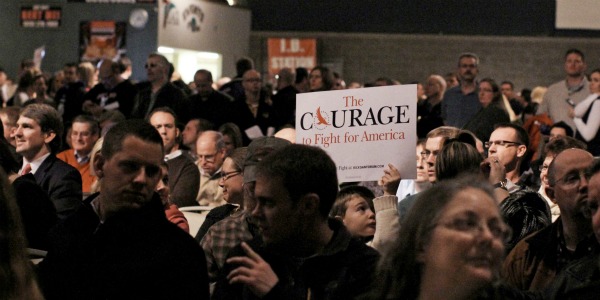 CLIVE, IOWA -- The caucus site for two big Republican precincts here in the Western Des Moines suburbs was a concert arena smelling strongly of popcorn, with a piped-in soundtrack of soft pop that included the Black Eyed Peas and Norah Jones.
Long lines to enter kept the proceedings here at the Seven Flags Event Center in Dallas County, the fastest-growing Republican county in the state, from starting on time. As the caucus-goers mingled, it became clear that this was Romney Country.
"I think he's got the best chance to win," said Brock Toll, a 27-year-old mortgage consultant.
"I just think he not only is smart enough to do the job, but he also has a big enough heart to work with the Democrats," said Brent Aamoth, 42, who works for Wells Fargo.
"It's his experience in business," said Eric Carlson, 35, an IRA salesman. "Of the group, he is the best person. Nobody's perfect."
A local representative spoke for each candidate. The speakers for Romney and Michele Bachmann read from scripts distributed by their campaigns. A Newt Gingrich supporter urged the crowd to recall Gingrich's debate performances: "Wow, didn't we see somebody who knew something?" he said.
Santorum's representative professed nervousness and cited his candidate's Iowa spadework: "He has respected the system, and we should reward him tonight." Paul's speaker was a college student who said he'd spent his Christmas break canvassing.
And for Rick Perry, the speaker was the Texas governor himself. Bounding onto the stage, he spoke more effectively than he often has in this disappointing campaign. "You have my back tonight in this caucus, I promise you one thing, I'll have your back as president of the United States," he said.
But Perry's pitch didn't seem to do him much good. Romney won the two suburban precincts in a blowout, with 239 of the 636 combined votes, nearly 40 percent.
Santorum was second with 133 or 21 percent. Next came Paul with 105, 17 percent. Gingrich was fourth with 72 and Perry came in fifth, his 67 votes good for just 11 percent.
"The vote is in, ladies and gentlemen," county GOP chairwoman Christi Taylor said from the big stage. "Governor Romney was the clear winner in West Des Moines 1 and West Des Moines 2. Thank you for participating in America's democratic process."
Across the rest of the state, the picture was far less clear at 9 p.m. Central. Santorum and Romney were locked in a tie for first place at 24 percent, with Paul in third at 22, as results continued to trickle in.
Iowans had voted, but it was looking like a long night ahead.
Image: Samantha Sais / Reuters