Caucus Day: Where Things Stand in Iowa
As the candidates sprint through the home stretch of the nation's first presidential contest, here's how the race looks for frontrunners Romney, Santorum, and Paul.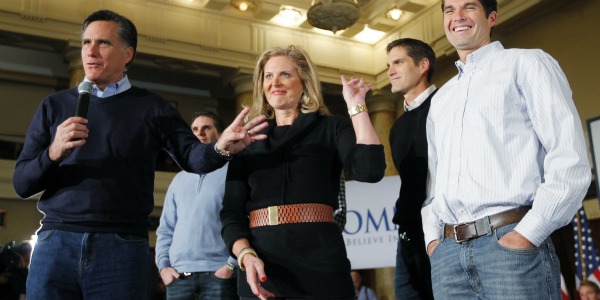 DES MOINES -- Mitt Romney began his day at an elegant former Masonic temple downtown here, surrounded by his family -- his wife and four of his five well-groomed sons -- and prominent supporters, including a senator, a former senator, and two members of the House of Representatives.
Rolling into the Iowa caucuses, Romney has a right to be confident. Like trying to read a book held too close to your eyes, the caucuses at this point are too close to see clearly. But Romney is ahead in most late polls, and his advisers believe he's in good shape for the long haul as long as he comes in first, second or third.
Romney, Rick Santorum and Ron Paul appear locked in a tight race for the top three slots, with Rick Perry, Newt Gingrich and Michele Bachmann making up the undercard. Here's how things look from the ground in the hours before the caucus for the three front-runners.
MITT ROMNEY
What he's doing today: Romney's early-morning speech was his only public event before the caucuses. He'll do some interviews during the day, then hold a "victory party" at the Hotel Fort Des Moines downtown.
How he's feeling: Serenely confident. On Monday, Romney got a little ahead of himself, saying at a rally that he expects to "win this thing"; his camp has been trying to backtrack a little, saying he was referring to the nomination, not Iowa. A first-place finish here would loft Romney into New Hampshire looking unstoppable. Coming in second to Santorum would be chalked up to Iowa's evangelicals, while coming in second to Paul would be attributed to Paul's ground game and the importance of organization in a low-turnout caucus. Coming in third would make Romney look weak, but it probably wouldn't be fatal.
What his crowds are like: Low-octane. Romney has been drawing large crowds as he's barnstormed Iowa over the last several days; it's the first chance many Iowans have had to see him in the past year. But his crowds are notable for the air of resignation among those who come out to see him. Many say they plan to support Romney even though their heart's not necessarily in it, just because he's better than the others. "I think we're choosing the best we can," Cathy Stone, a 60-year-old retired French teacher from Perry, Iowa, said at Romney's Tuesday rally. "I don't think anybody is 100 percent terrible or 100 percent the best."
Where he's strong: Romney's sweet spot is the Des Moines suburbs and eastern Iowa, the more liberal part of the state.
What comes next: Romney hopes to dominate in New Hampshire, where a recent poll found him leading second-place Paul by 27 percentage points. Though South Carolina will be an uphill battle for him, he's well organized and on the ballot everywhere, prepared for a delegate slog if necessary.
RICK SANTORUM
What he's doing today: Santorum began his day with a round of TV and radio interviews starting at 6 a.m. He's attending a morning rally at a West Des Moines high school that also features Paul and Michele Bachmann, then speaking at a suburban church in the afternoon. His victory party is at the Stoney Creek Inn in Johnston.
How he's feeling: Amped. Left for dead as he slogged in Iowa for months, Santorum is thrilled to now be proving his doubters wrong. A win would give him a huge shot of momentum and a claim to the coveted "Romney alternative" title. Second or third place would still be respectable considering how far he's come.
What his crowds are like: Big and curious. Reflecting his status as the boy in the bubble, Santorum is drawing mobs of media and Iowans looking to finally make up their minds. Many come away converted, impressed by his forceful delivery and articulate grasp of the issues. "I'm amazed he hasn't come farther faster," said Dawn Tope, a 53-year-old greenhouse manager in Sioux City. "I think more people are waking up to the fact that he understands their values and stands for America."
Where he's strong: Western Iowa, the largely rural, intensely religious part of the state represented by archconservative Rep. Steve King, is Santorum country. This is the part of the state that was dominated by Mike Huckabee in 2008 and by Bob Vander Plaats, the evangelical leader who has endorsed Santorum, in his failed 2010 gubernatorial primary bid.
What comes next: Santorum has vowed to play in New Hampshire, a very risky bet considering Romney's strength there. Santorum's values-based appeal may not play well outside the Bible Belt, and many think he would be smarter to skip the Granite State. But he insists he can do well there as a fellow Northeasterner with a blue-collar background.
RON PAUL
What he's doing today: Paul attended the morning's high-school "Rock the Caucus" event along with Santorum and Bachmann. He had no other public events scheduled. He'll spend caucus night at the Ankeny Marriott.
How he's feeling: Fired up. Though his momentum has slowed since he started topping the polls a couple of weeks ago, the fact that Paul is in contention for first place is far better than anyone expected him to do. Any Paul finish will come with an asterisk; because of the nature of his following -- much of it converted independents and Democrats -- it won't be seen as representing the will of the GOP mainstream. But the better he does, the harder he is to dismiss.
What his crowds are like: Passionate, committed and young. Paul's campaign has spent the past four years organizing Iowa and winning people over to his libertarian cause, and it shows. His events bring out throngs of twenty- and thirtysomethings, many of whom have devoted their lives to volunteering for the campaign. "I've probably made 600 phone calls," said Paul supporter Will Chadwick, a 30-year-old youth minister for the Salvation Army in Waterloo. "Two hundred were repeat calls to people in my neighborhood to remind them to turn out. I'm a captain for four precincts. I think we will do better than every other Republican candidate in this part of the state."
Where he's strong: Urban centers and college towns.
What comes next: Because of his organizational strength, Paul has a better shot in caucuses than higher-turnout primaries. But his message has strong appeal in New Hampshire, and his Internet-based network of fans is nationwide. He's also well funded. No matter what happens in Iowa, Paul will remain a thorn in the side of Romney and the other candidates for quite a while.
Image: Brian Snyder / Reuters