Can Huntsman Move Beyond the Preppy Vote?
Updated 1/15/12: Jon Huntsman is dropping his bid for the presidency and plans to endorse front-runner Mitt Romney. Below, a dispatch from Huntsman stronghold in New Hampshire -- and a look ahead at the challenges he faced as he sought to expand his base beyond that single state's unique population.
* * *
The Mayflower moderates who backed Huntsman in New Hampshire are a crowd he won't soon see again.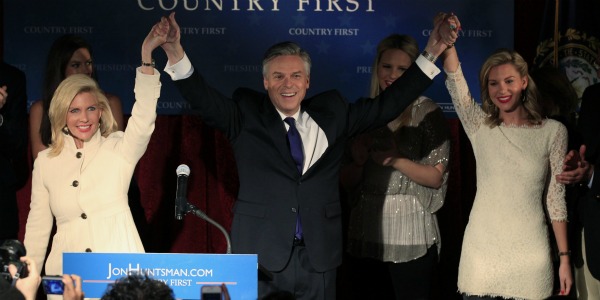 MANCHESTER, N.H. -- The crowd at the Black Brimmer, a bar and restaurant in downtown Manchester, awaited Jon Huntsman: men in Vineyard Vines ties, women wearing Hermes scarves.
Theresa Henkelmann, a Democrat from Greenwich, Conn., who runs a 4-star French restaurant and inn with her husband, was sipping a glass of red wine of unspecified genre. "This is not a wine bar, honey," she said, wrinkling her nose.
The returns from the New Hampshire primary were being announced on muted televisions above the bar. As soon as the polls closed, the networks called the contest for Mitt Romney, which seemed presumptuous to people here. What if the exit polls were wrong? Didn't they see Huntsman tied Romney in the midnight voting in Dixville Notch, with two of the six Republican votes?
Henkelmann traveled to New Hampshire four days before the primary to pitch in with the campaign. "My friends who are in hedge funds and investment banking read his economic plan for me, and they said it's brilliant -- brilliant," she said. "The thing I like about him -- this is so old-fashioned, but -- he's earnest."
The crowd was so thick one could barely move in the small venue, reserved by Huntsman's campaign before a credible showing in New Hampshire appeared plausible; clocked at mid-single-digits in polling a week out, by primary day there was buzz that Huntsman might even capture second place. But the early returns had him in a distant third place, six points behind Ron Paul.
The assembled throng of aging preppies and increasingly tipsy WASPs at Huntsman's primary-night gathering -- a distinctly New England tribe -- turned out to be the most receptive audience for the globe-trotting former governor of Utah. These patrician Mayflower moderates admired Huntsman's high-minded, cosmopolitan appeal.
But as Huntsman goes looking for votes in South Carolina and beyond, he won't soon find these types again. (Though Huntsman ended up with 17 percent of the vote in New Hampshire, exit polls showed he won just 10 percent of Republicans, drawing much of his support from independents.)
Three 53-year-old men in jackets and ties who attended Phillips Exeter Academy together -- a doctor, a lawyer, and a builder -- stood in a knot near the bar. "I think this gives him a reason to keep going," said Peter Hedberg, the doctor, hopefully.
"Here's the big deal: Huntsman beat the guy who was endorsed by the Union Leader," said Brad Lown, the lawyer, referring to Newt Gingrich. He wore a vintage "I Like Ike" button in his lapel.
"I'm satisfied. The United States is, objectively speaking, a center-right nation," said Willie Ouellette, the builder. He voted for Romney.
The music in the bar continued to play as, on the televisions, Romney gave his victory speech, followed by Paul. At 9:30, Huntsman came onstage, hand-in-hand with his glamorous wife, Mary Kaye. Behind him stood his famous daughters, looking radiant as usual, and his billionaire parents, smiling indulgently.
"Hello, South Carolina!" Huntsman said, to cheers. "We got it done, ladies and gentlemen!"
An obviously drunk man at the bar observed, "Them daughters wear a lot of lipstick, don't they?"
Huntsman was giving a version of his stump speech. "My confidence in the system is reborn because of the people of New Hampshire," he said. "They believe in a better tomorrow."
"They believe in Jon Huntsman!" someone shouted. "Woo!"
The Huntsmans filed out and the bar quickly emptied. A few diehards lingered, getting to know one another, their conversations wafting across the floor.
"I work in finance in Boston," one man said, by way of introduction. Another was looking ahead to the weekend: "I'm going to Killington, but there's not going to be any real snow," he said. "It's all manmade."
Image credit: Reuters/Adam Hunger