Bill Daley, the Wrong Man for the Job
A centrist Chicago Democrat who made $20 million at JPMorgan Chase, he was ill-placed at the helm of a White House trending populist.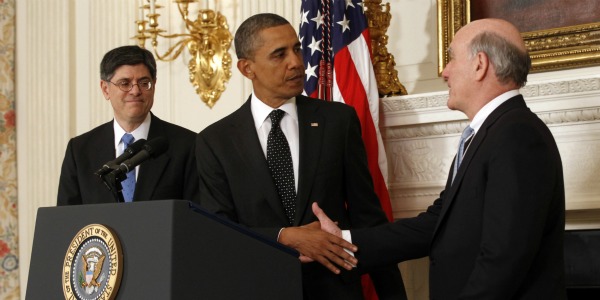 CHICAGO -- You can wallow in the weeds, and build a list of particulars bending toward the horizon, but in the end Bill Daley just wasn't the best fit.
For sure, Monday's switch in White House chief of staff post is a reminder of the revolving door for one of government's biggest burnout jobs. Quick, name five former chiefs of staff. It should be easy since, as Daley predecessor Rahm Emanuel once told me, their average tenure is 18 months.
But the switch is also a reminder that personnel decisions which seemed smart initially prove to be in conflict with changing times, and how there is no more handy scapegoat for a beleaguered White House than a chief of staff.
Daley was the centrist Chicago Democrat, coming off a year in which he made $20 million working for JPMorgan Chase, who was going to bring supposed adult supervision to a frenetic group of White House kindergartners. And then there were his ties to business, all seen as a plus, as well as the need for better relations with Congress.
Forget the fact that the 24/7 nature of the job was not really in sync with Daley's own temperament or modus operandi. Forget that Emanuel himself had pretty strong congressional ties, as a former political operative for President Clinton and as a former congressman himself, as well as an impressive Rolodex of corporate numbers. Emanuel had been an A-list fundraiser for former president Bill Clinton and was a very strong and effective head of the Democratic Party's congressional campaign operation.
But, no, the Beltway line was that the seasoned hand was going to bring structure and discipline to a world of chaos. It was woefully simplistic.
Despite the Romney-Fox News caricature of a monolithic Chicago political culture, Obama and Daley did not have strong ties in Illinois, or even by the time he was selected for the job.
If you want one of many examples of their untidy relationship you can look at the hoopla over new and stricter smog standards pushed by the Environmental Protection Agency. As the New York Times chronicled, the White House caved to a very aggressive industry campaign in which lobbyists found a very sympathetic era in several White House quarters, including that of the chief of staff.
"What are the health impacts of unemployment?" Daley was reported to have wondered, a notion seen aping the industry view.
And as the president derided corporate America, Daley surely felt uncomfortable with a populist message not fit for a Chicago Democrat who's liberal on social issues, pretty conservative on economic ones. It was only going to become more vivid if his boss wound up running against a pro-business centrist Republican, Mitt Romney, and having to tack to the left.
Daley is a very smart and decent fellow who grew up in an American political dynasty. But, when it came to this job, he was like a solid catcher stuck out at shortstop. He was a bit out out of position.
Image credit: REUTERS/Kevin Lamarque