As Caucuses Near, Santorum Is Feeling Good
Seemingly assured of a strong finish in Iowa, the surging former senator was showing a new confidence on a final campaign swing.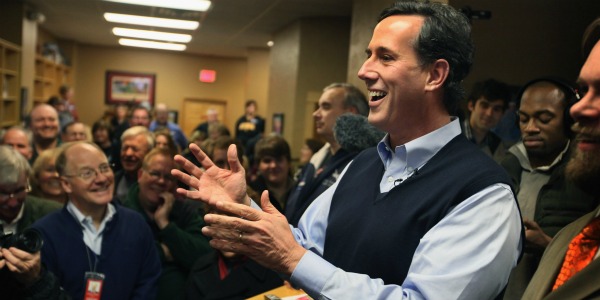 ROCK RAPIDS, IOWA -- The conservative northwestern corner of this state is Santorum Country.
As Rick Santorum campaigned here in the waning days before Tuesday's Republican caucuses, he was greeted by overflow crowds. A new confidence animated his speeches, a pronounced spring in his step stemming from his overnight transformation from no-hoper to front-runner.
So good was he feeling that he closed his remarks here at his last stop of the night -- an isolated Dutch burg near the Minnesota border, icy and smelling strongly of manure -- by joking that people shouldn't all vote for him.
"Make sure we don't get every vote, because they'll claim fraud!" he said with a grin, after a question-and-answer session in which two members of the crowd raised their hands not to ask him anything but to testify to how much they like and support the former Pennsylvania senator.
"The reason we like you is you're the person with a chance of winning when you're up against Barack Obama," one man said.
Another confessed that he'd previously been reluctant to support Santorum because he wasn't sure he could win. "But then I realized, if we don't support you, we're taking away your chance," he said, with feeling. "I'm going to do everything I can to support you."
Santorum is a politician whose seriousness often comes across as bleakness and whose old-school Catholic emphasis on duty over pleasure can be punishing. His relentless campaigning, in the face of constant rejection, has a masochistic tinge. But now that he's getting some love, his persistence seems less remarkable.
Santorum packed more than 100 people into a coffeeshop in Sioux City (Iowa's fourth-largest city, with a population of over 80,000). But he also drew more than 200 to bank meeting rooms in Orange City (pop. 6,000) and Rock Rapids (pop. 2,500).
"Do you have yard signs?" a woman asked Santorum's Iowa field director, Jake Braunger, in Rock Rapids.
"I gave them all out in Sioux City. I'm sorry," he said. "I thought we had this area covered!"
Santorum's stump speech, which had previously exhibited a tendency to get mired in nostalgia and complaint, was peppy and relatively concise. He was introduced at each stop by Brad Thor, a bestselling thriller writer who lives in Chicago and believes deeply in his candidacy; Matt Schultz, the secretary of state; and Sam Clovis, a popular local conservative talk-show host. At one stop, Thor and Clovis both became tearful as they talked about the stakes in the election.
For months, Iowa did not reciprocate Santorum's ardent courtship, but now that that has changed he is full of praise and thanks. "From the very beginning, I said I would trust the people of Iowa," he said. "It's just been a wonderful experience of the heartland of America."
Most campaign events in Iowa feature large numbers of undecided voters who are shopping around for a candidate, but it was difficult to find anyone in Santorum's audiences here who wasn't an ardent supporter. Some had been behind him for months and were gratified to see their fellow voters joining the cause; others were just now getting on the bandwagon after being let down by other candidates.
"I couldn't rationalize away Newt Gingrich being paid all that money by Freddie Mac," said Kevin Fletcher, a 49-year-old attorney in Sioux City. "That just stuck in my mind. He's out of touch. Santorum's always been out there, so I came over."
In addition to the testimonials, Santorum got questions about immigration, abortion, Social Security and other hot-button issues. Twice, he was called upon to explain his support for former Sen. Arlen Specter in the 2004 Pennsylvania Republican primary. Though Specter, who later switched to the Democratic Party and was voted out, is despised in these conservative enclaves, Santorum defended him, saying he voted right when it counted and helped get Supreme Court Justices John Roberts and Samuel Alito onto the bench. But he also said he was glad to have him out of the Senate.
Santorum, Mitt Romney and Ron Paul appear locked in a tight battle for the top spot on Tuesday. Late polling shows each hovering above 20 percent, within the margin of error. Assuming it's close, it probably matters little who places where, though one would always rather be in first than in third. But for Santorum, who lacks both Romney's air of political privilege and Paul's cultlike following, the attention and validation are especially sweet. They may even be too sweet; his confidence could easily become hubris. Already, he's talking a big game about New Hampshire, where a recently released poll showed him at 3 percent.
But at least he is enjoying his moment. After all, it may be short-lived.
At the event in Rock Rapids, Santorum noted all the legwork he's put in: "We didn't speed date," he said. "I went out and actually talked to all the folks. ... This surge, this momentum, is because the people of Iowa are doing their job."
Image credit: Getty Images/Scott Olson