Angry Gingrich Bests Defensive Romney for the Win in Charleston
The former speaker deflected a question about accusations from his ex-wife skillfully, but it's still unclear if he can overtake the frontrunner and win on Saturday.
The former speaker deflected a question about accusations from his ex-wife skillfully, but it's still unclear if he can overtake the frontrunner and win on Saturday.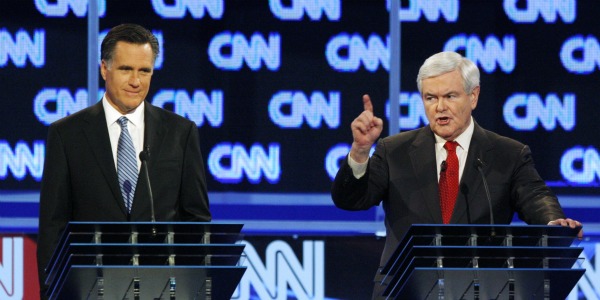 Newt's mistress fared better than Mitt's money. In the last debate before South Carolina Republicans determine the course of the GOP presidential race, former House Speaker Newt Gingrich deflected his failed marriages better than Mitt Romney defended his success in businesses.
The debate opened amid echoes of an explosive interview with Gingrich's second ex-wife, Marianne, who told ABC News that the former speaker had sought an "open marriage" so he could have a mistress and a wife.
Romney introduced himself as a big family man in love with his wife, kids, and many grandchildren. Gingrich didn't mention his family. "It's good to be back home in the South," the former speaker said, "and I look forward to the evening."
Turned out to be quite an evening. The first question from CNN moderator John King was posed to Gingrich: Would he like to respond to his ex-wife?
"No," Gingrich replied. "But I will." While the partisan audience applauded in support, Gingrich glared at King and blamed the messenger. "I'm appalled that you would begin a presidential debate with a topic like that," he said.
In hindsight, perhaps Gingrich had been preparing for the moment for months by leading the attack against the media at nearly every debate. Partisan audiences, especially Republican crowds, generally believe the media are slanted against them. Journalists are easy targets.
"Every person in here knows pain. Every person in here has someone close to them going through painful things," Gingrich said. It was a brash bit of political theater: A thrice-married man who has admitted to cheating on two wives ducked his ex-wife's charges and dismissed his infidelity as merely "painful things."
Despicable? Trash? Those are not words he used to describe his actions. Rather, Gingrich called ABC's decision to broadcast the ex-wife's story two days before the South Carolina primary as "as close to despicable as anything I can imagine."
He denounced CNN for taking "trash like that and use it to open a presidential debate."
King said CNN did not report the story first. Gingrich cut him off. "John," he said, "You chose to start with this." Turning to the audience, he plunged the knife deeper: "I'm tired of the elite media protecting Barack Obama by attacking the GOP."
It is impossible to tell how South Carolina Republicans will digest the ex-wife's allegations. Will the party of family values punish Gingrich for cheating on his wives? Or reward him for attacking the media and focusing on big issues?
The answer could determine who faces Obama in November. South Carolina is likely the last chance Romney's rivals will get to slow his momentum and emerge as a conservative alternative for the next primary in Florida.
The fidelity issue is most likely to resonate if voters see it as part of a broader argument that Gingrich is unreliable, arrogant and a gaffe-prone victim of his own grandiosity. Sen. Rick Santorum said Gingrich is a walking public-relations disaster who might "pop" at any time. He didn't quite call him crazy, but almost.
"Grandiosity," Santorum said, "has never been a problem for Newt Gingrich."
"You're right," Gingrich replied, "I think grandiose thoughts."
One thought he had: Releasing his tax forms during the debate to embarrass Romney, who has thus far refused to release his own. He challenged mega-wealthy Romney: If there is something in the forms that would make him a vulnerable nominee against Obama, GOP voters need to know that now, Gingrich said, "and if there's nothing in there, why not release it?"
Romney handled the challenge almost as awkwardly as he did Monday. He initially defended his right to be wealthy and eventually suggested that, maybe, he'll release several years' worth of forms in April. "I don't know how many years I will release," he said. At one point, several crowd members booed and groaned. King noted that Romney's late father George, the former Michigan governor, had released a dozen years of tax returns. That didn't help the son, who also faced tough questions about the jobs record of a venture capital firm he founded.
Clearly, though, the story Thursday night was Gingrich's mistress. King asked the former speaker's rivals if the story was fair game. Santorum seemed to suggest it was -- such stories "are issues of character for people to consider" -- but Romney punted. Gingrich had boxed Romney in: Attack the former speaker and look like a tool of the liberal media, or essentially give Gingrich cover by supporting his blame-the-media defense.
"John, let's get to the real issues," Romney told King. "That's all I've got to say."
Which is exactly what Gingrich wanted him to say.
Image: Jason Reed / Reuters