Will Social Conservative Leaders' Nod Lift Santorum in Iowa?
Top leaders of the state's religious right endorse the trailing candidate, but it is unclear whether their constituents will follow suit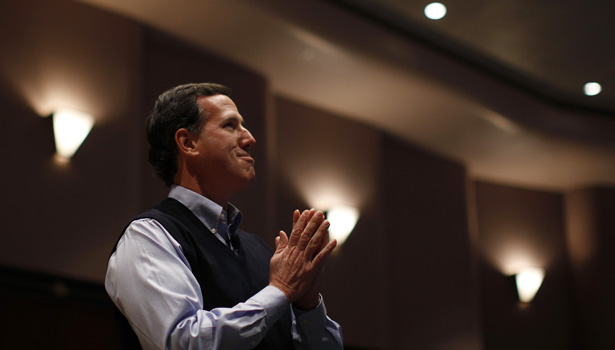 Reuters
Two Iowa social conservative leaders endorsed Rick Santorum for president Tuesday, the end of a long saga of difficult deliberations that epitomized the religious right's inability to settle on a single 2012 candidate.
Though the Family Leader as an organization opted to stay neutral, its president and CEO, Bob Vander Plaats, threw his support behind the former Pennsylvania senator. "I really believe he could be the Huckabee in this race," said Vander Plaats, who chaired Mike Huckabee's successful 2008 Iowa campaign.
At the same Des Moines-area news conference, Chuck Hurley, president of the Iowa Family Policy Center, also personally endorsed Santorum. "I urge every undecided Iowa caucus-goer to take a close look at Rick, to study the Scriptures, to pray hard and to vote their conscience, for above all, we answer to God for our vote," Hurley said.
There's little question these endorsements will give Santorum a boost. The question is whether it will be enough to vault him from his current trailing position to the top.
Vander Plaats and Hurley both have very real constituencies among the religious voters who are a sizable portion of the caucus-going electorate -- or can be, if they're motivated to turn out. They've been active in the state's politics for many years, building contacts and credibility among a network of pastors, churchgoers and activists. As Hurley noted Tuesday, it was their campaign in 2010 that succeeded in ousting three Iowa Supreme Court justices who'd ruled in favor of gay marriage.
But the fact that the two men couldn't bring their organizations on board indicates the divisions that remain among this bloc. Rick Perry and Michele Bachmann, and to a lesser extent Newt Gingrich, are also campaigning aggressively for these voters and have done better than Santorum in most polls. All of Iowa's religious conservatives ardently desire to coalesce behind a single candidate. They just can't decide which of the multiple social conservative candidates to back.
Vander Plaats noted Tuesday that Santorum is "the one candidate who has not caught his wave yet." It's worth wondering why he's managed to catch fire thus far despite holding more than 350 campaign events in Iowa, even as Gingrich, Perry and Bachmann have had their short-lived moments in the sun. At this point, a whole lot of Iowans have met Santorum, and they haven't been won over.
Santorum's campaign, however, believes he's everybody's second choice and that once caucus-goers become convinced he has a shot -- and once the other options have effectively been ruled out -- they'll flock to him. Iowa operative and Santorum backer Chuck Laudner said in the post-debate spin room last week that nobody asks him who Santorum is and what his positions are anymore. "The only question I get is can he win."
If that's the case, these endorsements could give Santorum the credibility he needs to finally surge. But the other candidates, who have belatedly joined Santorum in stumping relentlessly across Iowa, will be fighting him every step of the way.