Will Ron Paul's Supporters Vote GOP in 2012?
The unorthodox candidate has brought fresh blood to the GOP, but it will be hard for Republicans to hold onto them once Paul is out of the picture.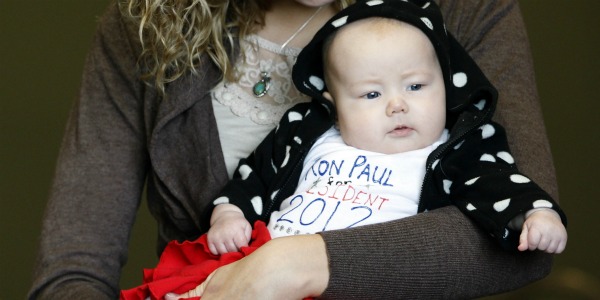 DES MOINES -- Allen Huffman wouldn't even be a Republican if not for Ron Paul. The Texas congressman's promise to get rid of the income tax prompted the 42-year-old to register with the GOP and to caucus for Paul in 2008.
Huffman has participated in phone banks at Paul's campaign office about a dozen times in recent weeks, but don't expect him to volunteer if Paul is not the GOP nominee.
"I don't vote for the ticket. I vote for principles," Huffman said. "I don't like Newt Gingrich at all, and I think Mitt Romney is too slick."
---
MORE FROM NATIONAL JOURNAL
---
Another Paul supporter at his Wednesday-night rally in Des Moines, 54-year-old John Cheever, said he regretted backing 2008 nominee John McCain.
"I do not intend to repeat the electability mistake in 2012," said the retired Navy man, sporting a bright-red Paul T-shirt. "I intend to vote on principle in both the caucus and the general election, even if it means throwing away my vote on a third-party candidate."
An unswerving loyalty to Paul, not to the Republican Party, is not uncommon among the congressman's passionate followers. His support is not easily transferrable. So while there's no doubt Paul brings new voters into the fold, it's unclear whether in the long term he is helping to build a broader and more diverse Republican coalition.
That presents a party trying to unseat a sitting president with a serious challenge, as Paul sits atop the polls in Iowa with a motivated grassroots army at the ready.
"It's problematic for people who are trying to expand the party, and it's probably true of Paul more than any other candidate because he has such outsider appeal," said John Stineman, an Iowa-based Republican consultant.
Washington-based GOP operative John Feehery, who has advised top Capitol Hill leaders, wrote on his political blog this week: "Ron Paul represents a challenge to the Republican status quo. And whoever the Republican candidate turns out to be (and my guess is that it won't be Ron Paul) will have to tread carefully on the Paul question."
Other Republicans anxious to protect Iowa's first-in-the-nation nominating contest are concerned that a victory by such an unlikely candidate would make the state look irrelevant. A string of questionable Iowa verdicts -- Mike Huckabee winning the 2008 caucus, Michele Bachmann winning the 2011 straw poll in Ames, topped by Paul winning the 2012 caucuses -- would provide fodder to critics who say Iowa's Republican activists don't represent the party's mainstream.
Scrutiny of Paul has ramped up in recent days, as he has climbed into the top tier of candidates seeking the nomination. A number of news outlets have written about bulletins published under his name in the 1980s and 1990s that included derogatory statements about African-Americans, Jews, and homosexuals. Paul has disavowed the racist remarks.
In one respect, Paul is well positioned to survive the controversy, since his supporters tend to be so distrustful of criticism from the political establishment. Still, coverage about the newsletters as well as a more intense focus on his unorthodox foreign-policy views could spook enough Iowa Republicans to keep first place out of his reach.
"I admit it doesn't look good,'' said Andrew Ivers, 39, who was also at the Paul rally. "If there's a skeleton in the closet, it needs to be addressed forthrightly."
Paul is trying to counter the bad publicity with television ads condemning the "Washington machine.'' Gingrich is a "serial hypocrite,'' while Romney is a "flip-flopper."
The latest CNN/Time/ORC poll shows Paul just 3 percentage points behind the front-runner, Romney, which is within the survey's margin of error. Paul's support increased from 17 percent one month ago to 22 percent now. He scored a nice publicity boost on Wednesday when Bachmann's former Iowa chairman, state Sen. Kent Sorenson, unexpectedly switched his allegiances at the rally.
Paul's competitors, who once paid him little attention, can't ignore him any more. Bachmann immediately accused Paul of buying Sorenson's vote--a charge the campaign denied. Jon Huntsman, apparently worried that a Paul win in Iowa could overshadow his own hopes of a strong showing in the New Hampshire primary, put up an Internet ad Thursday that asks, "Can New Hampshire voters really trust Ron Paul?" In an interview with CNN's Wolf Blitzer, Gingrich said he would not support Paul if he was the nominee, referring to his "systemic avoidance of reality."
Guess that means Paul is doing something right. At the rally in Des Moines on Wednesday night, he hit all of his usual targets: the Federal Reserve, government overspending, the war on drugs, Wall Street bailouts and U.S military interventions around the world.
"They're coming out of the woodwork,'' he said of his supporters. "I think it's getting very exciting."
His campaign estimated that 750 people came to his Council Bluffs rally on Thursday night -- a crowd size that recalls the big turnouts Barack Obama drew in 2008.
Image: Jeff Haynes / Reuters