Why Newt Gingrich's Ph.D. Thesis Doesn't Matter
Critics of the candidate's academic work are conjecturing in vain: a 40-year-old dissertation has little relevance in today's race
Critics of the candidate's academic work are conjecturing in vain: a 40-year-old dissertation has little relevance in today's race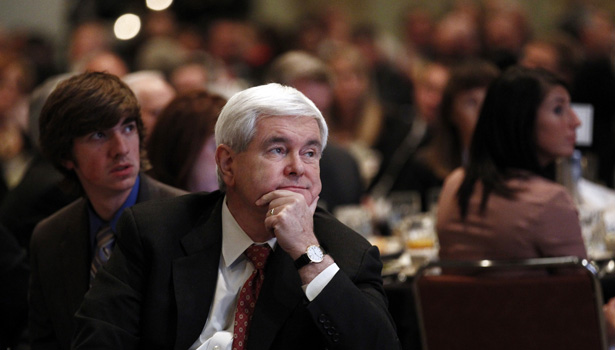 Reuters
Adam Hochschild, writing in the New York Times after reading Newt Gingrich's Ph.D. dissertation on postwar Belgian educational policy in Congo, takes the candidate to task not for racism or political bias, but for narrowness of vision -- failing to visit Congo or interview Congolese, even those resident in the U.S., about their experience, and tacitly accepting the legitimacy of colonial exploitation while blaming the Belgians only for not being more enlightened about it.
Hochschild contrasts Gingrich with the last (and only) president with a Ph.D., Woodrow Wilson, whose dissertation on congressional government made his reputation and became a standard reference in its own right, still in print. But as Wilson's biographer John Milton Cooper, Jr.,
points out
, Woodrow Wilson never made the short train ride from Johns Hopkins in Baltimore to Washington to see Congress for himself, and visited the Capitol for the first time only in 1898, twelve years after finishing his doctorate. So it's hard to fault Gingrich's dissertation for lack of field research. And Wilson's own views on
race
-- for example, his enthusiasm for
Birth of a Nation
-- along with his abysmal wartime
civil liberties record
, make him a flawed role model for today's candidates. 
What Hochschild deplores in Gingrich is actually what makes him
alarming to some Democratic strategists
: a capacity for apparently endless self-reinvention beyond his academic roots. He may not be invited to address the American Historical Association, but in 2007 he was a keynote speaker of the
Society for Neuroscience
. Whatever one thinks of Gingrich and his proposals today, his 40-year-old Ph.D. dissertation should share the well-deserved obscurity of Barack Obama's
senior paper
.