Why Is No One Attacking Mitt Romney?
As he zooms to the front of the pack on the eve of the caucuses, the rest of the field is expending its energy and money tearing each other down.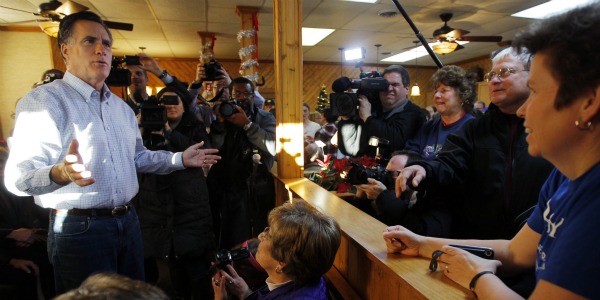 Mitt Romney's confidence is brimming. The former Massachusetts governor, now widely seen as the favorite to win Iowa, announced Wednesday he'll stay in the Hawkeye State the night of the caucus, a clear indication he anticipates a good result. If he does capture Iowa, he'll head into New Hampshire, long his political stronghold, with a chance to become the first non-incumbent GOP presidential candidate ever to win the first two primary contests -- a back-to-back triumph that would all but secure the nomination.
So, naturally, his Republican rivals have spent the last week castigating him on the trail and eviscerating him on TV, all in a desperate attempt to slow down his momentum and keep their own campaigns viable. Right? No -- they've nearly done the opposite.
In a new radio ad released Wednesday, Texas Gov. Rick Perry set his sights not on Romney but on former Pennsylvania Sen. Rick Santorum, who is enjoying his own surge in Iowa. In the ad and on the campaign trail, Perry criticized Santorum's previous support for earmarks, calling the ex-U.S. senator part of the big-spending Washington establishment. He does not, however, mention Romney.
It's an old story this primary, where Romney has not faced the kind of withering attacks that normally confront a frontrunner. His rivals have trained their fire on one another instead.
Just examine the Iowa landscape this week as the campaigns make their last desperate push. Reps. Michele Bachmann and Ron Paul are at each other's throats over the defection of the Minnesota congresswoman's Iowa state chair.
Paul, meanwhile, has spent most of the last month barraging former House speaker Newt Gingrich with a litany of hard-hitting TV ads. Paul himself has received blistering criticism from Gingrich and Santorum, each of whom has said his isolationist-leaning foreign policy is unacceptable.
As they form a circular firing squad, Romney stepped back. Rather than engage his GOP opponents, as he's done most of his campaign, he's focused almost entirely on his No. 1 target, President Obama.
Romney has received cover from the primary's unprecedented volatility (at least since 1964), which has sent a bushel of candidates to momentary stardom atop the Republican field only to be torn down weeks later. Attacks from rivals and media scrutiny have followed each of these momentary front-runners, who have risen and fallen through the fall, instead of Romney, as he plodded methodically along at 25 percent in most national polls.
And it's not as though Romney, his past rooted in blue-state Massachusetts, didn't supply his opponents plenty of ammunition. They have the bullets; they're just not firing them.
Image: Brian Snyder / Reuters