What Ben Nelson's Retirement Means for the Senate Sweepstakes
With few strong Democratic contenders in sight, the centrist Nebraskan's exit means Republicans are more likely to capture the upper chamber.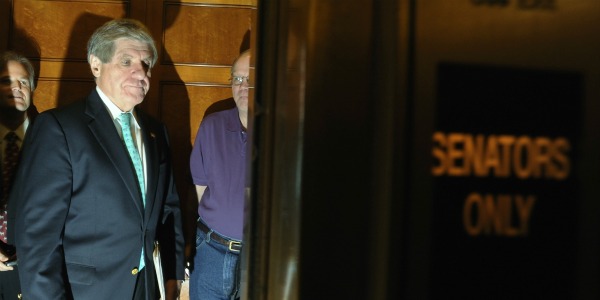 Now that Sen. Ben Nelson, D-Neb., has announced that he won't run next year, Democrats will have to work that much harder to preserve their 53-47 Senate majority.
Nelson, arguably the most conservative Democrat in the Senate, was a difficult vote to wrangle but his mere presence helped party stay in charge. Now, Nebraska--a state that has voted Republican since 1964 and where the highest ranking Democrat, after Nelson, is the mayor of Omaha--is poised to send a Republican to the Senate. Nelson had a good chance of hanging on even though he'd been excoriated back home by Republicans for supporting Obama's health care plan. Still as a popular former governor, he was as well positioned as anyone to win the seat.
The problem for Democrats is that seven members of the party's in the Senate have said that they won't seek reelection next year and many come from states where it'll be hard to hold the seat, such as Virginia and New Mexico and others like North Dakota where it may be close to impossible.
Nelson's decision was no great shock. He'd been talking about it for sometime even as he continued to raise money for a reelection bid. But now that he's out Democrats will have to redouble their efforts to preserve their majority. They'll especially have to focus on keeping the seats of members elected in the Democratic sweep in 2006. Some like Sen. Amy Klobuchar, D-Minn., seem entirely same but Sen. Claire McCaskill, D-Mo., and Sen. John Tester, D-Mont. will have particularly tough fights. Now they face even more pressure to win.
Image: Reuters / Jonathan Ernst