The Des Moines Register Iowa Poll: Watch Those Romney and Santorum Trend Lines
The paper's final, authoritative survey finds a tight race with Mitt Romney in the catbird seat and Rick Santorum moving up.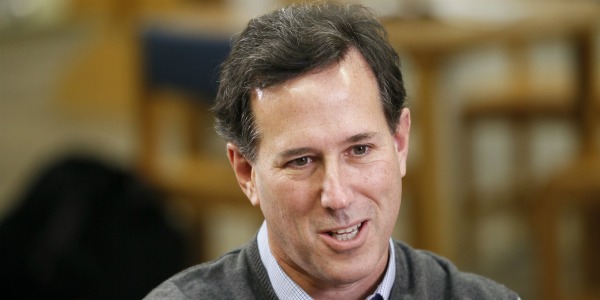 DES MOINES -- The eagerly awaited
Des Moines Register poll
, released Saturday evening, shows Mitt Romney holding a slim but solid lead ahead of Tuesday's Iowa caucuses, with Ron Paul in a precarious second and Rick Santorum in third but hurtling upwards.
The raw numbers: Romney, 24 percent; Paul, 22 percent; Santorum, 15 percent; Newt Gingrich, 12 percent; Rick Perry, 11 percent; Michele Bachmann, 7 percent.
The poll of 602 likely caucus-goers was conducted Tuesday through Friday and carries a margin of error of plus or minus 4 percentage points.
But according to the Register, a change was detected over the course of the four days of polling. If the last two days were considered separately, Romney's standing would remain the same, but Santorum would move up to second and Paul would fall to third.
Though that smaller sample carries a greater margin of error, it's an indication of which way the all-important trend lines are moving in the final days: Santorum is furiously surging, while Paul is fading.
Just as importantly, Romney, who would be rendered nearly unstoppable by a win in Iowa lofting him into New Hampshire, is holding steady.
The caucus-eve poll, conducted by respected local researcher J. Ann Selzer, has correctly predicted the winner of the difficult-to-predict caucuses since she began conducting it in 1988.
Here's some background
on Selzer's scrupulous methods.
A quick candidate-by-candidate breakdown of the poll numbers, compared to the
previous Register poll
a month ago:
Romney 24 (+8)
: Romney was in first when Selzer polled back in June. Have we all been wasting our time covering the campaign for the last six months, only to end up where we started? The story then is pretty much the story now: Romney,
unloved but reliable
, the reluctant choice of a slight plurality as those who'd prefer an alternative split between the other candidates in the field. Romney is touring Iowa aggressively up through caucus night, seeking to lock down the state he once wrote off. He's in an enviable position: He could win, but he doesn't have to. A second-place finish to Santorum or Paul would be damaging, but probably not enough to derail him in New Hampshire.
Paul 22 (+4)
: The libertarian Texas congressman has an ardent following and an
excellent ground game
, but the scrutiny that comes with success has exposed his less appealing qualities, from a history of publishing offensive material to non-Republican-standard views on drug legalization and foreign policy. Meanwhile, puzzlingly, he's not working very hard to turn it around. Alone among the candidates, he left Iowa for the weekend, spending New Year's back home in Texas. He'll be back Monday, but the lifting will be heavy.
Santorum 15 (+9)
: He's worked very, very hard to get to this point, and this result confirms the "
Santorum surge
" that's been the talk of the press corps for the last few days. Now that he looks viable, will more social conservative caucus-goers surge his way? And if they do, how high can he rise -- all the way to first? Still more questions lie ahead for Santorum after caucus night: Does he meet the suddenly heightened expectations? Does he go on to compete in New Hampshire? Does he have the resources to keep up the fight beyond?
Gingrich 12 (-13)
: How the mighty have
fallen
. No one was less surprised than Gingrich when he enjoyed a sudden, meteoric rise to the top of local and national polls a few weeks ago. (He's still the front-runner in
national polling
.) But he wasn't able to build an organization from scratch, and the pile-on that commenced from his rivals -- to which he largely declined to respond -- took an immediate toll. In a reflection of how quickly things are moving, almost all the negative ads on Iowa TV are still attacks on Gingrich. It's fair to say their work is done.
Perry 11 (+5)
: Largely under the radar, but boosted by the largest campaign TV ad buy of any candidate, Perry has managed to
tick upward
from his earlier crash. With a campaign in disarray and donations long since dried up, Perry's goose may already be cooked. But with plans already in place to go directly from Iowa to South Carolina, he could remain a factor if he outperforms expectations in Iowa.
Bachmann 7 (-1): The Ames straw poll winner was abandoned by her campaign chairman this week when he defected to the Ron Paul campaign. Bachmann continues to campaign, insisting she's going to defy the polls, but that looks increasingly unlikely. At this point, she's by far the odds-on favorite for first to drop out post-Iowa.
Image credit: Reuters/Rick Wilking