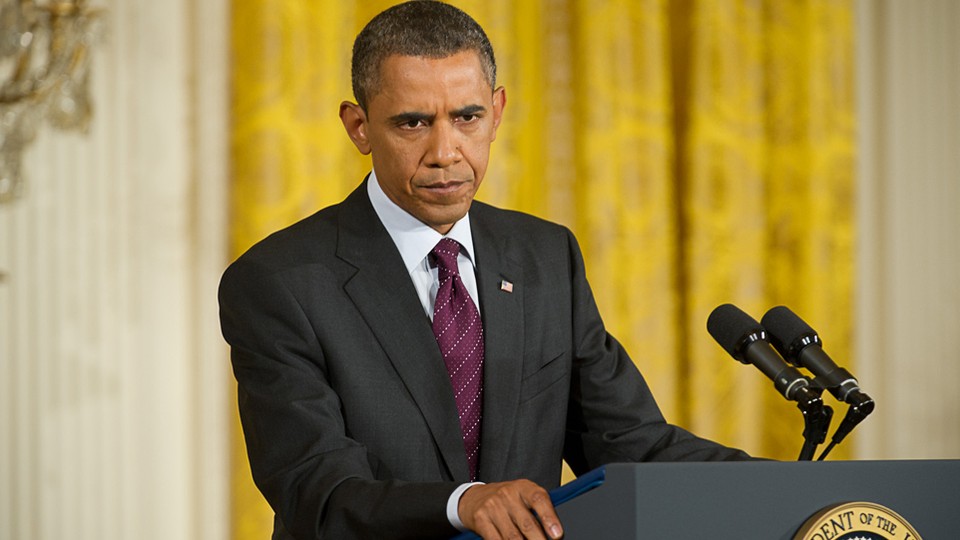 Attitudes toward President Obama remain chilly in the latest Allstate/National Journal Heartland Monitor poll. But the first hint of a spring breeze might be blowing toward the White House in the form of warming expectations about the economy's trajectory.
Overall, the poll continued to record equivocal — and remarkably stable — judgments about Obama's record, with the president confronting a narrow balance of disapproval on his current performance and maintaining a sliver of optimism about the direction he has set.
On the nation's immediate circumstances, the verdict in the survey remains overwhelmingly negative: 70 percent of those polled say that the United States is on the wrong track, while only 20 percent say that it is moving in the right direction. That ties the Heartland Monitor survey last October for the most pessimistic finding on that reading in any of the polls dating back to April 2009.
Assessments of Obama's job performance are not as bleak, but they still tilt toward the negative. In the new survey, 44 percent of those polled say they approve of his performance, while 49 percent disapprove; in October, the split was a statistically identical 44 percent to 50 percent.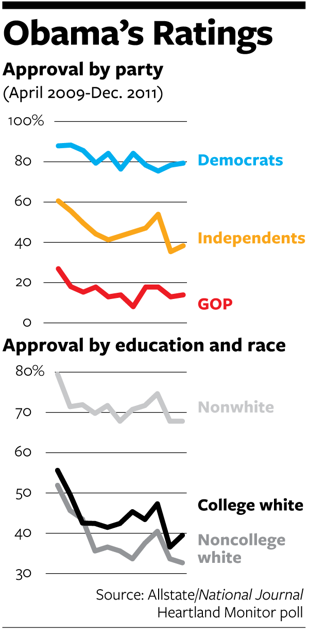 Taking the longer trajectory underscores the narrow range in which attitudes about Obama are oscillating. In eight Heartland Monitor surveys since January 2010, his approval rating has exceeded 50 percent only last May (when it tipped to 51 percent), and it has not fallen below the 44 percent recorded in the two most recent surveys.
In the new poll, just 35 percent of whites say they approve of Obama's performance. Among whites, his approval rating since January 2010 has exceeded 40 percent only once, also in that May 2011 survey.
Obama's numbers among whites without a college education remain bleak: Less than one-third of them approve of his performance. He has reached 40 percent approval with this group only once (in that same May 2011 poll) since January 2010. Perhaps more worrisome for the White House, Obama's numbers remain depressed among college-educated white voters, who have generally been warmer toward him. Just 39 percent of them say they approve. That joins October as only the second time the president's standing with that group has fallen below 40 percent. Even among college-educated white women, who gave Obama 52 percent of their votes in 2008, his approval rating has skidded to 42 percent.
The most recent two surveys also place Obama at a nadir with independents: 38 percent of them in the new poll approve of his performance (compared with 35 percent in October); each of those mark the first time in the Heartland Monitor polling that fewer than 40 percent of independents have approved.
Other results also bend against the president. Only 28 percent said they expect his policies to increase opportunity for them to get ahead; 37 percent say that his agenda will diminish their opportunities. That's the biggest tilt toward the negative that the poll has ever recorded on this question.
An incumbent's approval rating historically has been the most revealing gauge of his reelection prospects. The numbers are even gloomier for Obama on a reelection question. When asked if they intend to vote for Obama, 39 percent said they were now inclined to, while 54 percent said they will definitely or probably back someone else. That result is essentially unchanged since October.
Four other findings, though, offer somewhat better news for the president. Despite the doubts about Obama's performance, Americans still split evenly when asked whether they trust him or congressional Republicans to develop solutions to the nation's economic problems (that figure, however, represents a decline for Obama, who has generally run narrowly ahead of the GOP on this question).
More important, Americans are somewhat optimistic when asked about the impact of Obama's policies. Fully 38 percent say that the United States is "significantly worse off because of the policies" he has pursued, while a mere 11 percent say that the nation is "significantly better off." But another 43 percent say that while the country is not yet significantly better off because of his agenda, it is "beginning to move in the right direction." All of those numbers have remained remarkably stable since the summer of 2010.
Also good news for Obama: While Mitt Romney and Newt Gingrich, the two GOP front-runners, are arguing about who is more committed to proposals to convert Medicare into a voucher or premium-support system, the survey finds preponderant public resistance to the idea.
Although other polls have found varying levels of support depending on how the idea is worded, fully 62 percent of those surveyed in the Heartland Monitor said they would prefer to "continue the current system where Medicare pays doctors and hospitals directly "¦ even if it means that Medicare might have to cut the amount it pays doctors, potentially causing some doctors to limit the number of Medicare patients they see." Just 17 percent say they support plans to "convert Medicare into a program that provides seniors with a fixed sum of money to purchase their own private insurance."
The most encouraging news for Obama in the generally sobering survey, however, is the hint of optimism about better times ahead. Compared with October, the share of Americans who say they are in excellent or good financial shape remains stuck at about two-fifths. However, the share who believe the economy will improve over the next 12 months has moved upward from 50 percent to 56 percent, and the share who expect it to decline further has fallen noticeably from 46 percent to 36 percent.
That's hardly the stuff of clouds parting, but amid the most stubborn economic downturn since the Depression, the White House undoubtedly will take silver linings where it can find them.