Stephen Bloom 'Does Not Speak for the University'
The recent Atlantic article by a journalism professor at the school was offensive, says its president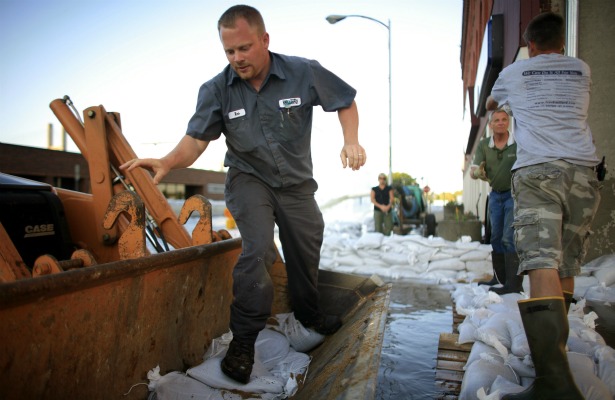 IOWA CITY -- The recent article at The Atlantic by Stephen Bloom, a professor at the University of Iowa, has generated considerable statewide and national reactions about Iowa. I disagree strongly with and was offended by Professor Bloom's portrayal of Iowa and Iowans. Please know that he does not speak for the University of Iowa. As president of the University, I have the opportunity to travel far and wide across this great state frequently, and the Iowa I see is one of strong, hard-working and creative people. In this cynical world that can harden even the greatest optimist, the citizens of Iowa continue to believe.
Shortly after I came to this wonderful state, we were faced with a historic flood that devastated communities up and down the eastern corridor of Iowa. What I saw, though, in some of our darkest hours was the best that Iowa has to offer -- our people. I saw sandbags being filled. I saw communities rallying together to help their neighbors protect what they treasured. I didn't see woeful distress or abandonment.
What defines Iowans are their deeds and actions and not some caricature. When I travel the state, what I see is a land that is rich not only because of its soil but because of how its people are grounded. Iowans are pragmatic and balanced, and they live within their means. This lifestyle, while not glitzy, is humble and true and can weather the most difficult of times. One's reputation and word are understood to be his or her most valued attributes. As a result, people cultivate a sense of fairness, cooperation, and humility.
These values are exactly what you find in the hundreds of small towns in Iowa, which are the moral fabric of our state. When you look deeper within these communities, you will find independent farmers who are savvy business people on par with any corporate executive. As every Iowan knows, farming is a multi-million dollar business for them, demanding a close grasp of markets, finance, technology, and more. I have also seen Iowa towns large and small grappling with the challenges of the economic downturn. We are not immune to such troubles that have gripped every corner of the nation. But in these towns from river to river are entrepreneurs who are making businesses work. There's no shortage of dedicated, creative, and daring Iowans who are finding what works.
Dubuque is a perfect example of a river town that struggled but has reinvented itself by tearing down industrial plants to reclaim a stunning waterfront and build a convention center and world-class museum. Cedar Rapids, likewise, claims Rockwell Collins as a thriving centerpiece of economic development. Across the state in Council Bluffs, you will find Google -- the company that has come to define the new age economy.
You also don't have to look far to immerse yourself in the fine arts. No fewer than seven Iowa communities claim symphony orchestras, and it goes without saying that no other state comes close to comparing with Iowa's tradition of literary excellence and creativity. When you can boast one of five Cities of Literature worldwide -- and the only one in the United States -- you're in a class all alone.
As the country knows, we start the nominating process for the president. There is not a day that goes by when some pundit doesn't ask, "Why Iowa?" My husband and I are transplanted Iowans, having been born and raised on opposite coasts. We are both proud to call Iowa home, and we are fascinated by the Iowa caucuses and how thoroughly Iowans become involved in the selection process of a president.
My sincere hope is that those who visit our beautiful state take at least a small piece of our character with them as it might make their own neighborhood even better.
Image credit: REUTERS/ERIC THAYER: Workers place sandbags as waters rise in Burlington, Iowa, June 16, 2008.