Someone Is Messing With NewtGingrich.com
An Internet prankster has redirected the website bearing Gingrich's name to ones that carry reminders of the candidate's most embarrassing episodes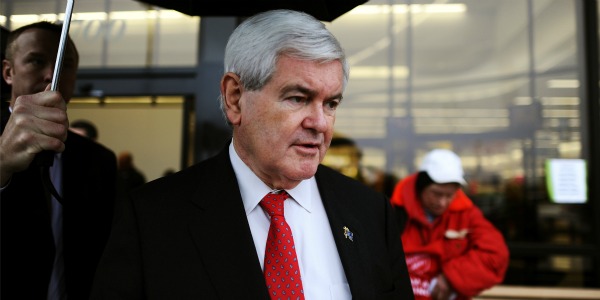 Updated 12:40 p.m.
If you went to
www.newtgingrich.com
Wednesday morning, you didn't get a campaign website for the candidate currently leading national GOP primary polls. Instead, the address redirected to a number of sites that referenced embarrassing episodes in Gingrich's career:
* The
commercial
Gingrich taped with Nancy Pelosi calling for action on global warming
* A June
Washington Post
article
headlined "Gingrich campaign implodes"
* A
post
earlier this month on our sister site,
The Atlantic Wire
, headlined "Gingrich's Campaign Still Looks an Awful Lot Like a Book Tour"
The mystery of who was behind the prank was short-lived: the Democratic PAC American Bridge soon sent a press release touting its ownership of the domain and
offering
to sell it to the highest bidder. (Gingrich didn't own it in the first place -- his campaign site is newt.org.)
It's interesting to note the theme of the array of sites American Bridge chose to redirect to. They're not about Gingrich's erratic behavior as speaker of the House more than a decade ago, or his infidelities and divorces, or, with the exception of the Pelosi commercial, his policy stances.
Rather, the sites point to a collection of references to Gingrich's self-interested ventures: The don't-call-it-lobbying consulting gig for Freddie Mac, the $500,000 credit line at Tiffany, the Greek cruise he took when his aides would have liked him to be campaigning in Iowa, his subsequent abandonment by those aides, the larkish campaign that often saw him signing books rather than stumping for votes. Even the Pelosi commercial is a reminder not only that Gingrich took a suspiciously liberal position, but also of his preening for the cameras.
The Democratic group wants to push the idea that as much as voters may find Gingrich an attractive candidate, Gingrich has only one priority: himself.
Image credit: Getty Images/Jewel Samad