Should a Sports Mogul Join the Republican Race?
If a New Jersey sports owner can run against Putin, maybe other owners have a shot against Obama.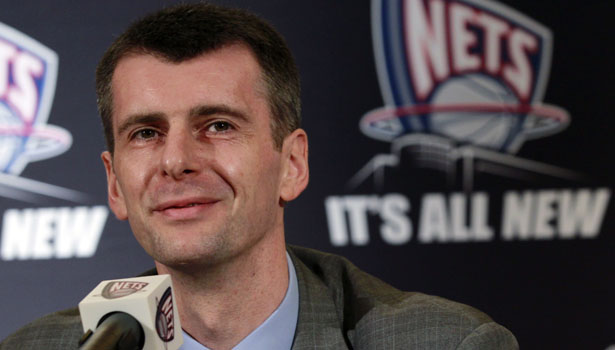 New Jersey Nets owner, Russian billionaire Mikhail Prokhorov, is running against Validmir Putin in the 2012 Russian presidential election / Reuters
So if Mikhail Prokhorov, the billionaire who is majority owner of the New Jersey Nets basketball team, is now running against Vladimir Putin for president of Russia, maybe it's not too late for the Republicans to exploit American sports ownership to run against President Obama.
Prokhorov could be intriguing in Russia, especially if he brings Jay-Z, who has a minority stake in the Nets, aboard an anti-Putin ticket. We can at least imagine Jay-Z and Beyonce raising the child they're expecting as a Russian. More telling, cold-blooded Putin might not have an effective counterweight against such hip-hop royalty, neither of whom has ever been linked to rigged elections.
But we obviously don't want to be net exporters of leadership talent. We should look inward and mull the possibilities of late-starting Republican and independent candidates against Obama.
I'm drawn to Mark Cuban, flamboyant owner of the NBA champ Dallas Mavericks, a self-made zillionaire whose grandparents arrived at Ellis Island, was raised in a working-class family outside Pittsburgh, and did a bunch of odd jobs to pay his way through Indiana University.
He's contributed financially to both parties, though he's probably too liberal for the GOP. But Peter Baroni, a Republican attorney-law professor-lobbyist in Chicago, does find his "self-worth boundless, the first prerequisite to becoming president. Plus he has the capacity to self-fund. And the other sports owners generally seem too old."
Eric Adelstein, a Democratic political consultant in Chicago, wonders about the following sports moguls:
Jerry Jones of the Dallas Cowboys: "A Texan who is not all hat and no cattle."

U.S. Senator Herb Kohl of the Milwaukee Bucks: "Oops, wrong party!"

Jerry Buss of the Los Angeles Lakers: "No, it would cost him too many poker hours."

Paul Allen, the Microsoft co-founder who owns both the Seattle Seahawks and the Portland Trail Blazers: "Techno-geek appeal with a nostalgic hook in the wake of Steve Jobs' passing."

Dan Snyder of the Washington Redskins: "Too ornery and his cabinet would be overpriced has-beens."

Virginia McCaskey, 88 and principal owner of the Chicago Bears: "That would be like Shakespeare with all the conniving relatives waiting for the inheritance."
Democratic cynics might suggest that Republicans go for Dan Gilbert of the Cleveland Cavaliers, given what some see as a racially-divisive tendency and a claim to support small business.
He said nasty things when LeBron James, his star player, left Cleveland for Miami and just effectively argued for the NBA to veto a major trade which would have sent Chris Paul, the star player for the league-owned New Orleans Hornets, to the Los Angeles Lakers. His claim was that such a trade contravened the improve-small-market-teams spirit of a new union contract between the league and its players union.
Baroni does lament the impossibility of somehow running a collective for president. He's alluding to shareholders of the Green Bay Packers, our only municipally-owned bigtime pro sports franchise.
For sure, many Packers faithful just might reflect the tradition of Robert La Follette, Sr., the long-ago and iconic progressive Republican U.S. Senator from Wisconsin. But the state does have a harsh conservative streak, too, so perhaps increasing numbers of shareholders are sold on current Republican Gov. Scott Walker, who seems in sync with the ideological red meat sought by GOP primary voters.
Still, the important point, as Baroni notes, is that the shareholders are dispassionate shepherds of a wonderfully successful organization that has cultivated a large cadre of competent administrators. Whoever winds up in the White House after the 2012 election could do worse than imitate the Packers.
Ultimately, it's possible that the very best choice is, sadly, no longer a possibility. If the GOP is nervous about both Mitt Romney and Newt Gingrich, one might regret the recent passing of Al Davis, the Oakland Raiders owner and an idiosyncratic football legend.
As Adelstein noted, who could beat a candidate, regardless of his politics, whose personal credo was so famously succinct: "Just Win Baby!"?