Romney and Gingrich Woo the Jewish Republicans
A Washington crowd of Israel hawks heard from six GOP candidates. They liked Mitt Romney -- but they loved Newt Gingrich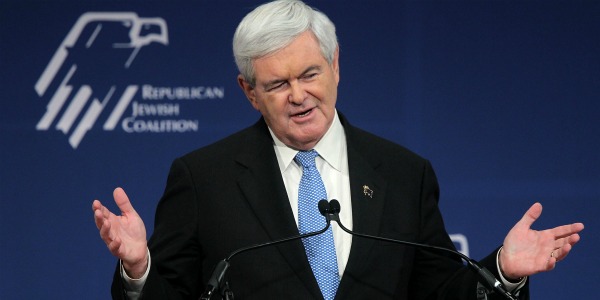 Mitt Romney got a warm reception from the Republican Jewish Coalition in Washington Wednesday. But Newt Gingrich got an even warmer one.
Romney accused President Obama of wanting to redistribute wealth until all incomes are level. Tough! But Gingrich vowed to make John Bolton, the controversial former United Nations ambassador, his secretary of state. Whoa!
The contrast neatly illustrated the threat Romney faces from the surging Gingrich, who's started blowing him away in almost every poll -- a representative crop of CNN/Time polls released Wednesday showed Gingrich with double-digit leads in Iowa, South Carolina and Florida, and just nine points behind in New Hampshire. They like Romney well enough, especially in this sort of Republican establishment crowd. But his safe, polished appeal is no match for Gingrich's freewheeling willingness to be frankly outlandish.
Four other candidates -- Rick Santorum, Jon Huntsman, Rick Perry and Michele Bachmann -- also addressed the confab, but seemed to fade to the background, underscoring the extent to which, a month before voting begins in Iowa, the Republican race feels like it has narrowed to Romney and Gingrich. (Ron Paul, who has said he would eliminate aid to Israel and wouldn't mind if Iran got nuclear weapons, was not invited due to his incompatibility with the group's perspective.)
The setting couldn't have felt more different than the grass-roots cattle calls the candidates have attended in places like Iowa. This was the candidates speaking to the GOP's small but influential class of Jewish supporters, a group focused primarily on national security and foreign policy and secondarily on economic issues. The RJC is growing -- it now claims about 30,000 members nationwide. And, oh, they have money. An RJC board member claimed that Jews are responsible for 30 percent of GOP campaign donations (and 60 percent of Democrats'). The group said it sold 450 tickets to Wednesday's event.
The candidates divided their speeches about evenly between Republican red meat and Israel-hawk red meat. Each chose two or more options from a checklist of talking points: mentioning "appeasement," with optional reference to the anniversary of Pearl Harbor; implicitly threatening war with Iran; demanding the firing of the Belgian ambassador; vowing to move the U.S. embassy in Israel from Tel Aviv to Jerusalem.
Romney devoted the bulk of his speech to an attempt to frame Obama as a quasi-socialist that was clearly intended to be inflammatory. He accused the president of trying to create an "entitlement society" in which "everyone receives the same or similar rewards" regardless of merit. He contrasted that with his vision of an "opportunity society" where capitalism is vibrant and the future is bright.
"American prosperity is fully dependent on our opportunity society. I don't think President Obama understands that," Romney said. "I don't think he understands America."
Romney also took an implicit shot at Gingrich with a reference to "the defining constants in my life," starting with "my 42-year marriage to my wife, Ann." To underscore the point, he released a new television ad in Iowa and New Hampshire near-simultaneously with the speech. The ad began with Romney saying: "I'm a man of steadiness and constancy. ... I've been married to the same woman for ... 42 years," over footage of family home videos.
Though Santorum and Huntsman had already spoken, Romney got the first standing ovation of the day. It seemed like his kind of crowd -- monied, establishmentarian, not particularly concerned with social issues. (Ari Fleischer was there; so was Scooter Libby.) It was these sorts of coastal elites -- drawn from the stalwart GOP minorities in states like New York and New Jersey -- who thrilled to the idea of a Chris Christie presidential candidacy. And indeed, Christie, the keynote speaker at lunch, wowed them with a speech in which he savagely mocked Obama's new attempt to brand himself a latter-day Teddy Roosevelt.
Gingrich, who spoke after lunch, didn't give a barn-burner. His speeches are nothing like those of the previous anti-Romney front-runner, the late lamented Herman Cain, who could bring any house down with vague but rousing cadences and snappy catchphrases. Gingrich's tone is even and quizzical, laced with historical references -- this time, he said it was "the most important election since 1860," name-dropped Camus, and told a first-person story involving Vaclav Havel.
But Gingrich speaks the language that thrills the Republican base, and his air of cheeky intellectualism makes it feel extra subversive. When he says the crucial political question is, "Are we in favor of American exceptionalism or Saul Alinsky radicalism?", he doesn't thunder or pound the podium, nor does he adopt a Fox News anchor's wide-eyed terror; he presents it as a matter of fact. He redefines the debate on his own terms, and then, naturally, proceeds to win it, tweaking those nasty liberals in the process.
Gingrich got a question about the potential electoral obstacle posed by the ethics charges that helped drive him out of Congress in the 1990s, a topic recently raised by House Minority Leader Nancy Pelosi; he dismissed it as partisan, saying, "If [Pelosi] was in the middle of it, how nonpartisan and just do you think the process was?" Never mind that the Ethics Committee vote to fine Gingrich was 7-1, and the vote on the floor 395-28.
He also went out of his way to defend the controversial remarks he made recently about putting poor children to work as janitors in their schools -- a neat way to instill a work ethic while saving the government money, except that some insisted on seeing it as forced labor and objected to the idea of underprivileged elementary schoolers being made to clean toilets.
"I believe it's really important for children to learn to work," Gingrich said, to applause. He mentioned a "fairly wealthy young woman" of his acquaintance who told him she'd been paid to run errands for her grandfather since the age of 5.
"These are the very poorest neighborhoods, where the kids are in public housing, surrounded by people with no experience of working," Gingrich added. "The reaction on the left has been hysterical" -- and the reason for that, he said, is that when you put poor children to work, "you just made this country dramatically more conservative."
The next Republican debate is Saturday night in Des Moines. Gingrich, who has gotten so much mileage out of the debates thus far, will surely face tougher questions than he has in the past. But with his ability to talk through and around just about anything, he won't be easy for Romney -- or anybody else -- to pin down.
Image credit: Getty Images/Alex Wong