Rick Santorum Wins an Iowa Crowd
Iowans have yet to be swayed by the former Pennsylvania senator's dogged campaigning, but they haven't ignored him, either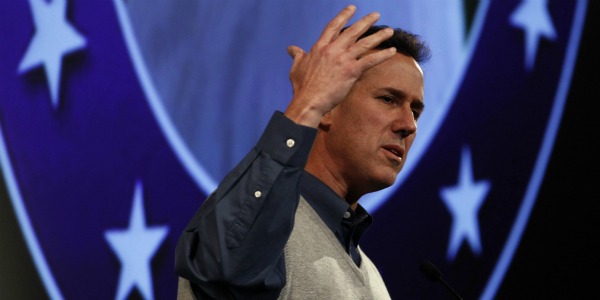 DES MOINES -- Iowans haven't been tuning out Rick Santorum after all.
Four presidential candidates paid tribute to the pro-life cause at a movie screening hosted by Mike Huckabee here on Wednesday, but only one brought some of the crowd to its feet -- Santorum.
"To say 'I believe life begins at conception' is like to say 'I believe the sun rises,'" he said. "Why would you believe something that's a fact?" The last of the four candidate speakers -- a group that also included Michele Bachmann, Newt Gingrich and Rick Perry -- Santorum got by far the most enthusiastic reception.
For months, the former Pennsylvania senator has been doggedly grinding it out in Iowa. He's visited every lonely corner of the state, holding over 300 events in all 99 counties. The smallest audience he's played to, he said in an interview: One.
But thus far it's seemingly all been for naught. Santorum has remained mired in the single digits, near the bottom of most polls of likely caucusgoers in the state. He was meeting a lot of Iowans, but they didn't seem to be listening.
His reception Wednesday night didn't prove he'd won anybody over or will suddenly get his turn as temporary front-runner -- pundits have been speculating that might happen for months, and it hasn't. But the enthusiastic applause for Santorum at least showed he's been heard by the constituency he speaks to most, Iowa's hard-core social conservatives.
All four candidates gave elaborate paeans to the importance of fighting abortion. Pro-life "isn't just a box we check. It's not a bone that we chuck some way," Bachmann said. She vowed that in her administration, "pro-lifers will no longer be sent to stand against the wall."
In an interesting play of the gender card, Bachmann also noted that if elected, she would be "the first president of the United States who has willingly participated with the Lord Almighty in bringing forth human life." And she while she lauded President Obama's recent decision not to allow Plan B to be sold to young girls without a prescription, she warned that he'd only done it because he was facing reelection.
Gingrich may be the front-runner in most polls these days, but he got no special reception from this crowd. He was his usual cerebral self, warning of "a cultural struggle with a secular elite who believe life is random and has no moral meaning." Unlike the other candidates, Gingrich sat in the audience for the film that followed the speeches.
Perry was the only candidate to read from a prepared text. He was emotional: "Some children are not born into ideal circumstances, but never ever let it be said there is such a thing as an unwanted child," he said.
But it was Santorum who truly connected. He told the story of having spent an evening apart from his family in order to speak on the floor of the Senate, only to lose the ensuing vote. He felt lousy, he said, beating himself up for having thought he could make a difference.
But a few days later, he said, he got an email from a college student who said he'd seen the speech on C-SPAN and it had convinced the student's girlfriend not to abort their child. The moral, to Santorum, was never to lose hope.
"You may not see what fruit you planted," he said. "But it's only because you didn't get the email."
Afterwards, Marilyn Brown, a retired secretary in her 70s wearing a red "Celebrate the Season, Celebrate Jesus" sweatshirt, said she was gratified by Santorum's warm reception. She's been following his political career for years and cheering his efforts to fight abortion, she said.
"I was glad he got such a strong response. He might do better than we think," Brown said. But as for her, she said she'd be supporting Bachmann. She just didn't think Santorum could win.
Image credit: Reuters/Jim Young