Rick Santorum Wants to Send a Message to Egypt by Attacking Iran
His foreign-policy strategy shows the candidate has failed to learn the lessons of Iraq.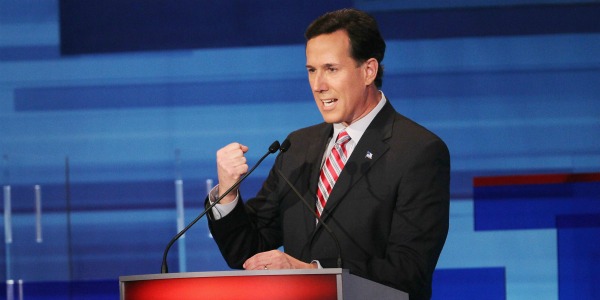 One divide on the right pits those who want America to embrace the Arab Spring against folks who think encouraging democracy in that region will just bring to power Islamist governments antagonistic to our interests. Rick Santorum takes the latter position. "This is exactly the problem that we got into when we supported those who wanted to throw out Hosni Mubarak, who clearly was a dictator and a tyrant, but he was someone that we could work with," he said during a Wednesday interview. "We should have been, instead of disengaging, as Obama did, should have continued to engage and move in some more political and economic freedom."
Lest you think that the former Pennsylvania senator is a realist, however, be sure to delve deeper into his views, for they're yet another example of a Republican presidential candidate asserting fantastical critiques of President Obama's foreign policy and suggesting that we replace it with a sort of aggression that almost certainly wouldn't solve the problems being discussed.
This is from a transcript of Hugh Hewitt interviewing Santorum, amid their discussion of Islamists coming to power in Egypt:
SANTORUM: ...Now we've got what President Obama maybe intended all along.

HEWITT: So what... maybe intended all along, do you think he actually intended for a sort of populist Islamist front to emerge?



SANTORUM: You know, look, this is a president who doesn't believe the Muslim Brotherhood is an Islamist front. This is a president who's people just, you know, and Dan Lungren, I think it was Lungren, who asked the question, are we at war with Islam? And of course, the answer was no. Islam is not, there's not problem here. I mean, Islam isn't a problem. You know, radical Islam isn't the issue. This is a president who doesn't see it that way. He sees the world differently. He sees these as people who have been oppressed, who are taking their rightful role. That is the president's viewpoint. He does not understand what radical Islam is and its threat to the West.
It'll be interesting to see if Republicans are foolish enough to trot out this "Obama doesn't understand that radical Islam is a problem line" during the general election. To which he'll presumably reply, "I've been killing radical Islamists at a frenzied pace for years on end now. Have you heard of Osama bin Laden?" Lord knows that I've published many a critique of Obama's foreign policy. Paying insufficient attention to the threat of Islamist terrorism hasn't been one of them. The American people know he's paying attention, too. Only inside the conservative movement is there confusion.

But the truly alarming thing about Santorum is the foreign-policy vision he says he'll implement if elected:

HEWITT: And so what does President Santorum do to recalibrate, to recapture, to somehow realign the Middle East away from the direction... it's clearly on a disastrous course right now. So what do you do?

SANTORUM: Sure. Well, I think you have to start with the source, and that source is Iran. And you've got to lay the law down in Iran, and say that Iran is not going to get a nuclear weapon, and do whatever is necessary. I hope by January 20th, that that still is an open question. And if it is, I can guarantee you that Iran will not develop a nuclear weapon. We will do whatever is necessary to take out and degrade that capability, if that's ultimately what's necessary to do.

Set aside the question of whether it is prudent or imprudent to use military force to stop Iran from developing nuclear weapons, if it is even pursuing them. Even if you think it's a good idea, how clueless do you have to be to imagine that the effect of bombing or invading that country will be to change the trajectory of the region away from Islamism and anti-American sentiment? Inside Iran the effect would be quite the opposite. And it's unclear why Santorum thinks that attacking the Iranians, or preventing them from going nuclear, will somehow diminish the Islamist element in Egypt. It's just fantastical thinking. Addressing Islamism in Egypt by bombing Iran makes about as much sense as responding to 9/11 by invading and occupying Iraq.
Hewitt seemed puzzled by Santorum's answer too, and followed up with this exchange:
HEWITT: Now in terms of the, of course they are Shia and not Sunni, and the Sunni Islamists are triumphing in Egypt.

SANTORUM: Right.

HEWITT: How does that situation get turned around?

SANTORUM: Well, Shia not Sunni, that's correct. But as you know, I mean, the Iranians are supporting Hamas.

HEWITT: True.

SANTORUM: And with other Sunni organizations, not just Hezbollah. And they are the, if you will, the template that is being used in Egypt is the template that was used in Iran. And so taking our aim at Iran is an important thing to show that we are not going to allow radicals to gain power and to use that power for purposes of spreading their radical jihadist ideology. And I think that's right now, Egypt is in the position to do so. But we need to send a message to the Islamists of all stripes that this is an unacceptable, will not be accepted as a governmental course for any country.

Remember that Santorum isn't someone who proudly proclaims his ignorance of foreign policy, like Herman Cain, who at least promised that he'd get advisers more knowledgeable than he was. Santorum really thinks he knows his stuff. And yet his actual plan for addressing rising Islamism in Sunni countries is to attack Iran in a way that he thinks will "send a message" to everyone else. Does he imagine that after these bombing strikes on Iran the Islamists in Egypt will say to themselves, "Oh, America is tougher than we imagined, and we're actually going to elect a pro-Western, secular government now that we've seen the consequences for Iran?" This would be a foolish way to look at the world in any case, but even after the Iraq War, does Santorum still not understand that the messages neoconservatives think they're sending and the geopolitical consequences they predict actually aren't what come to pass?
Image credit: Reuters