Rick Perry Is a Poster Boy for Public Pension Excesses
His employee benefits package permits him to collect thousands in monthly retiree payments even though he's still working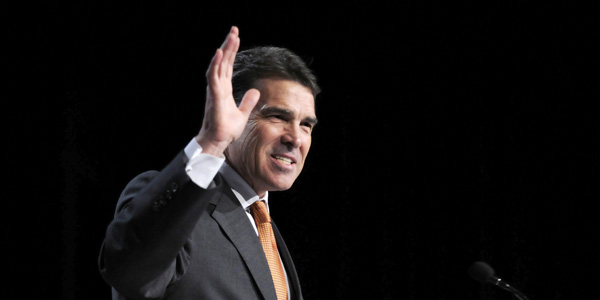 Despite being the Republican governor of Texas, Rick Perry has always been a dubious choice for Tea Party conservatives: his approach to economic development is for the state to subsidize private industry, his avowed support for the 10th Amendment is notoriously inconsistent, and his record on required HPV vaccinations upset a lot of limited government types. Along with his poor debate performances, these facts contributed to his decline in the polls.
Now Tea Party voters have yet another reason to root against his resurgence. At a time when the right is upset at what many regard as excessive benefits doled out to public employee pensioners, Gov. Perry has proved to be a beneficiary of the arguably corrupt rules governing retirement funds: though he is still serving as governor, for which he is paid a salary of $150,000 per year, Perry has also declared himself officially retired, a legal maneuver that enables him to collect retiree pension benefits from his earlier work as a state employee. "Thanks to his early retirement, Perry, 61, gets a monthly retirement annuity of $7,698 before taxes, or $6,588 net," the Texas Tribune reports. "That raises his gross annual salary to more than $240,000."
Once Perry leaves the governor's mansion he'll collect even more in retirement benefits:
Perry is allowed to retire in two different systems -- the "employee class" from which he is retired now, and the "elected class" system he will take retirement from when he leaves office... Perry also is eligible for Social Security benefits and lifetime, state-provided health care.

Perry is entitled to all these benefits under existing law, and is in no way getting special treatment. He is also engaging in exactly the same behavior for which conservatives have vilified other public employees.
Image credit: Reuters