Remember When Republicans Didn't Like Newt All That Much?
GOP poll respondents love the former speaker now -- but they used to see him as one of the least likable 2012 candidates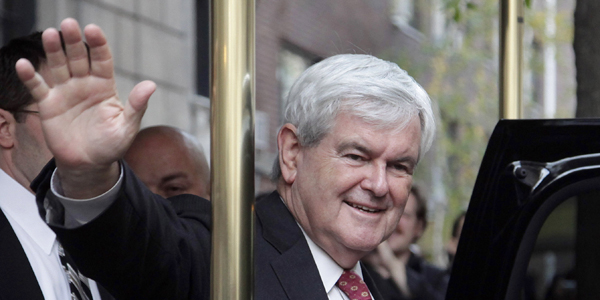 Newt Gingrich is sounding pretty confident these days. "I'm going to be the nominee," he told ABC's Jake Tapper last week, not even a specter of doubt visible in his face. "It's very hard not to look at the recent polls and think that the odds are very high I'm going to be the nominee."
Gingrich spoke in the confident tones of an NFL wideout promising a Super Bowl ring -- and he's right that current polling in Iowa and South Carolina indicate quite obviously that he has an advantage over Mitt Romney in those states.
His star has re-risen, but it wasn't long ago that Republicans were cool on Gingrich. Not just on wanting him to be president, but on Gingrich himself. It's a strange trend that shows how fickle voters can be in deciding whether or not they like someone personally.
Throughout his campaign, few on the right have questioned Gingrich's intellect, or his mastery of policy, or even his presidential leadership skills. But Republicans didn't always see him as more than moderately likable. While personal likability was propelling Herman Cain to the top of the GOP poll charts, Gingrich's favorable/unfavorable ratings lagged behind those of his more successful rivals -- suggesting, perhaps, that his brash imagination had won him the respect of Republican voters, even if they didn't necessarily want to be friends with him. Which -- I think we can be sure -- is something Newt Gingrich was probably fine with.
From Sept. 10 - 15, while Rick Perry and Mitt Romney were adorated by GOP poll respondents, Gingrich's favorable/unfavorable ratings were mediocre at best for a serious primary candidate, CBS/New York Times polling showed: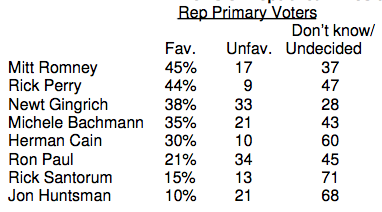 With Sarah Palin listed as an option, just three percent of Republican respondents told CNN in September that Gingrich was the most likable candidate: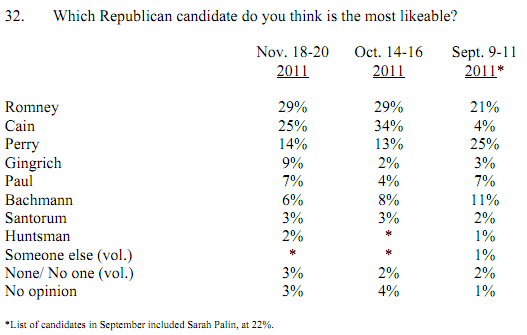 Things have turned around for Gingrich -- dramatically. A full 64 percent of Republicans view him favorably, while only 10 percent view him unfavorable, according to a late-November Quinnipiac survey. That's better than Romney (58/15) and Cain (45/21), the other two candidates whose favorability was polled.
It doesn't seem as if Gingrich has done much to merit the shift in likability during the last three weeks. Maybe it has something to do with his calm performances in televised debates, which have accounted for so much of the candidates' national visibility.
When Fox's Chris Wallace asked Gingrich, on Aug. 11, about the mass resignation of his campaign team, the former speaker had little to lose. His campaign looked like a joke. He came out swinging. Gingrich hasn't had any major blow-ups with debate moderators, but he hasn't really backed off his prickliness either. On Nov. 9, he slammed the media and engaged with a little bit of back-and-forth with CNBC's Maria Bartiromo (skip to 1:00).
Without much substantive difference discernible in his own behavior, it's probably safer to assume that voters have just changed their minds about Gingrich.
Image credit: Mark Lennihan/AP