Quote of the Day: Newt Gingrich Urged Invasion of Iraq on Sept. 19, 2001
He wanted to 'use this as the moment' to oust Saddam Hussein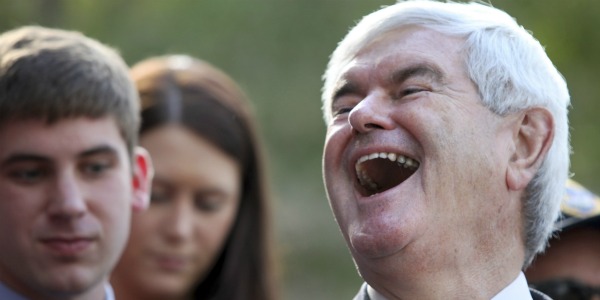 ''If we don't use this as the moment to replace Saddam after we replace the Taliban, we are setting the stage for disaster." -- Newt Gingrich, as quoted in the New York Times. Says the article:
A tight-knit group of Pentagon officials and defense experts outside government is working to mobilize support for a military operation to oust President Saddam Hussein of Iraq as the next phase of the war against terrorism, senior administration officials and defense experts said. The group, which some in the State Department and on Capitol Hill refer to as the ''Wolfowitz cabal,'' after Deputy Secretary of Defense Paul D. Wolfowitz, is laying the groundwork for a strategy that envisions the use of air support and the occupation of southern Iraq with American ground troops to install a Iraqi opposition group based in London at the helm of a new government, the officials and experts said.

Under this notion, American troops would also seize the oil fields around Basra, in southeastern Iraq, and sell the oil to finance the Iraqi opposition in the south and the Kurds in the north, one senior official said. ''The takeover would not be dissimilar to the area we occupied in the gulf war,'' the official said.

The rest is history. I guess he thought that before we could win the War on Terror we had to fundamentally transform the Middle East.
Image credit: Reuters