Picture of the Day: Ron Paul Fans Wear It on Their Sleeves
Through thick and thin, attention drought and scandal, there's no doubting the commitment of the candidate's supporters.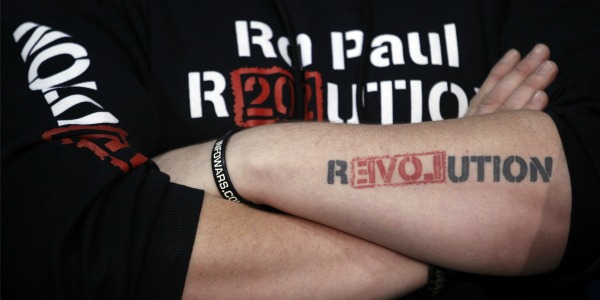 What has propelled Ron Paul, the repeat candidate who used to be seen as a crank goldbug, to the first tier of Republican contenders? It's dogged supporters like this man, who was photographed at the Knapp Learning Center on the State Fair Grounds in Des Moines. Although few believe the Texas representative is headed to the White House, his support isn't just another bubble, because his numbers are made up of true believers -- the sort of folks willing not only to wear their support on their sleeve (literally), but also to tattoo it on their arms. A Time poll released Wednesday has Paul just three points behind Mitt Romney among likely Iowa caucus-goers.
For the sharp-eyed observer, the photo also shows the darker side of Paul's base. In addition to a good number of white supremacists, whose views (though not support) he has repudiated, his supporters also include an even greater number of conspiracy theorists. This man's wristband advertises InfoWars.com, one of the sites maintained by radio host Alex Jones, one of America's most prominent 9/11 truthers.
Image: Jeff Haynes / Reuters