Picture of the Day: Meanwhile, in Hawaii ...
Republican hopefuls are spending their holiday season away from home and on the trail, but the First Family is enjoying some down time on Oahu.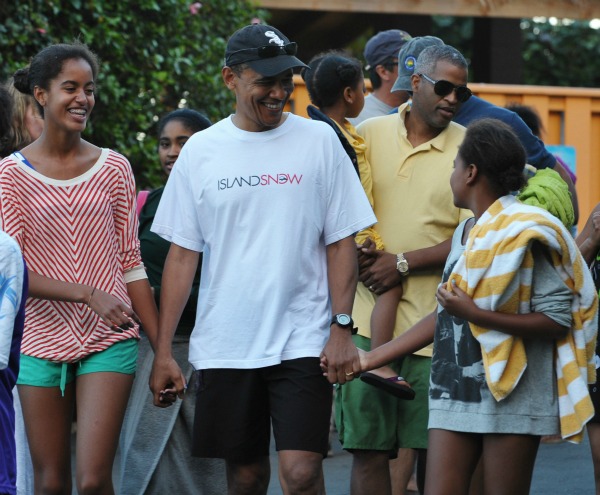 With Iowa caucus fever in full swing, the man who Republicans are vying to replace is easily forgotten. President Obama probably doesn't mind the peace and quiet, though. The First Family is vacationing on Oahu for the holidays -- although Michelle, Sasha, and Malia Obama have been there longer than the president, who delayed his trip until Congress had worked out a payroll tax cut extension. The vacation hasn't been entirely without controversy: after First Dog Bo was spotted in Washington, a neighbor in Hawaii claimed to have seen him there too, setting off speculation that the Portuguese water dog had been flown back to the capital for a photo-op. The White House insists Bo never left D.C., which has apparently been enough to calm all but the strictest doggers.
Here, Malia (left) and Sasha (right) flank Obama as they leave the Sea Life Park in Waimanalo with Marty Nesbitt (rear), a longtime family friend who served as treasurer of the president's 2008 election campaign.
Image: Mandel Ngan / Getty Images