Photo of the Day: Declaration of Independents
Don't expect the 2012 presidential election to be fought along party lines -- because in battleground states, a plurality of voters aren't in either party.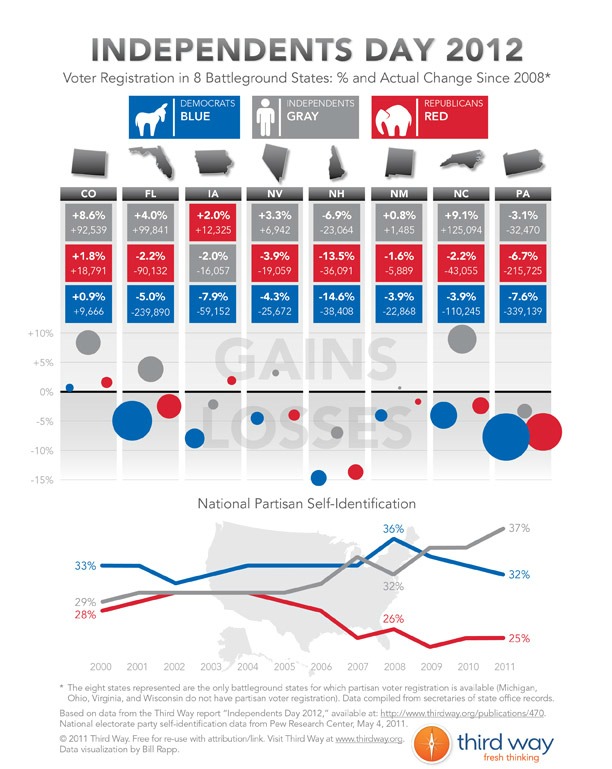 This picture neatly illustrates the state of politics in key swing states, and the challenge ahead for both President Obama and the Republican nominee in 2012. The portion of Americans who identify as independents has been steadily rising for years, notwithstanding a brief reversal during the euphoria over candidate Obama when Democrats shot back ahead. According to data compiled by Third Way, independents are now a solid plurality of the national electorate.
The numbers are especially relevant in key battleground states. Democrats have seen the slowest growth or the fastest attrition in all eight. Especially worrisome for the Obama campaign are Pennsylvania and North Carolina, two states the president hopes to win in 2012, as he did in 2008. In Pennsylvania, there will be nearly 340,000 fewer Democrats, although Republican numbers are down, too. In the Tar Heel State, Republicans have gained sharply while Democrats lost. But the overall picture isn't rosy for the GOP, either. They've lost voters in several states, and the only ones with positive growth are Colorado and Iowa, both of which Obama won handily last time.
Image: Third Way