Perry's Mixed Message on Gingrich and Romney
At a campaign event Perry says he won't get caught in the other candidates' crossfire, but then proceeds to swipe at them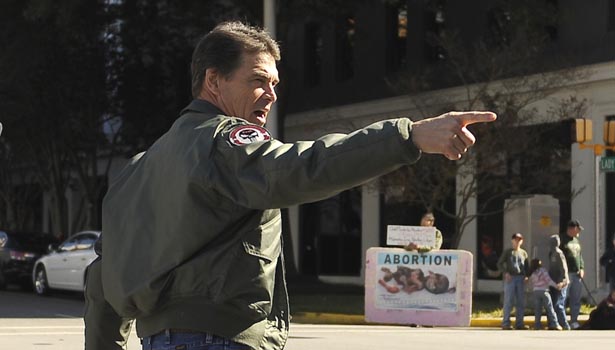 AP Images
MOUNT PLEASANT, S.C. -- Republican presidential candidate Rick Perry steered clear of the newly heated battle between rivals Mitt Romney and Newt Gingrich, saying he would stay busy campaigning while they take shots at each other. But that didn't stop the Texas governor from taking a subtle swipe at Gingrich's multiple marriages.

"I'll let both Mitt Romney and Newt Gingrich run their campaigns," Perry said. "I'll let those two get in the ring and go at it. I'll be out campaigning, shaking hands, and asking people to support me."

But when asked whether marital fidelity should matter to voters, Perry said, "I didn't make an oath just to my wife, I made an oath to God when I married by wife.... It's an important issue, but the American people will figure out these issues and work their way through them." Gingrich, the former House speaker and newly anointed the front-runner in several recent polls, has been married three times and has admitted to having been an unfaithful husband.
Perry is campaigning in South Carolina on Thursday, using his first event aboard the aircraft carrier the USS Yorktown to announce the formation of a Veterans for Perry Coalition that includes dozens of former service members. Perry flew C-130 aircraft in the U.S. Air Force from 1972 to 1977.
 
His first events of the day were in the military-rich Low Country of South Carolina, but Perry also used the opportunity to court evangelical voters. "I don't understand why our children can't pray in school or why our children are not allowed to celebrate Christmas in school. I don't get that," he said, to applause from the 50 people who gathered to hear him speak.
 
He again criticized President Obama for repealing the military's "don't ask, don't tell" policy, saying that as president he would reinstate the ban on openly gay service personnel. Asked at a press conference what he would do about service members who have been open about their sexuality since the policy changed, Perry said he would have a "conversation" with commanders in the field.