Obama's Reelection Hopes Hinge on Continued Recovery
How four economic scenarios could play out at the polls next November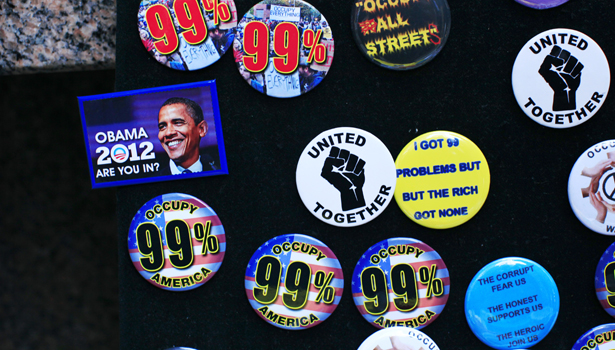 Reuters
Goodbye, 2011. The year managed to hold off a double-dip recession despite Washington's best effort to unnerve markets, businesses, workers, and nearly every voter in America by taking brinksmanship to new heights. It cost the country its credit rating and a lot of jobs too.
Hello, 2012. The economy will once again drive politics and be driven by it. But this time, in an election year. How Congress deals with America's debt woes will be crucial to economic stability, as will the next phase of Europe's still-spreading mess. Other questions remain -- Will consumers spend more in 2012? Will the housing market stabilize? What unforeseen threats to growth, like 2011's earthquake and tsunami in Japan, could jeopardize the frail recovery?
National Journal examines how four economic scenarios could play out at the polls next November.
SCENARIO #1: SLOW, STEADY GROWTH
GDP growth: 1.0 to 3.0 percent.
There are no major economic shocks in this scenario, which assumes Congress passes the payroll-tax cut and avoids shutdown brinksmanship next year. And if the agreement reached by European leaders last week holds -- creating a fiscal union that is more sustainable in the long run and paving the way for the International Monetary Fund, European Financial Stability Facility or European Central Bank to prevent a continent-wide recession or disorderly sovereign defaults -- the U.S. recovery could continue plodding along.
The election in a steady-but-slow growth scenario will be very close, according to a model developed by Yale economist Ray Fair. That model predicts Obama would win 52.1 percent of the vote if growth averages 3.0 percent in first three quarters of 2012. National Journal's calculations assume inflation remains stable next year; earlier this week, the Federal Open Market Committee said it expects inflation to settle over coming quarters at or below levels consistent with the Fed's mandate of about 2 percent.
SCENARIO #2: GROWTH NEARLY GRINDS TO A HALT
GDP growth: 0 to 1.0 percent.
A slight downturn could start in a number of places. An oil shock or natural disaster could cause household balance sheets to take a hit and uncertainty to rise. Europe could slide back into recession if its widespread austerity measures aren't accompanied by economic stimulus. Its woes could spread to the United States through exposure to the banking system, leading to credit tightening in the United States. "The global economy can weather a normal size recession in Europe," said Ethan Harris, co-head of Global Economics Research at Bank of America Merrill Lynch in a briefing on the bank's 2012 outlook. Bank of America expects growth in the U.S. to slow to 1 percent by the end of next year.
The election moves into toss-up territory under this no-to-slow growth scenario. Obama's share of the vote will be 50.1 percent if the economy comes to a standstill next year, according to Fair's model.
SCENARIO #3: DOUBLE-DIP RECESSION
GDP growth: less than 0 percent.
The United States could slide back into recession next year if the euro zone collapses, sending ripples through global financial systems.
"There is a significant chance that the euro crisis could go badly enough wrong that Europe plunges into a deep recession that puts the U.S. into at least a mild recession," said Douglas Elliott, an economic studies fellow at the Brookings Institution, at a House Oversight subcommittee hearing on Thursday.
Another recession would be extremely damaging to Obama's reelection prospects. "If the economy goes into another recession, Obama is predicted to lose," Fair writes on his website, adding that Republicans' victory would be "fairly solid." At -4.0 percent growth, his model says Obama would receive just 47.4 percent of the vote.
Another recession would, obviously, damage Obama's reelection prospects. "If the economy goes into another recession, Obama is predicted to lose," Fair writes on his website, adding that Republicans' victory would be "fairly solid." At -1.0 percent growth, his model says Obama would receive 49.5 percent of the vote. The deeper the economy slides into recession, the less likely the odds that the president will keep his job.
SCENARIO #4: THE ROSIEST POSSIBLE
GDP growth: 4.0 percent or above.
In this unlikely scenario, Congress doesn't engage in brinksmanship and takes steps toward reducing the country's long-term deficit. The country is shielded from fallout from Europe's debt crisis, and European leaders take short- and long-term steps to prevent the euro zone from collapsing. In the United States, the housing market stabilizes, consumer credit begins to flow, and the unemployment rate continues to tick down. "[T]he narrative of this presidential race would change enormously if unemployment were to drop anywhere near 8.0 percent," Charlie Cook wrote a few weeks ago. But even the rosiest of economic scenarios far from guarantees Obama another four years at 1600 Pennsylvania Ave. Fair cautions that the election will remain close even if the economy does "considerably better." At 4.0 percent growth, his model gives Obama 55.8 percent of the vote.