Obama's New Populist Tone Gets Its First Test
In Kansas last week, the president debuted an aggressive new tone, but his actions in Washington since then suggest it's all talk.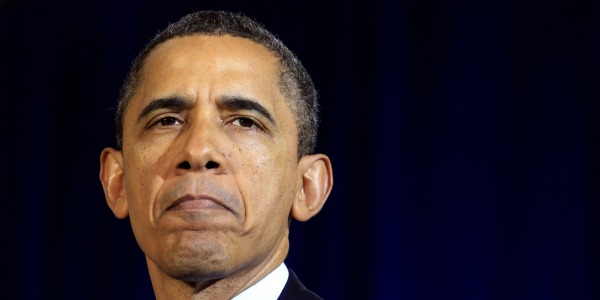 Coming hot on the heels of the White House's decision not to veto controversial new measures on terror detainees, Democrats are poised for another defeat in Congress after Senate Democrats dropped their demand for a new surtax on millionaires as a means of paying for extending the payroll tax cut, set to expire on Dec. 31.
That's two major concessions in just a couple of days. The two issues aren't identical -- on detainee provisions, the White House was able to get some changes it wanted, and was facing political opposition even within its own party. (Besides, the matter is largely being kicked down the road.)
The tax decision, however, looks like more of a cave. It's a Washington truism that the current crop of Democrats are terrible negotiators. But this time, they really seemed to have it in the bag. They were calling for a tax cut, after all, and they had Republicans tying themselves in knots explaining why the party of Reagan and Tea didn't want lower taxes. All the Democrats wanted in exchange for extending the reduction was a small increase in how much the wealthy paid -- a position that was widely popular among voters. Even RedState's Erick Erickson was grudgingly impressed. "I never thought I would see the day, but Democrats are outmaneuvering Republicans on a tax cut," he wrote.
But Obama's Democratic allies in the Senate say they have now abandoned the millionaires' tax as they continue to pursue negotiations over extending the 2 percent payroll tax cut, which both sides want. And the White House does not appear to be pressing the case. That's not necessarily a defeat for liberal ideals -- Matt Yglesias laid out why there's no good reason to pay for the tax cut now -- but it's obviously a strategic defeat for the Democrats. The Republicans get what they want, and the Democrats get... what the Republicans want, too.
There isn't much point in asking, for the umpteenth time, why Republicans are so much better at this than Democrats. What's interesting here is the timing. Last week, Obama went to Osawatomie, Kansas, and delivered a stemwinder of a speech on inequality. The reaction was swift: left and right alike announced that the president was taking his cue from Occupy Wall Street and was adopting a stridently populist message focused on income inequality. More broadly, the speech seemed to be an indication that he was ready to shed the quiet, conciliatory demeanor and adopt a more pugilistic stance.
But the Democrats' two caves suggest Obama's new rhetoric isn't likely, for the foreseeable future, to be much more than posturing.
Image: Kevin Lamarque / Reuters