Newt Gingrich on Iraq: A Timeline of Questionable Judgment
The former House Speaker was among the earliest to call for a war to oust Saddam Hussein, and weighed in often as it was being fought.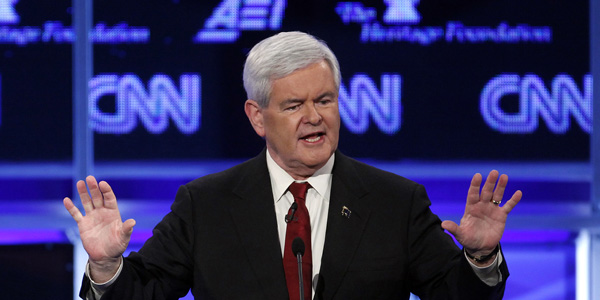 Unless otherwise indicated, all words are Newt Gingrich's, save the subheds, which are my summary of his shifting position.

URGING AN INVASION OF IRAQ
SEPTEMBER 19, 2001: "If we don't use this as the moment to replace Saddam after we replace the Taliban, we are setting the stage for disaster."
I think we need to replace one regime. I think we need to replace Saddam Hussein. I think there are--the President has said he wants to replace the regime, the Vice President has said he wants to replace the regime, the Secretary of Defense has said with enthusiasm he wants to replace the regime. Even the Secretary of State has said he wants to replace the regime and he's the most cautious of the four. Now there's a point where the greatest power in the world can't have all four of its senior, international leaders, and for that matter Condi Rice has said, the National Security Adviser, she wants to replace the regime. So if all five have now told the entire planet we want to replace the regime for a variety of reasons, we should get it over with.

We should not wait until Saddam has the full capacity to create terror around the planet and is able to blackmail with nuclear weapons. Waiting is not an option... The only issue is whether the risks are greater now or whether the risks will be greater later. We learned with Adolf Hitler that moving early would have been less expensive and less dangerous and would have saved millions of lives. I believe Rumsfeld's guidelines make an overwhelming case for replacing Saddam as soon as possible.


OCTOBER 31, 2002: "We should not wait until Saddam has the full capacity to create terror around the planet and is able to blackmail with nuclear weapons. Waiting is not an option."
THE ARMY ISN'T OVEREXTENDED - THINGS ARE GREAT

As for the war on terror at the moment: On one hand Candidate Clark says the Army is overextended; on the other, he would double the number of soldiers in Iraq. The result, of course, would simply be more American targets and more Iraqi resentment. (What we need in Iraq is a rapid buildup of Iraqi security forces so that Iraqis are able to govern themselves.)

MARCH 28, 2003: "A hateful regime will be gone, and except for Saddam, French President Jacques Chirac and the media analysts, almost no one will have had the sky fall on the them."
The United States has a remarkable history of helping countries grow into democracy. Germany, South Korea, and Japan are only the three most prominent examples of the American efforts to encourage democracy. An American effort to help the Iraqi people grow a free government is the only effort likely to succeed. Involving foreign countries, especially dictatorships and those with a weak tradition of democracy, will only make it more difficult for the Iraqi people to achieve the safety, health, prosperity and freedom that should be their birth right as a free and independent people.

THINGS ARE LESS GOOD, BUT WE DON'T NEED MORE TROOPS, NOR SHOULD WE WORRY ABOUT ISLAMIST ELECTORAL VICTORIES - THE KEY IS RELYING ON
THE GROWING STRENGTH OF DEMOCRATIZING IRAQIS

DECEMBER 7, 2003:
NEWT GINGRICH: I think the cliff we have gone off that we need to get back on is to put the Iraqis at the center of this equation, not foreign governments, not the U.N., not more American troops. Put the Iraqis at the center of this equation and recognize that most Iraqis do not want to go back to a brutal, murdering, raping dictatorship. Most Iraqis want to have an organized way of governing themselves, but they want to be in charge of their own country....

TIM RUSSERT: What if the Iraqi people choose an Islamic fundamentalist regime?

NEWT GINGRICH: Well, first of all, there's no evidence that they're likely to do that. And I think it's important to not automatically rush into the worst case. It's more likely, because of the nature of the country, to be some kind of loose governing coalition that has a strong Kurdish component, a strong Sunni component, and a relatively slight Shia majority.


WHATEVER YOU DO KEEP RUMSFELD IN CHARGE

To be clear, a very small number of Americans did a terrible thing at Abu Ghraib. And because we live under the rule of law, and we take protecting the Constitution seriously, the accused will be investigated and, where guilty, punished. The incidents themselves are to be condemned.

Some have called for Donald Rumsfeld to resign. However, he has led the process of exposing the wrongdoing and investigating the charges. Moreover, he will see to it that the accused get a fair and honest trial, where there is a presumption of innocence until guilt is proven and the guilty are punished. That due process is something we as Americans should be proud of, and unequivocal about. In view of Mr. Rumsfeld's significant contribution to our security, this incident will be but a footnote.

Mr. Rumsfeld, standing on his remarkable record of achievement, is far too effective a defense secretary for any serious student of recent American history to think that he should be replaced.


TURNS OUT THINGS WEREN'T OKAY AWHILE AGO

In the summer of 2003, Ambassador Paul Bremer was assigned the extraordinary challenge of establishing a Coalition Provisional Authority in a country whose dictatorship had systematically ruined the government and the economy. There were no records that were reliable. There were no coherent payrolls. The scale of corruption and dishonesty was staggering. Accomplishing this task within the American peacetime system of bureaucracy, red tape, micromanagement and negative oversight would have been a daunting task even in the most ideal of environments.

...Bremer needed more flexibility and more authority, not less. He needed to focus more on being effective and not more on being audited. Money is to a successful transition and reconstruction effort as bullets are to a successful battle. No one would suggest that our troops should be audited for every round they fire and every mile of fuel they use in winning a war.


A DEMOCRATIZING IRAQ WILL WEAKEN IRAN

We have no other choice but to see our efforts in Iraq through to victory. A democratizing Iraqi neighbor that is accountable to its people and respects their human rights will put enormous pressure on the Iranian regime.


THINGS ARE TERRIBLE, BUT WE CAN'T LEAVE NOW

Today, Iraq is certainly not where, in early 2003, we had hoped it would be. If the current violence, instability, and confusion are measured against the planning assumptions of that period, this campaign to create a free and stable Iraq is clearly failing. What is still neither understood nor accepted is that Iraq is only one campaign in an emerging Third World War. Iraq is to our generation what Guadalcanal and North Africa were in the Second World War--important, but part a much bigger picture.

We have to move to a 'one war' model in which everything in a country is done in a coordinated, integrated manner with the same precision and drive in the civilian as in the military agencies. This will require profound change in how the State Department, the Agency for International Development, the Treasury, and a host of civilian departments operate. The current performance of many of these agencies in the field in Iraq and Afghanistan is so bad it should be a national scandal. We over rely on the military because it is the only competent system we have. This cannot continue if we are to win this war.


WE'RE NOT SPENDING ENOUGH MONEY TO WIN

AND MAYBE WE DO NEED MORE TROOPS

Those who think we currently have a wartime budget simply have no notion of the scale of American war efforts historically. We have a robust peacetime budget while trying to fight three wars and contain four dictatorships. That is a risky formula and makes victory much more difficult.

The Iraqi security forces--military and police--should be doubled in size. Every doctrine for counterinsurgency indicates that we need a much larger forces-to-bad-guys ratio than we currently have planned. It is time to quit being cheap and prudent and to start drowning our enemies in resources and energy. If we want to be able to turn the country over to the elected Iraqi government, then it has to have a force big enough to defeat all the enemies of the rule of law. We need an offensive military strategy (in concert with a political, diplomatic, and economic strategy) with the required resources to defeat the insurgency, which means the Iraqi people in the contested areas are protected and supported, while the insurgents are isolated.


IF WE FUNDAMENTALLY CHANGE EVERYTHING ABOUT THE MILITARY AND NONMILITARY PARTS OF OUR GOVERNMENT WE CAN WIN

If Iraq were only a one-step process, the answer would be to leave. But the reality is that Iraq is a single campaign within a much bigger war and within a power struggle both over the evolution of Islam and over the rise of dictatorships seeking nuclear and biological weapons to enable them to destroy America and her allies... We need fundamental change in our military doctrine, training, and structures, our intelligence capabilities, and our integration of civilian and military activities.

...for three years we have failed to build an effective Iraqi government and we now have a shattered local system with many players using violence in desperate bids to maximize their positions. The plan has to be powerful enough to succeed despite Iraqi weaknesses and not by relying on a clearly uncertain and unstable Iraqi political system.


THE IRAQ WAR IS A FAILURE

Former House speaker Newt Gingrich told a New Hampshire audience yesterday that unless the Bush administration admits that the war in Iraq is a "failure," it will never develop a strategy to leave the country successfully. Gingrich, who has been laying the groundwork for a presidential run, said the Bush administration needs to plan a "third stage" in Iraq, following the military takeover stage and the recent democracy-building stage. But he says a third stage can come about only if officials admit they must change course.

"If the military, White House, and State Department continue to avoid the word 'failure,' how can you bring about a third stage?" Gingrich said.


TO WIN IN IRAQ WE SHOULD ESTABLISH AN FDR-STYLE

The American mission in Iraq must succeed. Our goal--promoting a stable, accountable democracy in the heart of the Middle East--cannot be achieved by purely military means... A massive effort must be made to engage in a well organized plan to rebuild Iraq. The goal: an infrastructure to support and encourage a strong, stable civil society.

The week before Christmas, the Pentagon asked Congress to approve a supplemental $100 billion for military operations in Iraq and Afghanistan, on top of the estimated $500 billion spent to date. The administration should direct a small percent of that amount to create an Iraqi Citizen Job Corps, along the lines of FDR's civilian conservation corps during the Great Depression. The Job Corps can operate under the supervision of our military and with its protection. The Army Corps of Engineers might be particularly helpful in directing this effort. It will place our military in a constructive relationship with the Iraqis--both literally and figuratively.


REMEMBER WHEN I COUNSELED RELYING ON THE COMPETENCE OF IRAQIS?
LET'S TRY THE OPPOSITE OF THAT

America is faced with two very hard paths forward in Iraq. We can accept defeat and try to rebuild our position in the region while accommodating the painful possibility that these enemies of freedom in Iraq--evil men, vicious murderers, and sadistic inflictors of atrocities will have defeated both the millions of Iraqis who voted for legal self government and the American people and their government.

Alternatively we can insist on defeating the enemies of America and the enemies of the Iraqi people and can develop the strategies and the implementation mechanisms necessary to force victory despite the incompetence of the Iraqi government, the unreliability of Iraqi leaders, and the interference of Syria and Iran on behalf of our enemies. Both these paths are hard. Both involve great risk. Both have unknowable difficulties and will produce surprise events. Both will be complicated. Yet either is preferable to continuing to accept an ineffective American implementation system while relying on the hope that the Iraqi system can be made to work in the next six months.

FROM THE SAME SPEECH:
There are three fundamental weaknesses in the current strategy. First, the strategy relies on the Iraqis somehow magically improving their performance in a very short time period. Yet the argument for staying in Iraq is that it is a vital AMERICAN interest. If we are seeking victory in Iraq because it is vital to America then we need a strategy which will win even if our Iraqi allies are inadequate. We did not rely on the Free French to defeat Nazi Germany. We did not rely on the South Koreans to stop North Korea and China during the Korean War. When it mattered to American vital interests we accepted all the help we could get but we made sure we had enough strength to win on our own if need be.


REMEMBER WHEN I SAID THE IRAQ WAR WOULD MAKE IRAN WEAKER

AND GIVE US MORE LEVERAGE OVER THEM?
TURNS OUT THEY'RE STRONGER
AND HAVE MORE LEVERAGE
OVER US

NEWT GINGRICH: I think the administration mismanaged parts of the Iraq War. But what I'm worried about is people who say we can just legislate defeat for America. We can leave Iraq and there will be no costs. And if we are defeated publicly in a way that every terrorist on the planet can celebrate then we have to assume they're going to have more energy and more recruits and the war is going to become more dangerous very fast.

INTERVIEWER: Okay, you're now in charge. What do we do next?

NEWT GINGRICH: I think the first step is you put enormous direct pressure on Iran to quit interfering.


I FAVOR KEEPING LOTS OF TROOPS IN THE FARAWAY COUNTRIES I REGARD

TO BE A LESSER THREAT TO AMERICA THAN MEXICO


Security Threat from Mexico Greater Than Iraq, Afghanistan

Image credit: Reuters