Mitt Romney's Divide-and-Conquer Campaign
If the surging frontrunner can win both Iowa and New Hampshire, the rest of the GOP field might as well pack up and go home.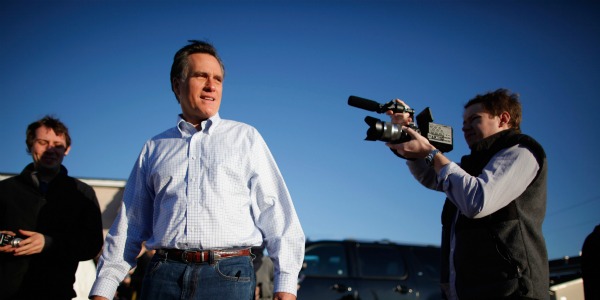 The latest CNN/Time/ORC surveys released Wednesday for New Hampshire, and especially Iowa, show that on the eve of the first actual voting, the GOP race is reverting to the pattern that has defined it for most of this year: the party's more pragmatic and secular circles are consolidating around Mitt Romney more than the GOP's more ideological and evangelical wings are consolidating around any single alternative to him.
That pattern isn't enough to place Romney in a commanding position -- but it does offer him the possibility of a plurality advantage in a fragmented field. The surveys provide a snapshot of the nightmare for the conservative activists most resistant to the former Massachusetts governor: it raises the possibility that he could steamroll to the nomination without ever attracting majority support in the party because the ideological voters most resistant to him fail to ever coalesce behind a single alternative.
These dynamics are most apparent in the results of the new survey in Iowa, which polled 452 GOP likely caucus participants from December 21-24 and December 26-27. Overall the survey shows Romney now leading with 25 percent, followed by Ron Paul with 22 percent; Rick Santorum has surged into third place with 16 percent, followed by Newt Gingrich with just 14 percent. In the most recent CNN/Time/ORC poll from early December, Gingrich led with 33 percent, followed by Romney at 20 percent and Paul at 17 percent.
Romney's advantage in the new survey rests on the fact that he's running better among less ideological and more secular voters than any of his rivals is polling among the Tea Party supporters and evangelical Christians still largely dubious of him. In the survey, Romney attracts 33 percent of Iowa Republicans who don't identify with the Tea Party, up from 26 percent in the early December poll. Similarly, he attracts 34 percent of Republicans who don't consider themselves evangelical Christians, also up from 26 percent in December. (Paul showed solid gains with both groups too.)
Romney posted more modest improvement among Iowa voters who identify with the tea party (from 15 percent in early December to 19 percent now) or describe themselves as evangelical Christians (13 percent in early December to 16 percent now.) Romney's showing with Iowa evangelicals is actually slightly below the 19 percent of them he attracted in 2008, according to exit polls.
But this modest performance is good enough for first place, at least for now, because the more conservative elements of the party skeptical of Romney are dispersing like cats in a cornfield. In the early December Iowa poll, Gingrich attracted 40 percent of tea party supporters and 31 percent of evangelical Christians - enough to give him a solid lead in the state. But in the new survey, no candidate attracts more than 19 percent of Tea Party supporters (Romney, Santorum and Ron Paul all draw that much, followed closely by Gingrich with 17 percent). Among evangelicals, Santorum leads with a modest 22 percent; Bachmann (12 percent), Perry (13 percent), Gingrich (14 percent), Romney (16 percent) and Paul (18 percent) are all clustered relatively close behind him. That's an even more fractured picture than in the 2000 caucus, when George W. Bush led among voters who identified with the "religious right" (the way the question was phrased then) with a middling 33 percent, according to exit polls.
In New Hampshire, Romney displays much broader strength. The state has few evangelicals, but the new poll shows Romney attracting 45 percent of likely GOP voters who don't support the Tea Party and 42 percent of those who do, and leading comfortably with both groups. That reverts to the pattern of broad-based Romney support from a late October CNN/Time/ORC poll there; in the early December survey, Gingrich had surged past Romney among New Hampshire Tea Party supporters. Without a boost from an Iowa win it's hard to imagine any Republican elbowing past Romney in New Hampshire. Even if someone receives such a boost, it won't be easy: in a contested race, no Republican has won both contests since the Iowa caucus assumed its modern form in 1980.
Given Romney's consistent advantage in New Hampshire, if he wins Iowa, it could quickly become very difficult for any challenger to seriously threaten him. In the modern primary era, no one has won the GOP nomination without capturing either Iowa or New Hampshire. Indeed, every contested GOP nomination race since South Carolina moved up its primary in 1980 has followed the same pattern: one candidate has won Iowa, a second candidate has won New Hampshire, and one of those two has captured South Carolina - and the nomination. There's no guarantee that pattern will hold in 2012 - but its durability suggests that candidates who don't win either of the first two contests can face enormous challenges in convincing voters in later states to still view them as viable.
Because evangelical Christians comprised 60 percent of the vote in South Carolina in 2008 (the same share as in Iowa), candidates like Perry, Bachmann, and Santorum relying heavily on that constituency are likely to try to compete there, regardless of the order in which they finish in Iowa. To veteran South Carolina Republican hands like Warren Tompkins that increases the likelihood that those religiously conservative voters will splinter again in the Palmetto State -- even if the vast majority of them continue to resist Romney. The most plausible way for conservatives to avoid that fractionation is for one candidate to emerge from Iowa as the clear favorite among evangelicals, and the overlapping circle of tea party supporters. But, even with the clear signs of momentum for Santorum, the latest CNN/Time/ORC Iowa survey shows that less than a week before the vote, no candidate has decisively seized that mantle. If conservatives can't anoint a preferred alternative to Romney in Iowa, it's not clear they will get another real chance.
Image: Chip Somodevilla / Getty Images