Millennial Mormons Watch Romney with Anticipation and Anxiety
Young Latter-day Saints of all political persuasions wonder whether the 2012 campaign will turn Romney into the Mormon John F. Kennedy.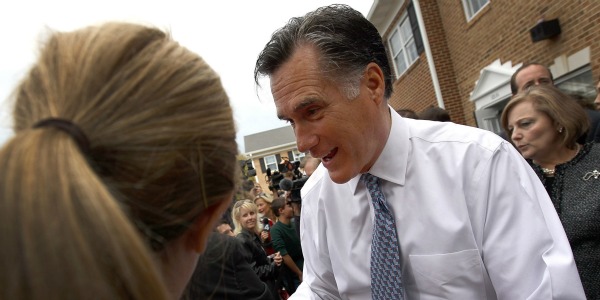 To understand young Mormons' obsession with Mitt Romney, consider Jimmer Fredette. Jimmermania was in full force in spring 2011 as Fredette, the prolific scorer for Brigham Young University's men's basketball team, rose to national prominence, lifting BYU to its highest ranking in two decades while reaching first-name and verb status in pop culture. Fredette's success inspired a genuine curiosity in the general populace about the Church of Jesus Christ of Latter-day Saints, as well as a sense of gratification from Mormons: Look how far he has come. He is one of us.
Looking at Fredette's significance for young Mormons, one can begin to feel the personal, visceral effect of Romney's success -- an impact arguably as important to Mormons as John F. Kennedy's was to Catholics in 1960 -- and what it could mean for millennial Mormons if he wins the Republican nomination. If he can beat back Newt Gingrich's recent surge, Romney would be the first Mormon to secure a U.S. presidential nomination from a major party and just the fourth non-Protestant to do so. He'd also be the first non-Protestant Republican to lead a presidential ticket. That has elevated Romney's status to a new level, above the ranks of other famous Mormons.
"Mitt Romney represents a really important figure in the overall historic scene of Mormonism as someone poised to be the Republican nominee, and as someone who could be the president of the United States," says David Campbell, a Mormon who is an associate professor of political science at Notre Dame and co-author of "American Grace: How Religion Divides and Unites Us." "The very fact that Mitt Romney represents their group is hugely important."
Many young conservative Mormons in America are lining up behind Romney, who represents more to them than just policy positions, a big family, and good hair. But among young Mormons more broadly, seeing one of their own in Romney -- and Jon Huntsman, to a lesser extent -- so close to the nomination is exciting, because it would suggest that their religion is not a barrier to the White House -- or at least a nomination. That's caused great excitement among the millennial generation of Mormons, especially those who live outside the Mormon enclaves in Utah and are used to being a religious minority.
"I think younger, politically involved Mormons kind of see Mitt as paving the way for us," says Kate Christensen, a sophomore political science major at Columbia University. "It's a big opportunity."
From the time she was born in Belmont, Mass., Christensen grew up with Romney as a church leader. His wife, Ann, taught early-morning seminaries for Christensen's sister and brother, and his oldest son, Matt Tagg, and his wife served as Second Ward youth leaders for Christensen. Now 20, Christensen is president of Columbia's LDS Student Association and social director for the university's College Republicans. As a young Mormon, she's in the rare position of having seen Romney as "a guy at church first and a political leader second," someone who made it clear that he wasn't above anyone else, she says.
"It's absolutely empowering," she says. "It's exciting to see anyone you identify with succeed. The dynamic between politics and religion is so complicated that it's empowering for people to know it's not impossible to pursue."
Mormonism remains both the most conservative and most Republican religious group in America. A Gallup Poll found that 59 percent of Mormons polled classified themselves as conservative, according to 2009 polling data. Just 8 percent of Mormons considered themselves to be liberal, the lowest of any of the polled religious groups.
When scholars of religion and politics look back on the Obama Administration, its inability to bring young conservative and independent Mormons aligned into the Democratic Party could look like a missed opportunity for generational culture change. In the 2008 Utah primary, Obama and then-Sen. Hillary Clinton garnered a combined 126,000 votes. (Romney? Try almost 265,000 votes, good for 90 percent of the vote.) Just 1 percent of Obama's total votes in the race against Sen. John McCain came from Mormons, the same percentage Sen. John Kerry received in the 2004 general election.
Nonetheless, the Bush Administration made some young Mormons cynical and led them toward the Democrats, says Richard Davis, a political science professor at BYU. But Davis believes the Democratic drift has been neutralized over the last three years. "I don't think they moved back to being Republicans, but they're not as enamored with Obama and are not as likely to be Democrats," he says. "If Romney wins the nomination and the election, I think he has that potential of connecting himself to the Republican Party, thus making the Republican Party more attractive to young LDS members who are independent."
Other young Mormons find themselves conflicted on Romney.
"It seems that anytime a Mormon becomes prominent in society, everyone in the church latches onto them like they are our only hope of the world ever accepting us and perceiving our church as normal," says Casey Evenhus, a senior history teaching major at BYU. "That's what they are doing with Mitt Romney."
Evenhus, 22, was not born into the LDS Church, but was baptized in 2006 when she was 17, the only member of her family to belong to the church. When she turned 18, she registered as a Republican because -- judging by her friends -- that's what she thought Mormons did. In 2008, she was torn between her personal leaning toward the Democratic Party and then-Sen. Barack Obama on one hand, and the culture of the LDS church on the other. "I felt a sense of loyalty to Romney since he was one of 'my people,'" says Evenhus, who is secretary of the BYU Democrats. "But I knew deep down that I did not want to vote for someone just because they were a Mormon."
In Utah County, which includes Provo, there can be a temptation to hide liberal or Democratic views to avoid being ostracized. Evenhus likened her BYU classmates finding out she was a Democrat to a zoo exhibit, with students gawking at her trying to process what or who they're in the presence of. "Whenever I go on dates with someone, I have to debate in my mind when the right time is to 'come out' as a liberal," she says.
Will Matheson, a recent BYU graduate who is now chair of the Utah County Democratic Party, says he thinks millennial Mormons are shrugging off the idea that it is an inherent contradiction for young Mormons to be liberals or Democrats. That's good for the faith, he says.
"As a Democrat, I have always felt that raising my voice helps out the church," says Matheson. "The church's missionary effort is likely hurt when people feel that they have to become conservatives on top of no smoking, no coffee, no sex outside of marriage, and at least three hours of church attendance a week."
Young Mormons who favor Romney face some intolerance themselves. Many fellow conservatives who are evangelical Christians remain wary of Mormonism. Recently, one-third of Republicans said Mormonism is not a Christian religion, according to the most recent poll from the Pew Forum on Religion and Public Life. This distrust is difficult for young Mormons to ignore, but a Romney nomination could actually bring young Mormons together as they try to correct misconceptions and misunderstandings about. "They will get involved for their political views, but they won't pass up an opportunity to stand up for their religious beliefs," Matheson says.
Campbell, the Notre Dame professor, says some Mormon voters may find it too difficult to pass up the opportunity to vote for a major party LDS presidential nominee, regardless of their own political leanings. "Even for the not necessarily die-hard conservatives, the opportunity to vote for the first presidential candidate of your own religious group when that religious group is so embattled has so much significance," Campbell says.
It's not just a question of solidarity. Given Romney's status as a figurehead for the church, Christensen worries that his ability to win the nomination may be an indicator of how fully Mormons can enter the American mainstream. "If he doesn't win, I don't know if another Mormon will ever be president," she says.
Image: Win McNamee/Getty Images