Meet the New Iowa Frontrunner: Mitt Romney
Despite his status as frontrunner, it always seemed like an outside shot for Romney to win Iowa. But a victory Jan. 3 would essentially end the race.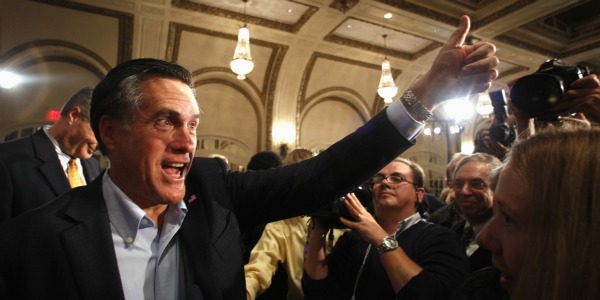 Take a look at the latest Romney headlines today. Sense a pattern?
Washington Post: "For Romney, stealth campaign brings real hopes of winning Iowa"
With a week to go before voters provide the answer that Romney didn't, the former Massachusetts governor appears to have about the same level of support as four years ago -- only this time that could be enough to win Tuesday's contest and put him on a path to quickly lock up the Republican presidential nomination.
Politico: "Mitt Romney in striking distance of Iowa win"
A slew of public and private polling and anecdotal evidence on the ground suggests that Romney is within striking distance of a first-place finish in Iowa -- especially as Ron Paul's momentum spurt appears to have run into the reality of front-runners' scrutiny...

In another clear sign he's playing to win, he has quietly moved a handful of staffers from his headquarters in Boston and in other states earlier this month to give his skeleton Iowa staff a needed boost. And he's cycling in a platoon of high-profile surrogates to rally around him in the state at stump stops and on talk radio, including Gov. Chris Christie, Sen. John Thune, Rep. Aaron Schock and former Sens. Norm Coleman and Jim Talent.
The Wall Street Journal: "As Iowa Nears, Romney Sounds Confident"
Mitt Romney isn't about to predict victory in Iowa, the state that tripped him up four years ago. But he and his usually staid campaign are taking on a swagger not seen all year.
Los Angeles Times: "Romney Looks Poised for Iowa victory, maybe even if he loses"
After a campaign effort that has defied convention and angered top Iowa Republicans, Mitt Romney is well-positioned to emerge as a big winner in Tuesday's presidential caucuses.
---
MORE FROM NATIONAL JOURNAL
---
Make no mistake: If Romney wins the Iowa caucuses, he's on a glide path to the Republican nomination. And with newfound scrutiny over Paul's racial record, Gingrich losing momentum and the evangelical base vote split between Bachmann, Perry and Santorum, it's looking awfully likely that Romney will come away as the big winner on Jan. 3.
Image: Jeff Haynes / Reuters