Look to Iowa's Future, Not Its Past: A Response to Bloom
Iowa is a state in flux. It's a farm state whose workers don't work on them, and whose residents are increasingly urban and diverse.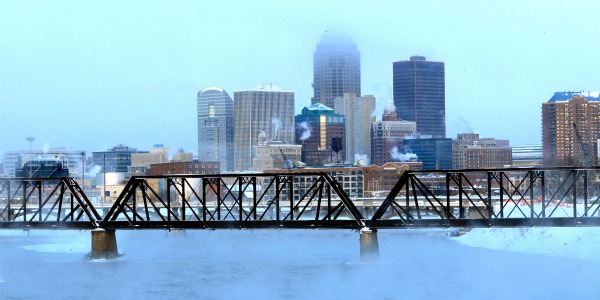 CEDAR FALLS, Iowa -- What is Iowa? I've puzzled over that question for most of the 23 years I've lived here; Stephen Bloom tried to answer it in his recent article in The Atlantic online. He sees a rural wasteland, whose farming and then manufacturing jobs have fled, leaving nothing for those who remain but slaughterhouse gigs that only illegal immigrants will take, and churches, guns, hunting, xenophobia, sloth, despair, and perhaps even meth.
But few Iowa small towns are thus ravaged, and in any case only a minority of Iowans lives in rural areas; 60 percent of the population lives in the city. Some of these urban areas are skuzzy, as Bloom says, and some have problems he doesn't mention, such as gang violence; but others are reviving themselves and even thriving. When Adam Nagourney returned to Des Moines in 2007 to cover the caucuses for The New York Times, he was stunned at how much the place had been gentrified in 30 years, and was particularly enthusiastic about the gourmet restaurants (and who could blame a reporter for that?). Richard Florida estimated in The Atlantic recently that you get a higher standard of living for a given income in Des Moines than in any other American city.
Bloom documents the quaint habits of older people in rural Iowa: men who won't leave home without a penknife in their pockets, women who bring a red Jello mold to a wedding reception, people who refer to cars as "ve-HICK-uls." But younger people in the same areas wouldn't dream of making a Jello mold, much less bringing one to a reception (which is almost certainly catered), and linguists tell us that only in the southern strip of the state do you hear the accent Bloom describes. In the north and northwest you are more likely to hear a Minnesota accent, and in the urban east, including Cedar Rapids, you'll probably hear something like what you'd hear in Northern Illinois. Language is just one of many areas in which Bloom underestimates the diversity of the state.
The historical patterns behind the flight from country to city were in process a century ago, and are international. In essence, as agricultural science has increased productivity, farming has required fewer and fewer workers (you can see why they love to demolish combines in derbies), and the new jobs have typically arisen in cities. Just 6.3 percent of Iowans are "farm operators," and in the last decade Iowa's metropolitan population grew by 9.1 percent while its rural population decreased by 7.4 percent.
City life changes your tastes and habits, and especially those of your children, and one habit that wanes is hunting. Since 1992, the absolute number of Iowans getting hunting licenses has declined by about 30 percent, in spite of a state population increase of about 8 percent during those two decades. The decline also reflects a generational change: younger people in rural areas are less likely than their elders to hunt. Like their city peers, many would rather play a computer game or drive a fast car (or maybe both at once). The percentage of Iowans who will ask Stephen Bloom about how his dog hunts is shrinking and aging; almost none of them live in the tony university neighborhood where Bloom now hangs his baseball cap.
As Bloom notes, the next historical job-creator after agriculture, manufacturing, was only a temporary fix for rural Iowans without college degrees. Manufacturers developed an annoying habit of laying off Iowa employees in favor of robotic, non-union, or off-shore workers. The scourges Bloom describes have sometimes followed.
But not all that often. A week after Bloom's article appeared, the Sunday New York Times front page reported that Iowa enjoys "lower unemployment, greater income growth, steadier home sales and fewer foreclosures than most others." Iowa's employment rate, it said, is seventh in the nation. Poverty? Iowa has it, but 27 states (plus the District of Columbia) have it worse. Meth? Most of Iowa's meth is produced in just 32 of its 99 counties (PDF) and meth lab seizures dropped from 1,500 in 2004 to 305 in 2010 -- a sign of real progress in the fight against this rural scourge.
Small-town Iowa often seem distinctly unravaged. I recall time I spent in the mid-1990s in Washington, Iowa, population roughly 7,000. The jobs there were mainly in manufacturing, at the University of Iowa half an hour north, and occasionally on the surrounding farms. Visit it and you'll notice a lovely park system and a refurbished town square with brick streets and a new bandstand, as well as a new public library. You might also hear music. When I was there, the Lutheran church choir performed Bach's challenging Christmas Oratorio. Iowa has hundreds of choirs, associated not only with churches but also with high schools, colleges, and communities. Brass bands also proliferate in the land of Harold Hill.
What should amaze Bloom is Iowa's sheer number of professional orchestras -- that is, orchestras whose members are paid to perform. I count seven in a state of 3,000,000, one per every 435,000 citizens. That is several times the national average. One resident of Washington, a pig-farmer, was the conductor and driving force behind the Southeast Iowa Symphony Orchestra, which still gives well-attended concerts in Burlington, Mount Pleasant, and Ottumwa.
Bloom mentions tractor pulls and combine-demolition derbies, and might add the NASCAR races in Newton, the drag strip north of Cedar Falls, and the rodeo in Leon. But he fails to notice Iowa's copious offerings of music, the spoken word, and theater. Iowa City offers nearly nightly readings of published fiction, literary non-fiction and poetry -- often world-class -- at Prairie Lights, an independent bookstore of a breed that is vanishing nationally. At The Mill, Bloom can partake of Iowa's thriving singer-songwriter scene; if he wants just to listen to this genre, he can tune in to Iowa Public Radio's "Studio One" stream. The Des Moines Opera is nationally renowned, and not only the University of Iowa but also Iowa State, the University of Northern Iowa, Grinnell, Drake, Luther, and other universities have music faculty and students who often hold concerts. And somewhere in any university town there is a public lecture or symposium, possibly featuring an internationally recognized expert. You might hear that speaker the next day being interviewed on one of Iowa Public Radio's award-winning talk shows.
As Washington shows, economic despair is not inevitable for small Iowa towns. I lived for many years in the admittedly sui generis Fairfield, which in addition to 7,000 locals has a mostly transplanted group of about 3,000 sometime followers of the Maharishi Mahesh Yogi, who in 1976 founded Maharishi International University there (and later renamed it "Maharishi University of Management"). Fairfield was a mix of light manufacturing, farming, academics from Parsons College (whose bankruptcy made the campus available to the Maharishi), and the lawyers, doctors, bankers, and accountants who served them.
The newcomers created over 400 new businesses that market, program, manufacture, or trade. I worked at two of the town's 40 software and telecom companies; my ex worked for a technical recruiting firm. A friend of mine programs databases for Overland Sheepskin, which sells its wares from Fairfield, and another founded a national ceramic-tile business. The largest employer right now, Cambridge Investment Research, serves broker/dealers nationally and employs 400 Fairfielders.
None of these businesses needs to be in cities, as long as they can rely on good communication and transportation infrastructures, which the town provides.
Fairfield suggests a way forward for small Iowa towns that have lost agricultural and manufacturing jobs: information-age "knowledge" work as programmers, salespeople, online retailers, and middlemen. Fairfield needed to attract college-educated people who were committed to staying, and got them thanks to the Maharishi. It provided the necessary infrastructure and capital. The result jumps out at you as you approach the town and start seeing the large new homes. Fairfield also has built a hoppin' performing arts and convention center (named for Stephen Sondheim, go figure), a premier park and trail system, and a well-stocked library. It also hosts a monthly art walk on which you can visit the surprisingly numerous local galleries, eat food catered by local chefs, and dance to music from a bandstand.
Some argue that to create real wealth, businesses need the kind of face-to-face interaction that only cities can provide; others argue that the Internet and modern travel make urban location irrelevant. They find support in the example of Fairfield. I haven't checked to see how Fairfield's economy, dominated by small businesses, has fared recently and I figure its ups and downs will reflect those of the overall economy, but it is hardly the only Iowa town to buck the bleak trends pictured by Bloom.
Iowa's emphasis on education has provided Bloom's bread and butter, and mine too; I work for the University of Iowa, whose regents hold the license for Iowa Public Radio's classical service. I first looked into a classical radio career when I lived in San Francisco in 1991 (Bloom was there writing speeches for the mayor). The head of the major station told me his field was dying and that the jobs would disappear over the next decade. But in 2001 I began what is now a ten-year career in Iowa, whose abundance of orchestras, choruses, and bands points to why it steadfastly maintains a classical service.
Like Bloom, I have lived in Iowa City, the Berkeley/Cambridge of the state; I now live in Cedar Falls, a leafy college town in the northeast, which is part of a larger urban community centered on Waterloo, an industrial city like many in the Midwest and Northeast. Mention of Waterloo reminds me that Bloom overstates the religious and racial homogeneity of Iowa. Waterloo is 13.9 percent African-American (PDF); Martin Luther King gave a sermon there in 1959. The fastest-growing population in Iowa is Latino -- their numbers increased by 84 percent in the last decade, accounting for 58 percent of Iowa's overall population growth. Latinos now make up the majority of residents in the town of West Liberty, 15 miles southeast of Iowa City -- the first such majority-Latino town in all of Iowa. The oldest functioning mosque in America is in Cedar Rapids, a half-hour north of Iowa City, but you can also find mosques in Iowa City, Des Moines and Davenport, not to mention a Hindu temple in Madrid, near Des Moines. Greek Orthodox churches thrive in Cedar Rapids, Sioux City, Waterloo, Des Moines, and Dubuque. And Iowa City's Agudas Achim offers both Reform and Conservative Jewish services; should one want more, there is the Hillel Society and the Chabad center on campus.
Bloom thinks it is telling that the only way to make friends when you move to a new town in Iowa is to join a church, but that is no more true of Iowa than of any other state in America, and for those deciding which church to join, Iowa offers more choices than Bloom seems to realize. One other way to meet people in a new town is to frequent a bar, if you are able to talk sports. If Iowans obsess over sport, so do Americans in many states. Do Iowans wear baseball caps? Yes. And so do people the rest of the country; the baseball cap is a tell that even allows Europeans to detect American tourists in their midst.
An outsider might notice that Iowa keeps re-electing Steve King, the only member of the Congress to vote against a resolution acknowledging that the U. S. Capitol was built with slave labor, but on the other hand it booted out the most liberal Republican in the House, Jim Leach, in favor of a liberal Democrat, Dave Loebsack, a Poli Sci professor at Cornell College who sported a beard. Why the schizophrenia? King represents the Fifth Congressional District, which consists of the westernmost tiers of counties and is the most conservative in the state (it ranks an R +9 in the Cook partisan voting index). It is -- perhaps significantly -- more rural than any other and more religious; its occupants are about 50 percent more likely to be affiliated with a church than people in the Second District, which Loebsack represents. That more densely populated district, in the southeast, is the most liberal (it ranks a D+7 in Cook's index), and includes such industrial towns as Bettendorf, Burlington, Cedar Rapids, Davenport, Muscatine, and Ottumwa, as well as the crowded educational industry in Iowa City. Not surprisingly, residents of this district are younger and much more likely to hold a college degree, both predictors of liberal voting. Liberals should not, as Jonathan Haidt argues in his forthcoming The Righteous Mind, condescend to conservatives or ignore the advantages of their lifestyles; I mention the differences in these districts simply to show that Iowa is more variegated than Bloom acknowledges in his article. Iowa is politically functional but far from homogenous.
Stephen Bloom's impoverished, culturally deprived, desperate countryside may be a part of what Iowa is, then, but it's only one part, and increasingly is of the past. Defining Iowa has never been harder, partly because it is changing so fast. The question Bloom and I should be asking isn't what is Iowa, but what are today's Iowans? Not much of the answer lies in Bloom's agrarian dystopia. That dog, I am happy to say, won't hunt.
Image: Downtown Des Moines. Steve Pope / Getty Images