Jon Huntsman Won't Do Anything to Win
In a presidential race that's been relentlessly lowbrow, the former Utah governor keeps up a defiantly highbrow pitch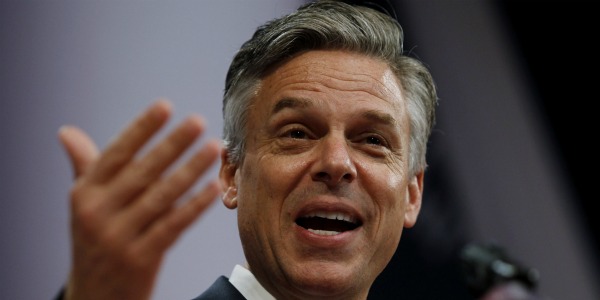 Updated 6:10 p.m.
You won't be seeing Jon Huntsman in the next Republican debate. The debate this weekend is taking place in Iowa, where Huntsman has made himself unwelcome. (He will, however, attend the following Iowa debate, in Sioux City next Thursday.)
But the former Utah governor is still plugging away, hoping there might be one last ticket for this year's Republican roller-coaster ride, and that same voting base that gave serious consideration to nominating Herman Cain might suddenly do an about-face and decide it wants a self-styled grown-up. That a relentlessly lowbrow presidential campaign might suddenly cry out for a highbrow candidate.
"I am not going to pander," Huntsman said in a question-and-answer session after his speech at the National Press Club on Thursday. "I am not going to light my hair on fire. I am not going to sign those silly pledges, like everyone else on that [debate] stage has done. I'm not going to go to a Don Trump debate. There are some things I'm just not going to do."
The high road is, of course, a political pose in its own right. And Huntsman's run can't really claim it's been pander-free: Just two days ago, he reversed himself on global warming,
embracing
the talking points of the climate-change deniers he'd once derided. (He then tried to claim he hadn't changed his views, but there's
no question
he was singing a different tune.)
But let's accept that that was just an aberration. It's still true that, despite the abstract appeal of the courageous truth-teller, expecting people to vote for someone who actually confronts them with things they don't agree with has never been a particularly successful political strategy.
Huntsman's new line is that the nation faces a "trust deficit," a crisis of faith in its institutions, that is just as bad as the financial one. (Those not brought up in billionaire households, as Huntsman was, might not put them on quite the same plane.) He proposes a seven-point plan that includes reforming the tax code, dealing with the national debt, breaking up big banks so they are not "too big to fail," achieving energy independence, streamlining regulations, reducing the troop presence in Afghanistan and reforming congressional ethics.
He is taking a harder line against President Obama, who was his boss as ambassador to China until earlier this year. The president, he said, "came into office with a mandate to restore trust in Washington, yet his inexperience and inability to lead have left us worse off."
He's also talking tough about his Republican rivals. Mitt Romney, he said, "will say anything to earn voters' trust," and "we are in this mess because there are already enough people in Washington who make a career out of telling people what they want to hear." Newt Gingrich, he said, "is a product of that same Washington who participated in the excesses of our broken and polarized political system."
"We have a choice in this race between a panderer-in-chief, a lobbyist-in-chief or a commander-in-chief," Huntsman said. "I want to be that commander-in-chief."
He even strained for the more visceral appeal that has proved so vital this presidential cycle, the indignation that has powered the likes of Cain and Gingrich, and whose lack helped to doom Tim Pawlenty and endanger Romney. "The people are getting screwed in this country, let's face the facts!" he said.
If there's anything we've learned in the vertiginous ups and downs of this presidential primary season, it's that anything is possible. And so Huntsman's campaign, for all its implausibility, can't be counted out. There are even some, like former New Jersey Gov. Christie Todd Whitman, who want him to take advantage of his ideological position somewhere in between the two major parties by launching a third-party bid.
Asked about that Thursday, Huntsman demurred, although, in the complicated code of political denials, he will be seen to be considering such a move by the fact that he never explicitly said that he wouldn't do it.
"Why would I consider that when I'm going to win as a Republican?" he said. "I've been a lifelong Republican and I'm going to finish strong. There's no need to consider that considering where I'm going in New Hampshire, which is straight up. ... I'm running as a Republican and I have nothing to fear."
After a few questions, one of which he answered partly in Mandarin, Huntsman had to run. There was, his aides said, a flight to New Hampshire he had to catch.
Image credit: Reuters/Molly Riley