Is Rick Perry the Iowa Dark Horse?
Under the radar, the Texas governor is one of three candidates on an upward trajectory in the final days before the Iowa caucuses.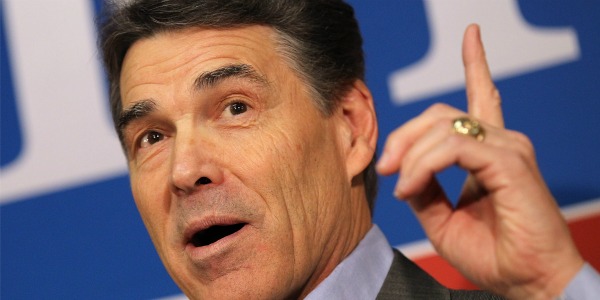 BOONE, IOWA -- While Iowa-watchers obsess over Rick Santorum's
miniature surge
and Mitt Romney's
late strength
, there's one other candidate on an upward trajectory: Rick Perry.
Aided by millions of dollars' worth of television ads boosting him and tearing down his rivals, the thoroughly humbled Texas governor has crept up in Iowa polling in recent weeks, improving from his crash-and-burn to reliably score in double digits.
While Santorum events on Saturday were reportedly drawing more reporters than caucus-goers, Perry was drawing 
healthy crowds
-- a couple hundred at a stop here, in the meeting room of the Gigglin' Goat restaurant. Using notes to get through his stump speech, he was loose and compelling, if not particularly high-energy.
Two lines in Perry's speech -- when he said he'd defunded Planned Parenthood in Texas, shuttering 12 clinics, and when he called for a part-time Congress of citizen legislators -- got enthusiastic applause. He also devoted substantial time to an attack on Santorum's fiscal record, evidence, if any were needed, of who Perry sees as his principal competition for the cultural conservatives for whom he's made a
naked play
. (Perry's campaign also is airing a radio ad attacking Santorum.)
Perry pointed out Santorum's eight votes to raise the debt ceiling, his support for the Medicare prescription drug bill (Perry erroneously referred to it as "Medicaid Part D") and his history of seeking earmarks. Santorum, he noted, has made a federalism argument to defend the earmarks. "But pork-barrel spending, when senators scratch one another's backs, is not about federalism. It's about fleecing the American taxpayer," he said.
"I raise these issues because, in the end, elections come down to differences," Perry continued. "What I'm telling you is that you don't have to settle for another Washington insider, or anybody who's trying to tell you they're conservative but their record's not that."
After his 10-minute speech, Perry took questions on the role of government, partisanship in Washington, energy policy, and his controversial support for in-state tuition for illegal immigrants in Texas. He defended that stance, then pivoted to border security, which the crowd liked.
Perry still comes across as far from a rocket scientist, and his campaign staff is
at war with itself
, never a good sign. On Saturday, his campaign announced that he'd proceed directly to South Carolina after Tuesday's caucuses; the move to skip New Hampshire drew unnecessary attention to his lack of appeal beyond the Bible Belt.
But Perry is still the affable governor of Texas, and voters still want to like him, which has become easier since he's mostly stopped screwing up all the time. (He did
forget the name
of a Supreme Court decision this week, but it was no "
oops
.")
As the only truly Southern candidate -- the onetime Georgian Newt Gingrich, who does not drawl or say "ma'am," doesn't count -- Perry has a strong cultural appeal that sets him apart. He rides in to a Toby Keith song, "American Ride" ("Plasma gettin' bigger, Jesus gettin' smaller/ Spill a cup of coffee, make a million dollars"). He tells the crowd that the small towns of Iowa are just like the small towns of Texas, where he grew up: "The same people, the same values."
As the days to the caucuses wane, Perry has things other candidates would kill for: Crowds who want to meet him, ads all over the airwaves, a decent ground organization, an anti-Washington message people are hungry for, and terrific hair. The question is whether it's too little, too late, to get through the crowded pack ahead of him.
Several Perry-inclined voters in Boone said they were former Herman Cain supporters, which helps explain Perry's uptick.
Marti Melton-Streeter, the former GOP chairwoman in Boone County, said she couldn't support Romney because of his health-care record, and she's frightened by Ron Paul's foreign policy views. Perry, she recently decided, deserves a second chance with voters.
"I'd really like to see Rick Perry come out of Iowa. I think he needs that opportunity on the national level," she said. "I know there have been missteps along the way, but his philosophy is what we need in a candidate."
Carolyn Erickson, an 81-year-old from Ogden, thought she'd made up her mind to support Romney, but Perry changed her mind.
"I was what you call impressed" with Romney when she saw him Thursday, she said. "Today, I'm excited. I feel a passion for [Perry]."
But at least one audience member experienced a different conversion. Loren Nalean, 61, a Boone attorney, said Perry convinced him to caucus -- for Romney.
"I just think he's more intelligent and more sophisticated than Governor Perry," he said.
Image credit: Getty Images/Justin Sullivan