Is Newt Gingrich Deflating in Iowa?
As his rivals blitz the state and attack him relentlessly, there are signs the former House speaker is already losing ground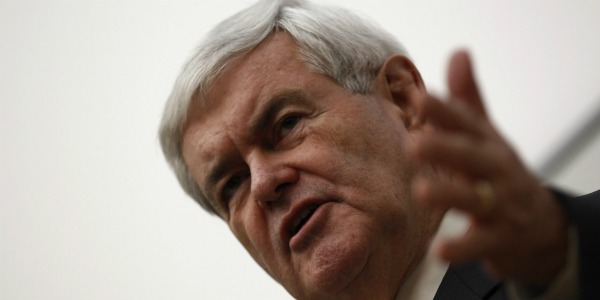 DES MOINES -- It seems like just yesterday that Newt Gingrich rocketed into the position of 2012 Republican presidential front-runner, a.k.a. the least secure job in the world. But here in Iowa, there's a strong sense the air is already coming out of the Gingrich balloon.
Just turn on the television, where Gingrich is enduring a constant pummeling in attack ads from his rivals -- a barrage to which he is barely responding. Talk to the voters, many of whom express new skepticism about the former House speaker on numerous fronts.
Or look at the polls, in which a slight slippage is already evident: After a series of Iowa polls put his support around 30 percent, a Public Policy Polling
survey
released Tuesday had him dropping to 22 percent, still good for first place but virtually tied with Ron Paul.
Some of this has got to be sheer gravity at work -- in the space of a month, Gingrich rose from 10 percent to 31 percent of the vote in the RealClearPolitics
average
of Iowa polling, a rise so precipitous that a little backsliding would be only natural. But the fact that Gingrich's campaign organization and his appearances in the state both remain minimal means his margin for error is slim. He lacks a strong foundation to lock in those sudden gains.
Gingrich made two stops in Iowa on Wednesday: In the afternoon, he delivered a lecture on brain science at the University of Iowa, not exactly a hotbed of Republican caucus-goers. The main headlines out of that event: Its
disruption
by protesters and a
questioner
who said Gingrich had a "Ph.D. in cheating on your wife." Ouch. Wednesday evening, he spoke at an anti-abortion movie screening, where the
crowd
did not go wild for him; when movie-goers went back to their cars, fliers calling Gingrich a "pro-life fraud"
awaited
on their windshields.
More than a dozen interviews at the latter event failed to turn up a single Gingrich supporter among the crowd of over 1,000 dedicated caucus-goers. "I'm not sure he's as firmly grounded in the moral values I think are important," said 35-year-old Matt West, a railroad conductor from the small town of Cromwell, 80 miles southwest of Des Moines. "I'm just not convinced he's genuine."
During two hours of evening news on one Des Moines television network Wednesday night, in between commercials for car dealerships, cold medicines and the Iowa Lottery, an ad
blasting
Gingrich as a flip-flopper with "a ton of baggage," created by a Super PAC supporting Mitt Romney, played three times. Ron Paul's brutal ad
accusing
Gingrich of "serial hypocrisy" aired twice.
A Rick Perry
ad
that doesn't name Gingrich but decries the Washington culture of "congressmen becoming lobbyists" aired three times, as did a
Paul ad
comparing politicians to show dogs and a
Romney ad
touting him as a "conservative businessman" (Romney's introductory Iowa ad, not the later one in which he emphasized his marriage). A Perry-backing Super PAC's
message
that "Washington elites are destroying America" aired once.
The lone defense of Gingrich? A single airing of his gauzily positive 60-second
spot
. On Thursday, Gingrich's campaign released a second ad in which he
frowned
upon his rivals' "attacks."
But the attacks are only intensifying as the rest of the candidate pack grows desperate with less than three weeks until the Jan. 3 caucuses. The other candidates are blitzing the state: Santorum continues to do multiple events every day, Perry has begun a 44-city tour and Bachmann on Friday embarks on a breakneck 10-day whirl through all 99 counties.
Gingrich is also planning an Iowa tour -- his Iowa director, Craig Schoenfeld, said it would kick off shortly after Christmas with a route across the state that was still being finalized. The question, though, is whether by that time he'll still be on top.
Doug Gross, a Des Moines lawyer and operative who was the 2002 GOP gubernatorial nominee, said Gingrich now has nowhere to go but down.
"He peaked too early," Gross said. "If [Gingrich's surge] was starting right now, he could have rode it through the holidays." As unbelievable as it seems, in the breakneck pace of this year's campaign, being No. 1 a month before the Iowa caucuses is no guarantee of anything but a target on your back. Gingrich can decry the attacks all he wants, but for at least some Iowans, the criticisms appear to be sinking in.
Image credit: Reuters/Jim Young