Iowa Voters: What Do They Really Want?
The state's caucus-goers are the most sought-after group in presidential politics. But their voices have been strangely absent from the narrative this cycle.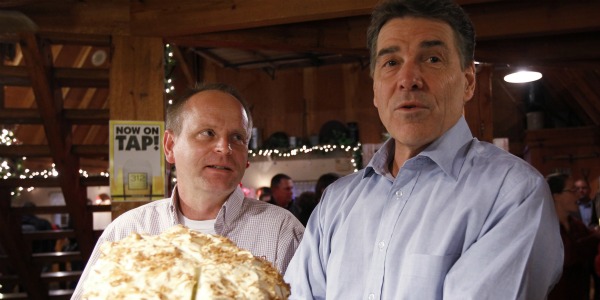 SIOUX CITY, IOWA -- The Iowan had something to say to Mitt Romney, but Romney didn't seem to be listening.
"My question is, what are you going to do for agriculture?" said the man in the black jacket with a picture of a tractor on the back. "I think we should just totally do away with the farm program -- get rid of it, make us sink or swim on our own and get some incentives to get the young people back in there," he added.
In response, Romney reminisced about working on his uncle's ranch in Idaho, blamed the Dodd-Frank financial reform legislation for squelching loans and investment, and launched into that most hoary of Iowa-pandering cliches, a paean to ethanol.
"I know some of my friends think that we should just not worry about ethanol," Romney said. "I actually like the fact that ethanol is part of our energy mix." He finished his long answer by vowing to "do my best to keep the American farm sector alive and well."
But what about getting rid of the farm program? Romney didn't say.
In a campaign season that's been driven by a steady stream of nationally televised debates, the voices of the voters -- especially those all-important Iowa caucus-goers -- have been largely drowned out. The candidates and media spend less time in Iowa and the other early states, and when they're there, they often seem to be speaking more to an idea of Iowa than the real people who will vote on Jan. 3.
The result is a disconnect between caucus-goers and the candidates trying to woo them -- a phenomenon that helps to explain the dramatic fluctuations in the electorate in recent months.
Romney's back-and-forth with the man in the tractor jacket was a case in point, even if he was just doing what candidates always do and answering the question he would prefer to have gotten: Iowa caucus-goers are difficult to pigeonhole. Just when you think they're looking for assurances their agricultural subsidies won't stop flowing, it turns out they want to hear the opposite.
"We're a tough bunch to figure out," said Christopher Rants, a former speaker of the Iowa House of Representatives from Sioux City who's supporting Romney. "That's why Mitt Romney has probably been reluctant to come back. He tried once, and he got it wrong."
Iowa caucus-goers, for all their sway, are a rather tiny tribe -- about 120,000 attended the 2008 Republican caucuses, and many expect turnout to be slightly lower in 2012. Though too easily caricatured as overwhelmingly churchy and rural, there's some truth to that perception: In 2008, according to CNN's caucus entrance poll, 60 percent described themselves as evangelical or born-again Christians, and 69 percent were from rural areas.
But interviews with dozens of die-hard Republican caucus-goers in recent weeks found a wide swath of opinions among caucus-goers old and young, urban and rural. All shared a determination to pick the right Republican nominee to oust President Obama, but they disagreed on what that meant; some favored Romney as the electable candidate based on polls showing him narrowing the gap with Obama, while others felt a tough, pugilistic conservative would be better equipped to take on the incumbent than a mealy-mouthed pragmatist lacking in charisma.
They also tended to share a sense that this election represents a crucial referendum on the country's direction. The imperative to oust Obama, they repeatedly said, was not merely a Republican's desire to defeat a Democrat, but a necessity to prevent what they saw as disastrous consequences for America's well-being and the American ideal itself. There was an apocalyptic tone and a genuine fear in many of their comments.
Bill Van Vliete, a 72-year-old Des Moines interior designer, said his top priority was "beating our current president." Why? "His basic philosophy is so counter to anything I understand or believe," he said. "I really believe he is undoing our country systematically."
Van Vliete had just seen Rick Santorum speak at a conservative group's breakfast meeting at a Machine Shed restaurant in a Des Moines suburb. He said he'd been impressed by the former Pennsylvania senator but was still "wrestling" with his choice of candidate.
"I'm just overcome with the dishonesty of government right now," he said.
The urgency of defeating Obama and the hard-line ethos of the tea party movement have made Iowa voters more demanding this year, said Chuck Laudner, a GOP operative based in Rockford, two hours north of Des Moines near the Minnesota border.
"Usually when a candidate comes to Iowa, they try to own an issue area -- the pro-life candidate, the flat tax candidate, the immigration candidate -- and they build a coalition out from there," said Laudner, who is supporting Santorum. "But since the last caucus in 2008, everything the government touches is on fire. We're in crisis mode. Barack Obama spurred the whole tea party movement.
"Now people want a full-spectrum conservative -- a rock-ribbed, consistent fighter for all of these issues," Laudner added. "The bar is exceedingly high. That's why you see candidates shoot up to 30 percent and then the bottom falls out all of a sudden."
The problem is that Iowans' passion for defeating Obama isn't matched by passion for any of the candidates. "Folks aren't putting up signs and wearing pins like they usually would -- it's so uncertain," said Ann Trimble Ray, a consultant and activist who lives in Early, a city of 600 situated halfway between Fort Dodge and Des Moines.
"There is a sense, not of panic exactly, but anxiety about how late it is and the fact that they haven't decided," Trimble Ray added.
One evening last week in downtown Des Moines, over a thousand likely caucus-goers attended the screening of a pro-life film hosted by Mike Huckabee at which Michele Bachmann, Rick Perry, Newt Gingrich and Santorum all spoke.
"I really never thought I would have to worry about losing my country in my lifetime, but the last two or three years, that has become a real concern," said Robert Dopf, a semi-retired Des Moines lawyer who chairs Iowa Right to Life. "I've got grandkids, and the way it's going, they're not going to grow up in the kind of country I was privileged to know."
Many of the religious conservatives at the event dismissed the idea that the economy ought to trump cultural concerns. "If you get life right, everything else falls into place," said Stacie West, echoing a common sentiment expressed by candidates and audience members alike.
West, 35, teaches Braille to blind children in the small town of Cromwell. Her words illustrate why cultural issues always seem to take center stage in the campaign even though relatively few voters call them decisive: For those voters, abortion is an absolute litmus test, the sine qua non of all other priorities. There is also a sense that, while other issues are a matter of technical calculation, social issues indicate a candidate's deeper moral convictions, and values are not subject to the vicissitudes of policy debates.
A Huckabee voter in 2008, West was waiting for God to tell her whether to vote for Santorum or Bachmann this time. "I don't worry," she said. "Christ is the ultimate judge. He ultimately makes the decision who rules the country."
Then there was Norma Halverson, 64, a retired nurse from Laurens, Iowa, who said she's known as "Grandma Teddy" on the AM radio shows she regularly calls into. "I've never been so afraid for my country as I am now," she said.
Halverson proceeded to detail a complicated set of fearsome circumstances involving the Council on Foreign Relations, the imposition of martial law, the CIA, terrorists coming across the Mexican border and a manmade viral pandemic. She displayed a radiation detector on her keychain. "I'm supporting Michele Bachmann, but my husband is supporting Ron Paul," she said. "My goal is to get them connected" -- that is, together on the ticket.
Halfway across the state, Greg Moe, 61, had come out to a hear Newt Gingrich at a country club in Fort Dodge. A farmer from Moorland and a self-described "socially liberal Republican," he said, "This conservative Iowa evangelical thing sort of gets overdone, even though I am a church person."
Moe, who caucused for Rudy Giuliani in 2008, is supporting Newt Gingrich now because he believes he's the best on national security and "knows what he's doing." He frets that his state does the rest of the nation a disservice by weeding out more electable, moderate candidates.
"If I were to vote on a single issue, it would be a mandate for ethanol, because of all the jobs that provides for Iowans," he added.
Kim Alstott, the 60-year-old retired owner of companies that manufacture birdseed and rat poison, also attended the Gingrich campaign stop in Fort Dodge. But Alstott, who was elected to the Fort Dodge city council last month, beating an incumbent by a one-vote margin, said he wasn't a Gingrich supporter. (Iowa caucus-goers are not an easy sell, and it's common to find that few members of the audience are supporters of the candidate they've come out to see. Campaign events here aren't rallies -- they're shopping trips.)
"I will vote for Rick Santorum in the caucus, because he's honest and speaks his mind and doesn't flip-flop like some other people," Alstott said. The candidates' visits had make a deep impression on him, especially Michele Bachmann, who "never let anybody ask her any questions" when she visited. "She cut her own throat with that one," he said -- Iowans don't want to be lectured.
If anyone ought to have a sense of the Iowa electorate, it's Santorum, who has spent months trudging to every corner of the state -- 350 campaign events in all of Iowa's 99 counties, some of them to audiences of just a few hardy souls. His days often begin before dawn and end after dark. His transportation is a rented SUV -- he'll have to scrape off the Santorum for President sticker when he returns it -- driven by his 20-year-old daughter.
"The people of Iowa, repeatedly, they thank you for coming out, thank you for spending the time," Santorum said in an interview. "That means something to people out here, that you respect them enough to get in front of them and answer their questions. A lot of folks may be thinking, 'I'll go with the guy who had the courage to come out and face us and stand up and talk about what he believes in, instead of hiding behind consultants and TV ads.'"
A man who'd just heard Santorum speak interrupted the interview to get his point across. "Obama don't do nothin'," he said. "I used to think he was smart, but I'm not even sure anymore that he's smart -- intellectually smart. I mean, he'd had no experience, zilch, but I just accepted the fact he was a smart guy. I don't know now. I'm questioning it."
Turning back to the interview after commiserating with the man and thanking him for coming, Santorum defended his family values-centered campaign pitch.
"These are important issues because a lot of folks understand they're foundational," he said. "You can't have limited government, you can't have freedom without responsibility, responsible behavior, and a strong family unit to be the foundational building block of a society."
Religious conservatives still make up a substantial enough portion of the Iowa electorate to swing the caucuses if they all go to one candidate, as they did for Huckabee in 2008. But in speaking almost exclusively to this bloc, Bachmann, Santorum and Perry are fighting the last war, when the battlefield has changed dramatically, said J. Ann Selzer, the Des Moines-based researcher behind the Iowa Poll.
"The mood of this electorate is focused on the economy," Selzer said. "To the extent there are some focused on abortion and gay marriage, it appears that's a smaller proportion than in times past."
In a poll Selzer conducted for Bloomberg News last month, caucus-goers were asked what issues they considered "critical." The top four were government spending and debt, the economy, jobs and taxes. Abortion was sixth, with just 33 percent considering it critically important.
"That's not to say that if you can get them all to support one candidate that can't be a meaningful number," she said. "But the mood is very different this time around."
At Romney's event in Sioux City, most audience members were Romney supporters in 2008 who'd stuck by their candidate. Helen Miller, a 68-year-old retiree who had brought her husband, a Democrat, to the event, said she thought Romney had lived "a moral life" and had "plans" to fix the economy.
But when the Romney campaign contacted Miller and asked her to stand up for Romney at the caucuses, where candidate representatives are allowed to make a pitch before the voting takes place, she balked.
"They asked me to speak at the caucuses, and I turned them down flat," she said. "There's somebody more educated and better at speaking than I am in Sioux City. I'm just a common, everyday person. I don't want to get up and tell people what they should do."
Image credit: Reuters/Jeff Haynes