Iowa Prepares to Settle for Romney
In the final days before the Republican caucuses, many Iowa voters are girding themselves to accept the least implausible candidate.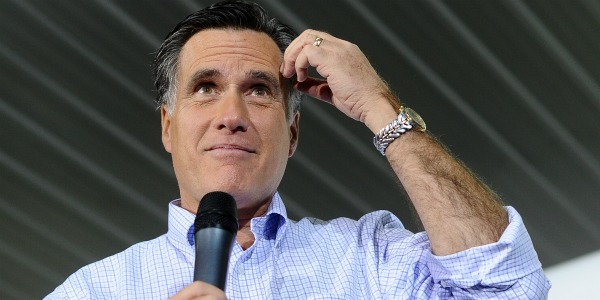 AMES, IOWA -- They are coming out to see Mitt Romney in Iowa, hundreds of them. They are not expecting to be blown away.
Instead, these crowds are skeptical and a bit resigned. With decision time nearly upon them, they are coming home, reluctantly, to the least implausible Republican candidate.
"It's impossible to be perfect. There are no more Ronald Reagans," sighed Ed Houry, a 57-year-old UPS driver from the Iowa City area. "But I think he can win it."
If Romney
appears to be pulling ahead of his rivals
in the closing days before Tuesday's Iowa caucuses, it's not because he's suddenly caught fire. Romney, who got 25 percent of the Iowa vote four years ago, hasn't surged so much as stayed in place amid the chaos.
Nor have voters here suddenly developed a burning ardor for his low-heat candidacy. Rather, they are preparing to settle.
"I'd say I'm leaning Mitt. I'm not 100 percent committed, but I'm leaning," said Rick Schreier, 44, a bank president from Story City. "I like certain things about all of them, but I've found reasons I couldn't support the other six candidates. With Mitt, I haven't found anything about him that I couldn't support."
Schreier said he was 75 percent sure he'd support Romney. He wasn't considering any of the other candidates. But he was still leaving the door open to changing his mind.
Romney rolled in to Thursday night's rally at a construction company warehouse here -- literally: a garage door on the side of the building opened and his campaign bus pulled right in. "Eye of the Tiger" boomed from the speakers as he and his wife, Ann, took the stage.
"I think you want to pick someone who's going to beat Barack Obama!" Ann said. Big cheers. "And once he does beat Barack Obama, he's going to be an awesome president!" Slightly less big cheers.
Romney spoke for about 12 minutes, a speech in which he detailed none of his policy ideas but strained to emphasize his patriotism -- as if someone had called it into question. He recited the lyrics to "America the Beautiful." He extolled the principles of the Founding Fathers. The Declaration of Independence and America as a "land of opportunity" were praised. The president was accused of trying to turn the country toward European-style redistributionism.
Romney then told a story about an especially patriotic speedskater he'd gotten to know during the 2002 Olympic Games. The athlete, he said, was surprised and moved by an unexpected twist in the singing of the national anthem.
"Now, I knew it was coming, because as the man in charge of the Olympics I got to choose the version of the national anthem the choir sang," Romney noted fastidiously, with no change in his perky affect as he detoured on this tangent. "And I chose a version from the 1930s, arranged by a fellow named Robert Shaw, where you repeat the last line a second time as a reprise and the sopranos go up an octave."
As all this was happening, a gust of wind fluffed the flag the skater was holding, and he felt the heavenly breath of the heroes of 9/11.
"And he said, 'The tears began running down my face.' And as he told that story the tears welled in my eyes as well," Romney said. "The people of America love this country."
When it was over, several audience members said they would have liked to hear more substance from Romney. But many seemed inclined to break Romney's way now that he'd come and asked for their votes once again. His schedule has him stumping across the state through the weekend and sticking around to watch the results come in on caucus night.
"As we get closer to the caucus, people understand they're never going to be 100 percent with one candidate," said Jim Kurtenbach, a former state representative from Nevada, Iowa, who previously supported Tim Pawlenty but now is endorsing Romney. "I hear a lot of people talking about looking for the candidate they agree with the most." In the final analysis, he said, Iowans are realizing that's Romney.
The Romney camp is not predicting a win on Tuesday, but David Kochel, Romney's Iowa campaign chairman, said he believes momentum is on their side.
"I think we're going to have a good night on Tuesday," he said. "A lot of people make up their minds in the last week. They're starting to make that decision in a serious way." While other candidates have shot up and down in recent months, he noted, "We've been pretty steady."
Steve Howell, a 55-year-old Ames attorney, voted for Romney four years ago and plans to do so again. "I didn't wander that far, I just ignored him and he ignored us," he said. "It's hard to get motivated to support somebody when you don't ever see him. But now that he's here, he's motivating people."
Howell's wife Mary, a banker, said she was "leaning toward Romney," but her mind wasn't yet totally made up.
"It's becoming made up, because he's the only logical choice," she said.
Image credit: Jewel Samad / Getty Images