This year, most of the Republican presidential candidates aren't even trying to win the state's caucuses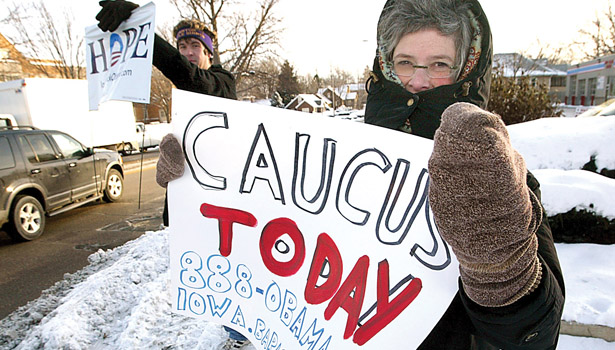 The presidential candidates will keep visiting, the pundits will keep watching, and the state continues to provide an alluring stage for political theater, with another debate in Des Moines on Saturday. But this year, the idea of Iowa in presidential politics will probably die.
Iowa has long been heralded as a bulwark against the money and media that dominate the modern presidential race. Its caucus requires voters in every precinct to actually gather in a room, at one time, and listen to neighbors pitch their chosen candidates, before they are allowed to vote. Months spent recruiting local leaders for that task, and building grassroots support on the ground, can trump the expensive advertising air wars that dominate most primaries. So grassroots candidates actually have a chance to out-organize frontrunners and beat the media's flavor of the month.That's how long-shots like Jimmy Carter and Mike Huckabee got started.
Sitting out Iowa, by contrast, is supposed to be dangerous to a campaign's health. "Past candidates have not done well in the caucuses without investing substantial time in the state," notes a dry entry in the Des Moines Register's official guide. Since 1976, when both parties placed Iowa first on the calendar, the candidate who won the caucus went on to win the nomination over 70 percent of the time. Winning the "Iowa Way" was the best way to win, period.
This year, however, most first-tier Republican candidates aren't even trying.
With the exception of Rick Santorum, whose underdog campaign arranged 227 events in all 99 counties, the contenders have simply declined to flood the state with staff or appearances. Rick Perry has spent just 17 days on the ground. Mitt Romney, who is playing down expectations, limited himself to eight days.
The newest "front-runner," Newt Gingrich, has racked up 50 days in the state, but unlike years past, Gingrich's appearances are far more ceremonial than organizational. After mass resignations this summer, he had literally no Iowa office or staff until last week. The campaign just opened one office in Urbandale, an affordable suburb of Des Moines, and hired about five local staff.
Gingrich's phantom front-runner model is evident in the latest polls, which show him leading among potential Republican voters -- even though only about 10 percent of them have actually heard from his campaign. That is under half the contact rate for the Bachmann and Paul Campaigns. It also trails the pace last cycle, when top campaigns had dozens of field offices and hundreds of staff in the state.
Robert Parker, a retired teacher who served as a county chair for the Huckabee Campaign, recalled much more activity in 2007.
"A candidate was here every week in central Iowa," he said in a recent interview. Parker, 76, helped organize three events for Huckabee last cycle, and he recounted a "groundswell" for the campaign in small towns across the state.
In that race, Huckabee spent a twentieth of Romney's Iowa budget and won by a convincing 9 points. (Another other cash-strapped candidate, John McCain, came in third and went on to get the nomination, of course.)
This time, with far less staff or volunteer organizing on the ground, the race is more contingent on media than ever before.
A win by Gingrich, who leads the current polls, would probably render field organizing quaint. It would break Iowa's iron rule, demonstrating that at least for famous candidates, the entire ground game can be swapped for a media parachute strategy: Drop into Iowa for message events, TV debates and, of course, that televised speech on caucus night.
Gingrich alluded to this approach in an interview with Radio Iowa last week, contrasting his advantages to Romney's "huge" assets. "We just generate immense amounts of earned media," Gingrich emphasized, slipping into consultant jargon for events aimed at drawing free media, rather than paying for it. "Well, that's not going to stop," he said.
Meanwhile, a Romney win would show that frontrunners can skip campaigning altogether and still win the caucus.
All year, Romney has held about 15 to 20 percent in Iowa polls while avoiding the state. A victory would validate the idea that strong frontrunners don't need much organization or presence. Some politicos argue that's now the case with today's media, while others say it's always been the secret in Iowa. Journalist Maggie Haberman proposed an "absentee candidate" theory this year, to explain how the GOP frontrunners has actually "spent the least amount of time meeting with voters." The idea, buzzy but untested, is that retail politicking's impact has faded in today's news ecosystem, given virtual politicking on the three screens and an endless parade of debates. (Republicans have acceded to 21 debates scheduled through January alone, an un-strategic overdose that has boosted the least serious candidates, never mind Donald Trump.) The other argument is that organization never mattered that much. Matthew Dowd, a former strategist for George W. Bush, says "an organization is not a real necessity" if you have "energized voters and momentum" on election day.
For Romney, though, the caveat in Iowa is that he already built name recognition and relationships with his extensive, $10 million caucus operation last cycle. It netted him 25 percent of the caucus vote, and his current standing rests on residuals from that traditional effort.
In one curious and neglected sign of this dynamic, Romney currently leads the field in personal campaign contacts among likely Iowa caucus attendees. Thirty-one percent say they have been contacted by a Romney staffer "by phone or in-person," tying Bachmann's total, even though he has only five staff on the ground. Either Romney is running a secret voter contact effort -- theoretically possible with paid telephone calls from out-of-state -- or he is coasting on Iowans' long memories.
Finally, there is the chance of an upset.
One out of ten Iowans are still undecided, and a majority are open to changing their mind.
So Ron Paul, who has taken an old-school approach in Iowa, could still pull out a win. Paul made up for his tight budget with decent time in the state, including 74 events, and he is the kind of true believing underdog that Iowa favors, like Huckabee. Among likely caucus goers, Paul is seen as both the "most principled" and the "most fiscally responsible" of all the candidates. At about 18 percent in current polls, he and Romney are within the within the margin of error for second place. A Paul victory would upend the primary, even if he is unlikely to win the nomination, and probably restore Iowa's status as a grassroots powerhouse.
Even with this unusual primary, where a loud stable of fake candidates and non-candidates overshadowed many contenders, the caucus has still enabled Iowans to greet the politicians willing to cross state lines. In fact, more Iowa caucus-goers have seen a candidate in person this year than last cycle -- 35 percent compared to 31 percent. About three out of five likely caucus voters also say they have talked with a representative of the presidential campaigns this year, an interactive, non-virtual way to learn about the candidates from actual people who support them.
In the end, that is the point. Iowa's power to dislodge every ambitious politician from midtown Manhattan's Green Rooms is clearly fading, and a knock on the door may be less meaningful nowadays. Yet there are probably no other places in America, outside of New Hampshire, where the majority of people who show up on election day have talked to the campaigns who seek their vote; or where a third of them will have actually broken through the hundred million dollar filter of paid advertising, breathless media and consultant messaging to go, in person, and meet these people who want to be president.
Image credit: AP Images