How to Succeed in Iowa Without Really Trying
A tally of endorsements from Iowa shows how smart Mitt Romney's strategy has been and how Rick Santorum's hasn't worked.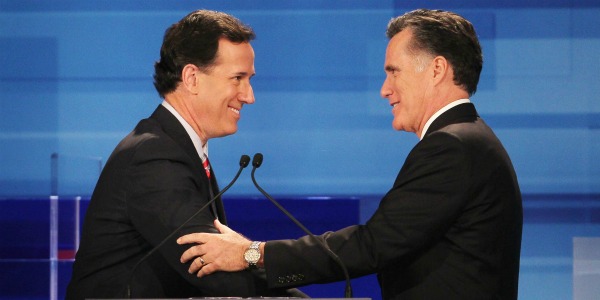 The big story on Wednesday -- well, insofar as there was one -- was Rick Santorum's continued surge in the polls. The reason anyone's talking about Santorum, whose boost still only brings him into third place in Time's poll, is that they're bored of talking about Mitt Romney. But the pair of candidates actually provide a useful case study in trying to understand the dynamics of the GOP race so far.
The big narrative of Iowa this year is that retail politics haven't worked. Time was, you had to spend days and days in the Hawkeye State to compete. Now, there were signs that wasn't totally true, or at least that it wasn't enough -- just ask Chris Dodd, who moved his family to Iowa and ended up with one whole delegate to show for it -- but it's what everyone believed. This time around, Rick Santorum went all-in, spending far more time in Iowa than any of his opponents (more than Rick Perry, Newt Gingrich, and Mitt Romney combined, in fact). He was roundly mocked as his numbers stuck in the basement. So does his recent surge validate the strategy and put the joke on the haters?
Santorum shouldn't hold his breath for vindication. Obviously the only real metric is caucus night, and there's still time for a surprise, but another useful indicator is newspaper endorsements. While many papers haven't endorsed yet, the editorials have started to roll in.
Despite spending only 13 days in Iowa to Santorum's 99 (per the Des Moines Register's indispensable candidate tracker), Romney snagged the endorsement of the Register on Dec. 17. That's a major coup: the paper is the largest and most important in the state. On Tuesday, he picked up the backing of the Iowa City Press-Citizen as well. Earlier this month, the Sioux City Journal announced they were endorsing him, as they did four years ago.
Now, how about Santorum? Well, there's this screaming headline on his site: "HANDS DOWN, THE ENDORSEMENT IS RICK SANTORUM." It links to an endorsement by the Oskaloosa News, a website which describes itself as a "small, independent news source" in Oskaloosa, pop. 11,463. And that's about it. (As far as I can determine, none of the other candidates has a major Iowa newspaper endorsement yet.)
There are questions about how much newspaper endorsements really influence voters, especially today, but they're a useful barometer -- it's telling that editorial boards in the state haven't been swayed by Santorum's constant presence, because voters may not be either. What's more, a glance at endorsements by elected officials in the state shows Santorum's struggles. Tallying up the endorsements recorded at P2012 (through Dec. 22), Santorum's eight trail Gingrich, Romney, and Bachmann. Romney, on the other hand, has a robust 18 endorsements from Iowa officials. To be fair, Santorum did gain the high-profile backing of social conservative kingmaker Bob Vander Plaats, but that victory has been tarnished by pay-to-play allegations.
Early on, it seemed Romney would just sit out Iowa, but now he's in good shape for a high finish or even a win. Perhaps Santorum will receive a deluge of endorsements between now and Tuesday night, and perhaps he'll ride to victory in the caucus. But barring those surprises, Mitt Romney seems to have discovered a secret: not that you can skip Iowa, but that you can ignore it and still compete for the win.
Image: Scott Olson / Getty Images