How Much Should We Read Into Santorum's Iowa Surge?
The social conservative's gains in a new poll are impressive, but electability concerns and lack of economic expertise may hold him back.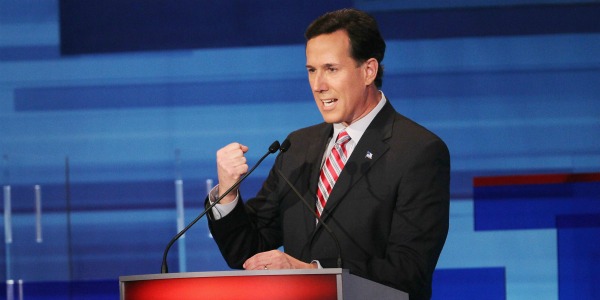 The Republican bubble has finally lifted Rick Santorum, at least to third place in one state.
For a while it looked like he'd be the only GOP presidential candidate competing in Iowa to miss out on his personal rise-and-fall saga. Now comes a CNN poll showing Santorum with 16 percent of the vote in Iowa - 2 points higher than a rapidly fading Newt Gingrich.
The comparison with a CNN poll earlier this month is striking.
Santorum more than tripled his Iowa support from 5 percent to 16 percent. Gingrich, meanwhile, plummeted from 33 percent to 14 percent.
The bad news for Gingrich: His strategy of staying "cheerful" and positive in the face of a barrage of negative ads against him has failed.
The bad news for Santorum: Asked who'd have the best chance of defeating President Obama, only 4 percent of Iowa Republicans named him (as opposed to 41 percent who chose Mitt Romney). The other bad news for Santorum: the poll shows Christian conservatives are still splitting their votes among all the candidates in the race.
How much, exactly, should we read into the Santorum surge? A third-place finish in Iowa might help him raise enough money to stay in the nomination race until the Jan. 21 primary in South Carolina, another state where conservative evangelical voters are plentiful.
The larger question is whether the former Pennsylvania senator has breakout potential. Unlike Michele Bachmann and Ron Paul, Santorum can argue that he's won statewide in a place that's big, diverse, and critical in general elections. On the other hand, he lost his Senate seat to Democrat Bob Casey by a massive 17 points in 2006.
Santorum has a foreign-policy background but little profile on the economy, which tops voter concerns in every poll. He is identified most with his work on social issues, including crusades against abortion and gay marriage. His bubble will last longer if he manages to consolidate evangelical support in Iowa.
But for now, Santorum remains a niche candidate whose trajectory could well resemble the Palin-Trump-Perry-Cain-Gingrich booms and busts that have made this season so interesting and strange.
Image: Scott Olson / Getty Images