Herman Cain Suspends His Presidential Campaign
In Atlanta on Saturday the candidate announced his resort to "Plan B," citing the string of allegations against him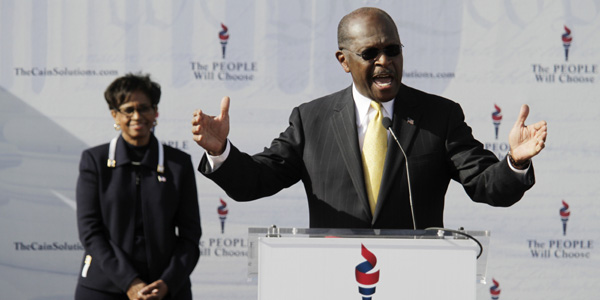 ATLANTA -- Herman Cain suspended his campaign for the presidency on Saturday, citing the "painful price" his family has paid for the allegations of sexual misconduct leveled against him.
---
MORE FROM NATIONAL JOURNAL:
---
Though he continued to deny the allegations, he said the "cloud of doubt" they have created left him unable to continue the campaign.
Cain, who walked to the stage hand-in-hand with his wife, Gloria, said that "false accusations" have "sidetracked and distracted" his ability to present solutions to the nation's problems.
In the hours before he made his planned midday announcement about the future of his presidential campaign, Republican candidate Herman Cain reached out to some of his rivals.
The Georgia businessman, who has seen his once-meteoric rise in the polls reversed by allegations of sexual misconduct, arrived back in his hometown of Atlanta on Friday for his first face-to-face meeting with his wife following his acknowledgement that he made a series of payments without her knowledge to a friend, Ginger White.
Cain has acknowledged that his campaign contributions have fallen off in the wake of White's charges that the two had a 13-year affair. He has denied that, along with charges of sexual harassment by four former female subordinates. His support in Iowa, where the first votes of the presidential campaign will be cast Jan. 3, has nosedived from 23 percent in late October to eight percent in a new poll out this week.
"Herman Cain's campaign is over," tweeted Rep. Steve King, an influential conservative from Iowa.
Sarah Huisenga and Alex Roarty contributed
Image credit: John Adkisson/Reuters