Gingrich's Choice: Does He Want to Be a Leader or a Historian?
The Republican frontrunner seems to think his academic credentials are a plus, but his dual identities could actually be a hindrance on the campaign trail.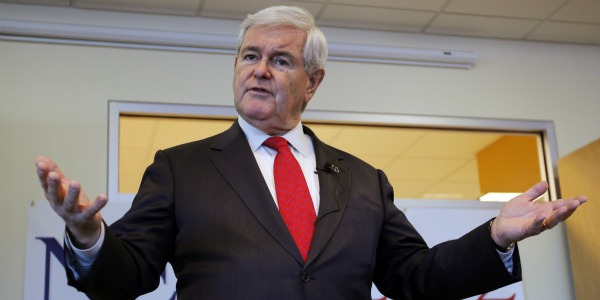 Newt Gingrich clearly thinks his identity as a historian adds heft to his quest for the White House. But if he wants to win the Republican nomination, the former House speaker might want to trade his freewheeling professorial rhetoric for a more deliberative style.
A history professor before he entered politics more than three decades ago, Gingrich has frequently called himself a historian during the campaign -- sometimes while making an otherwise controversial point. The upshot is that he's providing free ammunition for his rivals and critics.
Mitt Romney delivered a dig on Wednesday that sounded like a line of attack for Thursday night's GOP debate in Sioux City, Iowa. "He's a great historian," Romney told CBS News. "If we need a historian leading the country, I'm sure people would find that attractive. I actually think you need someone who actually understands the economy leading the country."
Republican consultant Ron Bonjean said Gingrich has a "Jekyll and Hyde" problem. "Either he's politician Gingrich or he's professor Gingrich, and you just can't be both when you're running for president," he told National Journal. "If you want to get into history and pontificate about controversial ideas ... then you shouldn't be running for president."
Gingrich has twice relied on the historian defense in debates. At a CNBC debate in early November, confronted by the fact that government-backed mortgage giant Freddie Mac paid him $1.6 million (a dangerous line of attack among Republicans), Gingrich denied he lobbied. Rather, he said he served Freddie Mac as a historian.
"And my advice as a historian," he said, "when they walked in and said to me, 'We are now making loans to people who have no credit history and have no record of paying back anything, but that's what the government wants us to do,' as I said to them at the time, this is a bubble. This is insane. This is impossible."
Gingrich has since revised his role description -- he now says he was a "strategist" -- but the initial claim is still fodder for jokes and ridicule. Romney, who has suggested that Gingrich return the money he earned from Freddie Mac, is having still fun with it. "That would make him the highest-paid historian in history," Romney quipped on Monday.
In the ABC-Yahoo debate last Saturday, Gingrich again cloaked himself as a historian to deflect criticism. It came after a moderator said his comment that Palestinians are an "invented" people caused uproar in the Middle East.
"Is it historically true? Yes," Gingrich said. "The fact is, the Palestinian claim to a right of return is based on a historically false story. Somebody oughta have the courage to go all the way back to the 1921 League of Nations mandate for a Jewish homeland, point out the context in which Israel came into existence, and 'Palestinian' did not become a common term until after 1977."
Former Sen. Rick Santorum pounced on the remark, reminding Gingrich that he was no longer in the classroom. "We're in a real-life situation," said Santorum. "This isn't an academic exercise. We have an ally (Israel,) and we shouldn't say things like that without consulting them to find out if it's useful."
Gingrich's historical tangents inflame concerns, already rampant in Republican circles, that he is too erratic to be commander in chief. As Republican strategist Mike Murphy tweeted during the debate, "Newt doing his foreign-policy open-mic night shtick would be a disaster."
Secretary of State Hillary Clinton on Wednesday was more diplomatic, if equally disapproving, at an event on global innovation. Asked by moderator Jim Lehrer if Gingrich's "invented" comment was useful, she replied, "No." She added that from what she'd read, "I think he recognized that."
Gingrich's background as a historian, and his continual references to history throughout his political career, are major elements of his reputation as the Republican Party's intellectual engine. His academic past conveys credibility to Republican voters, David Yepsen, a former longtime political columnist at the Des Moines Register, said in an interview. "He's in effect saying, 'I have a perspective you don't, and I have studied these things in a way you have not,'" said Yepsen, who is now director of the Paul Simon Public Policy Institute at Southern Illinois University.
There's no question "Newt being Newt" has helped Gingrich surge to the front of the Republican presidential field. The last debate before the Jan. 3 Iowa caucuses will reveal whether he is ready to suppress his inner professor in pursuit of the Oval Office.
Image: Brian Snyder / Reuters