Gingrich: Managerial Disaster?
What Newt's tenure as a House Republican leader says about his ability to lead an organization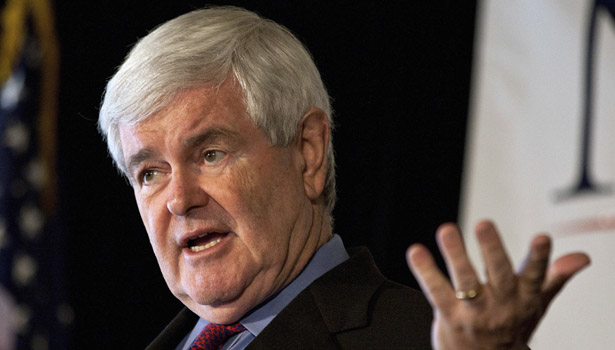 Reuters
Long before Newt Gingrich became speaker of the House, his closest Republican allies knew he was a managerial disaster, a mercurial force of nature who bubbled with ideas but lacked discipline. Their assessment explains why many Republicans who have dealt with Gingrich over the years exhibit almost feral anxiety about what a Gingrich general-election campaign--let alone, a presidency--would be like. Gingrich spent his first 10 years in Congress as a powerful gadfly, a voice from the bleachers heckling Democrats and his own GOP leadership. In 1989, he decided he would move inside the tent by seeking the No. 2 post in the GOP leadership, minority whip.
The contest pitted Gingrich against then-Minority Leader Bob Michel's handpicked choice, Rep. Ed Madigan, who, like Michel, hailed from Illinois. Madigan was the face of the moderate old guard, Gingrich the leader of the brash conservatives who earlier had formed the Conservative Opportunity Society.
Gingrich knew he needed a capable campaign ally who could do something he couldn't--manage the race and accurately count votes. Gingrich chose Rep. Vin Weber of Minnesota, a charter member of the conservative group. Weber imposed one condition: If Gingrich won, Weber would have the power to appoint all of the new whip's staff. He wanted to buffer Republican members from the turmoil that Gingrich as a party leader would unleash. "I knew the whip job was not ideal for Newt," Weber recalled. "I told him, 'Newt, this is a concrete job, not a visionary job. It's not what you're good at.' "
With Weber's help, Gingrich won 87-85, a victory that crystalized the growing strength of the confrontational conservatives. Weber appointed four senior staffers--Arne Christenson, Annette Meeks, Dan Meyer, and Len Swinehart, all of whom came from Minnesota and had worked for him. "The whole office sounded like the set of the movie Fargo," joked Rich Galen, a longtime Gingrich communications adviser.
When Gingrich became speaker after the GOP landslide of 1994 that he helped to engineer, Weber wasn't the only Republican worried about the Georgian's erratic management style. "He had a new idea every 13 seconds," Galen said. "He just made everyone crazy. There was too much turmoil." Those who worked closest with Gingrich liken him to a car careening down narrow mountain roads.
Even those who remain close to Gingrich and fondly remember the hectic, agenda-driven energy of his early speakership concede that he wore his colleagues out. "We went from zero to 120 miles per hour," recalls Jack Howard, a former senior Gingrich aide. "We tried to keep him from going through the guardrails. But he went over the cliff a couple of times."
Gingrich, credited with helping to produce the first GOP House majority in four decades, initially lorded over the "Republican revolution" as something like a sun king. But just two years into his reign, by January 1997, enough discontent had developed over his leadership that it wasn't clear that the rank and file would give him a second term as speaker.
Galen remembers walking to the House from the Capitol Hill Club with fellow aides Joe Gaylord and Sam Dawson on Jan. 7, 1997, the day Gingrich was seeking reelection as speaker. "None of us were sure he had the votes," Galen said. Five Republicans voted "present," and four voted for others (including two members no longer in Congress). In the end, Gingrich beat Democrat Dick Gephardt with just three votes to spare.
Only months later, the speaker faced an abortive coup from a renegade group of about 20 conservatives. Eventually, House Republicans forced him out as speaker after a backlash over President Clinton's impeachment unexpectedly cost the party seats in the 1998 elections. Republicans lost five seats after Gingrich predicted they might win as many as 40, and he resigned from Congress. As it turned out, Gingrich was better suited at plotting the Republican revolution than at implementing it.
Despite Gingrich's deeply flawed management style, he was a fanatic student of management theory. He brought in consultants and studied all kinds of schemes and practices, especially Edward Demming's famous Total Quality Management. The speaker would send senior staffers such as Meyer and Swinehart to Fort Monroe in Virginia to learn how the Army was adapting to new fighting realities in the 21st century and to develop after-action reports on each big GOP project. Gingrich studied but never internalized any of these lessons, aides said. Those who worked with him as speaker recall sessions where everyone would agree on what went wrong--except Gingrich. His take would almost always be the direct opposite of the group's, one that absolved him of any blame.
Gingrich's current infatuation with Lean Six Sigma management techniques--he even suggested that Congress dump the super committee in favor of these practices--fits a pattern of immersing himself in theory without making a corresponding commitment to implementation.
"I can remember the senior staff going through this process in his office with the replica T-Rex head," said a senior member of the House GOP leadership. "We all just had our heads down, staring into our laps. It's very difficult to explain what a disaster he would be as president."
Some people close to Gingrich say that the former speaker is no longer as intellectually and temperamentally jumpy. He possesses the same vision that helped him achieve a GOP House majority, they say, but he is now better suited to following up. From a managerial perspective, however, consider these disquieting facts: None of the aides who were part of Gingrich's original rise to power are with him now; the one true holdover from his days as speaker to presidential candidate, Sam Dawson, quit in the summer's campaign staff revolt. Since those defections, all Gingrich has had to manage is himself. Clearly, Lean Six Sygma didn't work at Gingrich 2012.
"When he was managing something this year, it fell apart," said Weber, who is currently backing Mitt Romney. "People ought to have some concerns about that, going forward. Managing a campaign now when people think he might become the nominee is a challenge Newt is going to have to meet."
This article appeared in the Saturday, December 10, 2011 edition of National Journal.