Gingrich Backed Everything the Right Hated About the Bush Years
Have conservatives forgotten all their complaints about the GOP's last administration? The former speaker's surge makes no sense.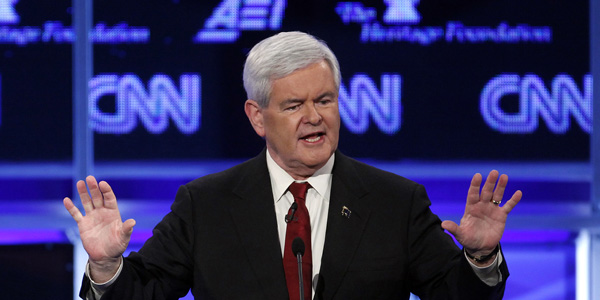 Here's a fun game. Let's think of all the stuff conservatives say they hated about George W. Bush's time in office.
No Child Left Behind? Newt Gingrich supported it.
Medicare Part D, the new prescription drug entitlement? Newt Gingrich favored it.
TARP? Newt Gingrich cheered for it.
The Harriet Miers nomination? Newt Gingrich predicted success.
Comprehensive immigration reform? Newt Gingrich endorsed it.
Then there's "the surge," Bush's Iraq war turnaround strategy that conservatives love to laud. Gingrich
opposed that
.
So what gives?
The former House speaker's surge makes no sense. The conservative base that was energized partly by fatigue at eight years of Bush missteps is rallying around the candidate who favored them all. What a bizarre turn.

Image credit: Reuters