Gary Johnson's Libertarian Leap Could Complicate New Mexico in 2012
As a GOP candidate, the former governor never caught on. But as a third-party contender, he can deliver an outsider message -- and perhaps an Obama victory.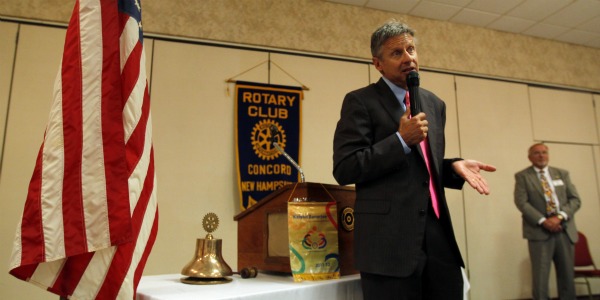 SANTA FE -- Declaring himself "liberated" from the Republican race for the party's presidential nomination, former New Mexico Gov. Gary Johnson announced Wednesday that he is abandoning the elephant herd and will run as a Libertarian candidate for president.
Johnson never managed to emerge from the shadow of higher-profile contenders such as Newt Gingrich and Mitt, and he said he became disillusioned with the rules of engagement after failing to qualify for the GOP debates because of his poor showing in polls.
"Frankly, I have been deeply disappointed by the treatment I received in the Republican nomination process," he told about 100 supporters and reporters at a press conference here, held in the rotunda of the state capitol building from which he governed the state from 1995 to 2003. "The process was not fair and open." As a Libertarian candidate, he said, he will not be "held hostage to a system rigged for the wealthiest and best-known candidates in a handful of states who happen to have early primaries."
Jumping ship from the GOP may not get him any closer to the presidency, but it could give Johnson a bigger megaphone to broadcast his message and "shake up the system," which he has said is one of his primary objectives.
But his most important role could come as a spoiler during the general election. Johnson is expected to do well in his home state, where he is still fondly remembered by many voters. His term as governor coincided with a boom in New Mexico, when the state's coffers were overflowing and jobs were plentiful. "You see a lot of name recognition among New Mexicans for Johnson -- frankly, those were the good times," said Lonna Atkeson, who heads the Center for the Study of Voting Elections and Democracy at the University of New Mexico. "It was the '90s, there was lots of money, the economy was booming, and people were really happy. They know him much better than they know Gingrich or Romney."
A survey conducted by Public Policy Polling earlier this month showed that in a three-way race with either Romney or Gingrich as the GOP nominee, and Barack Obama as the Democratic nominee, Johnson would draw between 26 percent and 30 percent of the Republican votes in New Mexico, between 12 percent and 16 percent of Democratic votes, and a majority of independent votes. Crucially, the poll found that Johnson could siphon enough votes from the GOP candidate to help Obama win New Mexico by a huge 17-point margin. He could also draw one or more electoral votes.
Not everyone is convinced that Johnson will have that much impact, even in New Mexico, though. The state delivered Obama a wide margin of victory in 2008, giving him 58 percent of the vote compared to 53 percent nationwide. And Atkeson notes that while New Mexico is considered a swing state, about 50 percent of New Mexico voters are registered as Democrats, 31 percent are Republicans, and 19 percent are independents. In addition, Hispanic voters helped Obama win New Mexico in 2008, and their numbers have only grown over the past few years. "You have a natural bias toward Democrats," she says. "I guess my underlying assumption is that it would be a close race with or without Johnson. It's not clear to me that he'd be the spoiler."
There have also been questions about the reliability of polls from PPP, which is aligned with the Democratic Party, although Matt Ross, a spokesman for the state Democratic Party, notes that the firm correctly predicted that Republican Susana Martinez's victory in last year's gubernatorial race as well as her margin of victory. "They hit the nail right on the head," he says. "So I don't think you can argue with their accuracy."
Luckily for Johnson, he's not fixated on how well he polls outside the state. He acknowledges he has little chance of actually winning. While the two-term governor and Iron Man triathlete said he wouldn't be in the race if he did not have at least some hope of winning, he sees himself as more of an agitator and a "messenger" than a real contender. Johnson, who says he believes most Americans are "fiscally conservative and socially liberal" -- which is also how he describes himself -- said his agenda will resonate with an increasingly disillusioned electorate, appealing to both the Tea Party set and Occupy Wall Street backers, as well as many voters who lie somewhere in between.
"Never before has there been such an outcry over the two-party system in the U.S.," he said. "The Democratic Party has turned [its] backs on gay rights, marriage equality, their anti-drug war sentiment. And Republicans are no longer the stewards of America's pocketbook. Neither party is offering up solutions to the problems this country faces."
For his purposes, the jump to the Libertarian Party is a smart one, Atkeson says. "The hardcore Republican base is much more socially conservative, so he's not going to find that much support there," she said. "So for him, the only viable option, really, after being written off by all of the major networks, is to go Libertarian."
Exiting the Republican race also allows him to differentiate himself more effectively from ideological compadre Ron Paul, another presidential hopeful who has vacillated between the Republican and Libertarian parties over the years. "I was hoping to have the same shot within the Republican Party as he has had," Johnson said in an interview after the press conference.
Image: Brian Snyder / Reuters